Vineyard Vines is a clothing company based in the United States that has grown into a well-known and reputable retailer with locations all over the country. From polo shirts and ties to beach towels, this brand has it all! They make clothes that can be enjoyed by the whole family.
The clothes from Vineyard Vines range from formal wear for the office and holidays to casual wear for the beach and loungewear. They wear comfortable classics that never go out of style, as well as colorful and preppy outfits. With 947k Instagram followers and over 1 million Facebook likes, this brand is extremely popular.
Why then is this brand so popular? I intend to respond to that question in this Vineyard Vines review. So that you can decide if this popular brand is right for you, I will summarize its history, some of its best-selling products, purchasing information, and customer feedback.
Overview of Vineyard Vines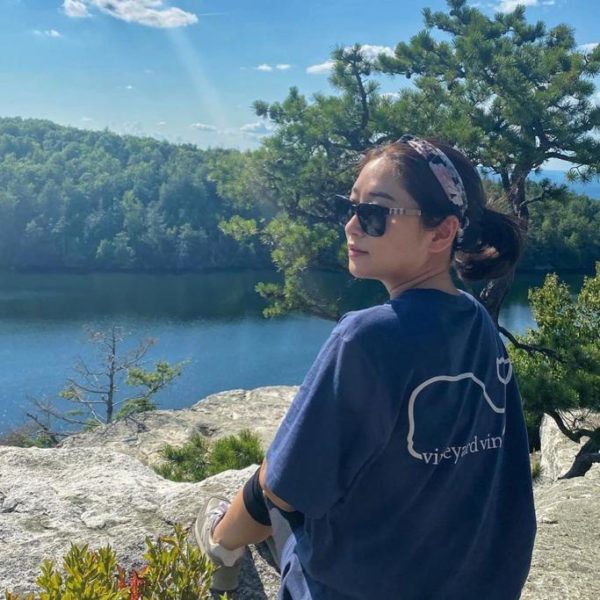 Over two decades ago, brothers Shep and Ian Murray established Vineyard Vines. It started out selling men's ties, but it now sells a wide range of clothes and accessories for people of all ages.
The Murray brothers launched their brand at the end of the 1990s because they were both dissatisfied with their monotonous desk jobs. They wanted to start their own business and make a change by selling the clothes they loved.
As a result, they decided to name the brand after Martha's Vineyard, the island where they grew up and spent many memorable summers. They wanted to develop a brand that evoked the same positive feelings in customers.
The current location of Vineyard Vines is Stamford, Connecticut. Vineyard Vines, which has a long history in the Northeast, has a lot of local artists and professionals on its website.
For the benefit of their home, they have also collaborated with organizations like K9s for Warriors and Wicked Strong for Massachusetts General Hospital.
Let's take a look at some of the best things about buying from this American family business now that you know how they got started.
Highlights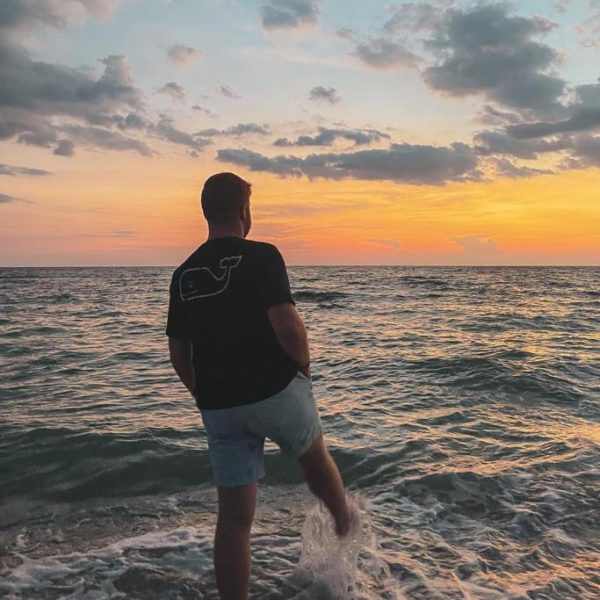 Sells colorful preppy clothing for the whole family
Long-standing brand with 20 years in the clothing business
Classic, easy-to-wear fashion
Wrinkle-free fabrics
Casual and formal wear
Huge variety of colors and styles
Dedicated sales section
Partnerships with charities
Vineyard Vines Shirts Review
I've gathered some great examples of Vineyard Vines' selection of shirts. The first is a specialized top, the other is a charming pullover, and both are successes. Let's investigate them!
Vineyard Vines On-The-Go Shep Men's Shirt Review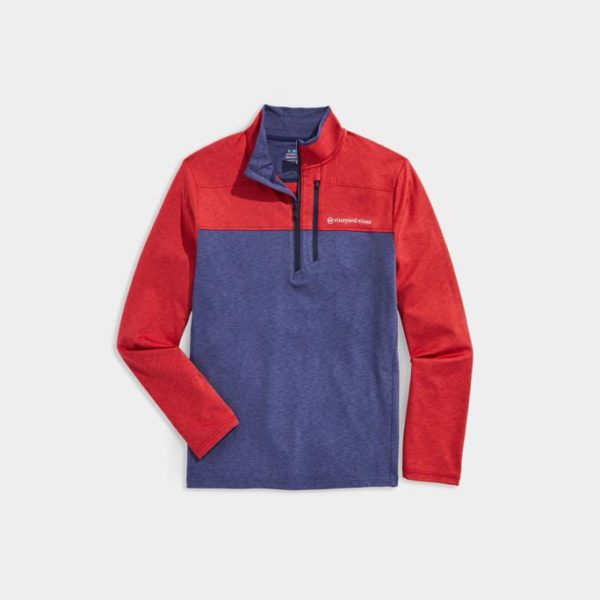 This easy-wear tech shirt is made from polyester and spandex so it won't wrinkle and will dry as fast as possible! This top is perfect for days on the water or long walks in the cooler seasons. With its long sleeves and light fabric, it should keep you warm without looking or feeling too bulky.
This shirt has a half zipper and you can keep your small essentials in the convenient small pocket on the chest. This shirt comes in a few different colors including barrack green, lobster reef red, and Antigua green. There's also a red and blue Americana style if you're feeling patriotic.
Vineyard Vines Blackwatch Ruffle Sleeve Women's Top Review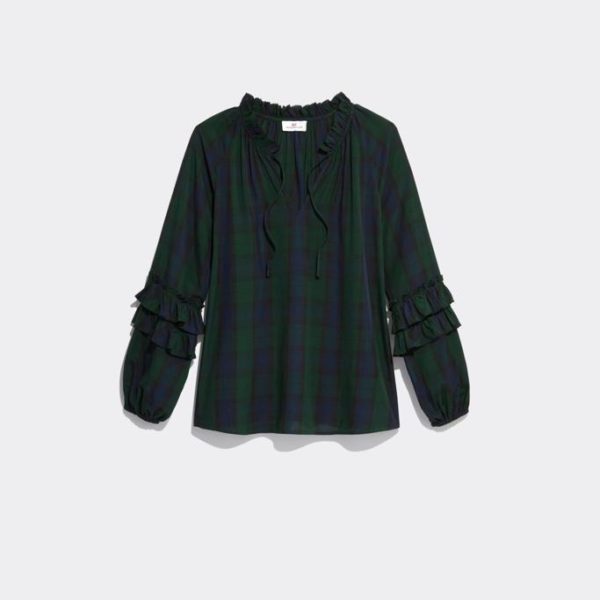 The blackwatch ruffle sleeve top combines old-world patterns with modern design.
It has a green and blue tartan pattern that evokes a traditional scottish aesthetic, and feminine ruffling on its neck and sleeves. Its flattering v-neck comes with a ribbon tie at the top.
This top is meant to fit loosely and can be tucked into pants or skirts for a more formal look.
A versatile everyday top, you could easily transition this top from the office to an evening with friends.
Unfortunately at the time of this vineyard vines review, this item is out of stock.
Vineyard Vines Shorts Review
The shorts i'll feature below capture vineyard vines' coastal style and emphasis on comfort. Let's take a peek at these best-selling vineyard vines shorts for men and women!
Vineyard Vines 7 Inch On-The-Go Men's Shorts Review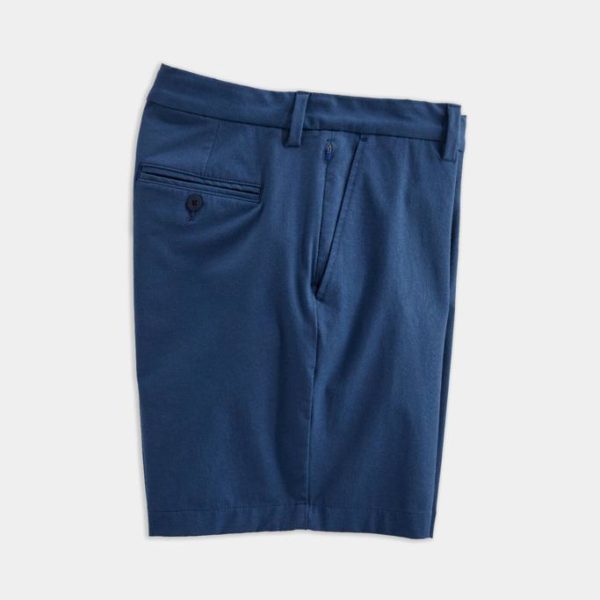 The vineyard vines 7 inch on-the-go men's shorts have a 7" inseam and stretchy pockets. These shorts are mostly made of cotton, blended with nylon and spandex. This gives them a comfortable stretchy feel that is also fast drying.
Vineyard vines has solved some everyday problems with these shorts! They are water resistant so any spills will not cause permanent stains. They also have a secret hidden pocket with a subtle zipper so you can keep your precious items or credit card safe when you are out and about.
These shorts have a hidden zipper and a matching top button for an extra touch of class. These shorts come in 5 colors including stone, khaki, and blue blazer.
Vineyard Vines Sea Floral Pull-On Women's Shorts Review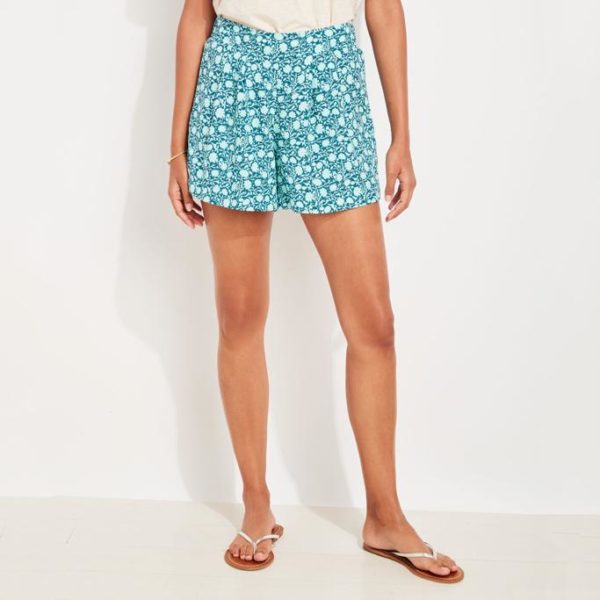 The sea-floral pull-on shorts are begging to be worn to the beach! These cute and casual shorts have a summery aesthetic and flowy fabric. Sadly, there are no pockets on this one, but they do have a flattering high waist with pleats on the back and sides.
They come in one color, deep juniper, which has a floral design of small light blue flowers on a dark blue background
Vineyard Vines Hat Review
Vineyard vines doesn't just sell clothing, offering stylish accessories to help you boost your style. They make classic caps and fedoras for men and women. Keep reading my vineyard vines review to find out more about their best-selling hats!
Vineyard Vines On-The-Go Men's Hat Review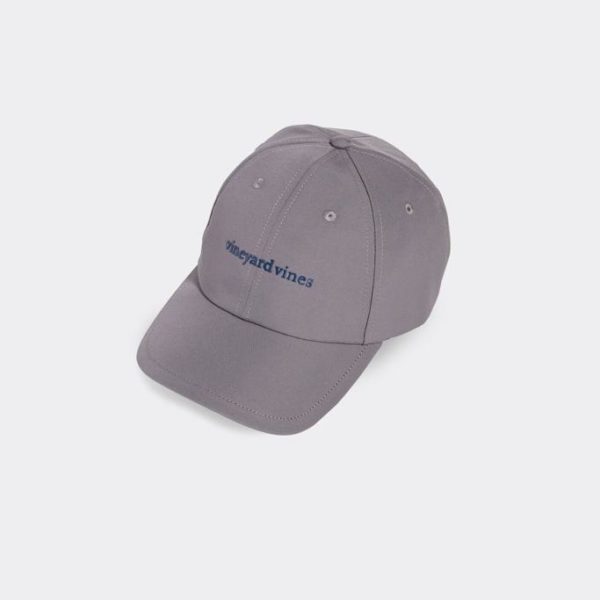 This minimalist baseball cap is perfect for people who want no-fuss, match-with-anything sun protection.
The on-the-go men's hat is a one size fits all baseball cap with an adjustable closure clasp at the back and small eyelets around the top. This hat is made of 100% polyester and has a 23" circumference.
You can find the on-the-go men's hat in dark blue, usually listed at $32. However, you can get it now for $26.
Vineyard Vines Wool Felt Women's Fedora Review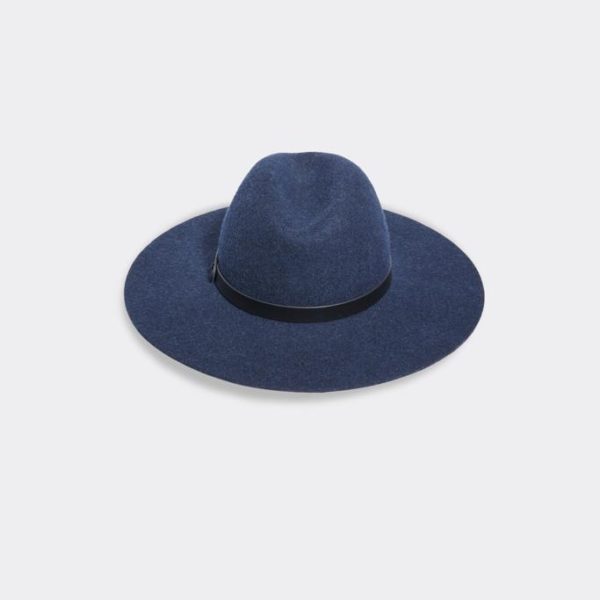 The wool felt women's fedora will keep out the cold and rain. This old-fashioned fedora is made of 100% wool with leather trim.
This hat combines the best of functionality and femininity. The natural materials of wool and leather give it a traditional aesthetic that definitely makes for a trendy statement piece.
Vineyard Vines Dresses Review
Vineyard vines dresses are known for being polished and comfortable. Let's take a look at these stylish pieces that are just perfect for summer parties.
Vineyard Vines Tartan Ruffle Tiered Dress Review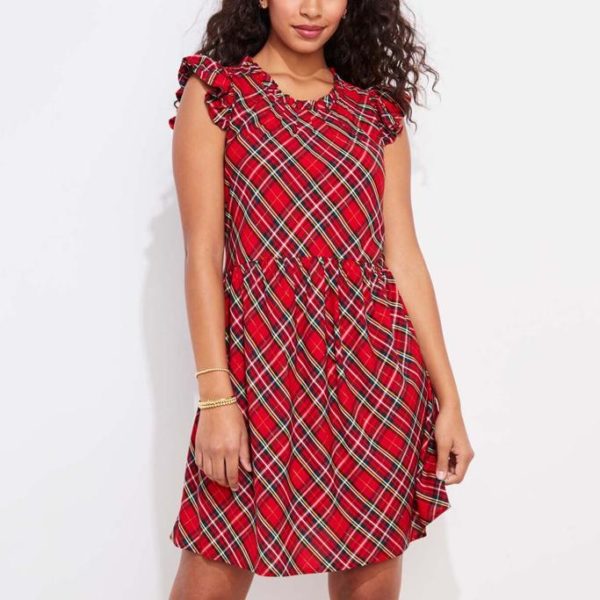 This special dress has christmas written all over it! The tartan ruffle tiered dress has a red holiday tartan pattern and ruffles around the neck and sleeves.
it is made from 99% rayon and 1% metallic. this dress has short sleeves and a subtle a-line flair that stops just above the knee. so while it might remind you of christmas, it certainly makes for a great summer dress.
Vineyard Vines Girls' Rugby Dress Review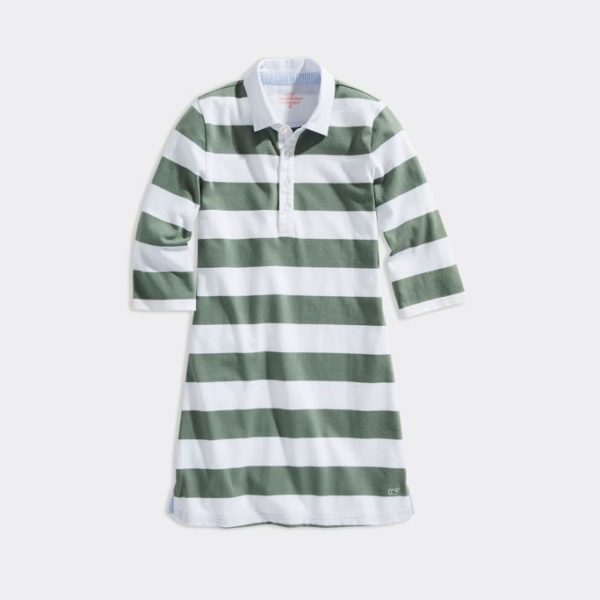 If your kid is quickly growing out of their clothing and needs some new stylish outfits, vineyard vines has you covered. The girls' rugby dress is soft and loose, making for comfortable playtime inside and outdoors.
This comfy and casual dress is an easy, slip-on outfit for girls of any age. They will love the three-quarter length sleeves that stay out of their way as they are learning and playing.
Unfortunately, this dress is currently out of stock on the brand's website.
Vineyard Vines Hoodie Review
Vineyard vines clothes aren't just made for sunny days by the water. Need something to cozy up in this winter? This vineyard vines hoodie might just fit the bill!
Vineyard Vines Surfside Men's Hoodie Review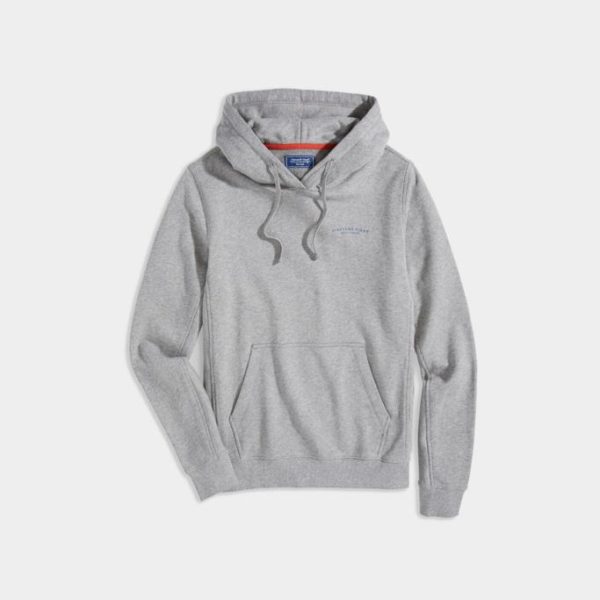 This soft surfside men's hoodie is perfect for walking the dog, watching the game, or just lounging on the couch!
This casual sweatshirt has a pouch pocket in front to keep your hands warm or hold your car keys. It also has a hood and two front drawcords. It is made from 100% cotton and is fine to machine wash, too.
This versatile hoodie comes in 7 colors including vineyard navy, gray heather, and papaya passion.
Vineyard Vines Polo Review
Last but not least, let's look at the printed sankaty polo shirt! This classic, best-selling shirt is a great example of vineyard vines' polo options.
Vineyard Vines Printed Sankaty Polo Review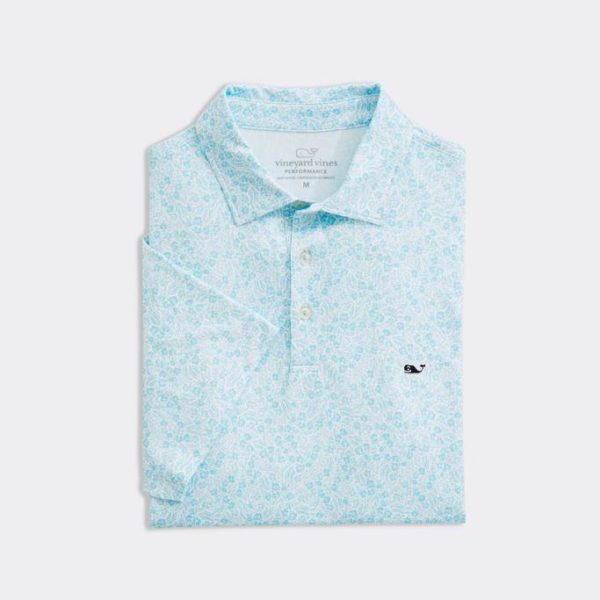 This colorful top works nicely as office wear or as a comfortable shirt for an active day. The printed sankaty polo shirt is made from 92% polyester and 8% spandex, which makes it light and fast drying.
It also has 30+ uv sun protection and is wrinkle-resistant too! Thanks to its stretchy material, it could make for a great golf shirt as well.
Unfortunately, the printed sankaty polo shirt is sold out at the time of this vineyard vines review.
Who Is Vineyard Vines For?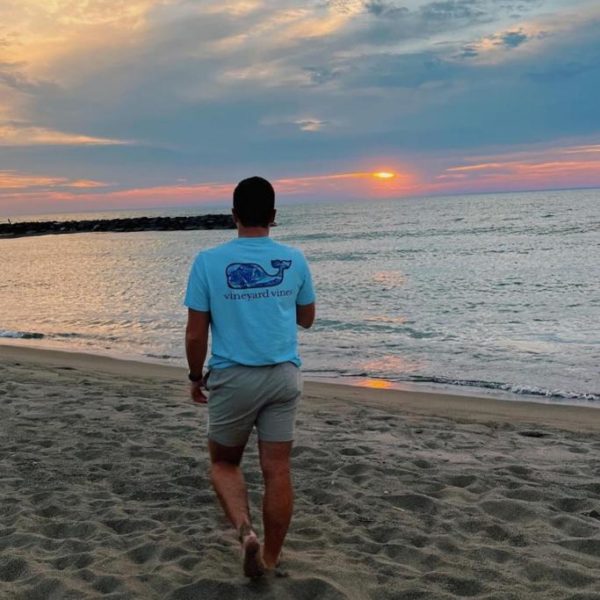 Vineyard vines' clothing has a preppy and cheerful aesthetic. Their clothes usually come in an assortment of patterns, and they do not shy away from color! From pastels to florals, vineyard vines clothes have a light-hearted style no matter where you wear them.
Vineyard vines makes clothing for the whole family. And they specialize in clothing that you can transition from active days on the beach or golf course to dinners out.
Vineyard vines clothing will appeal to active and outdoorsy people who like to look their best while they paddle board or go for a hike with the kids, or for anyone looking to boost their summer wardrobe.
Vineyard Vines Reviews: What Do Customers Think?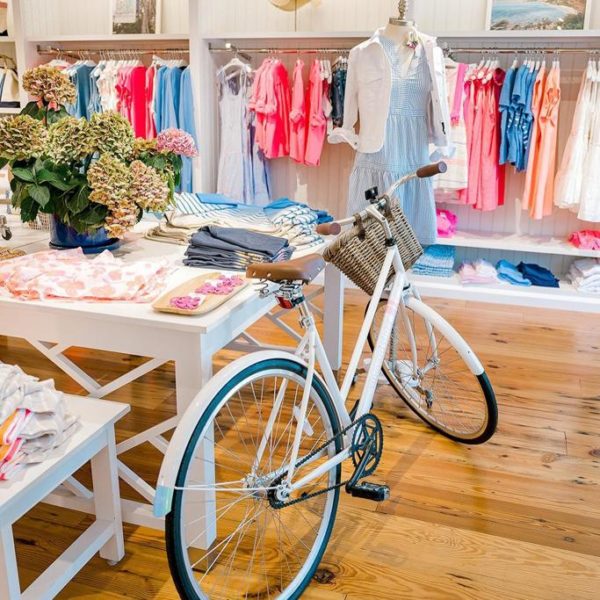 Vineyards vines has a large collection of reviews from verified buyers on their official website. Many of their customers have responded positively to the fit and design of their clothing.
I'll show you what customers had to say about our featured items, but first, let's take a look at how customers rated the company on some other websites:
Influenster: 4.2/5 stars from 499 reviews
Trustpilot: 1.7/5 stars from 56 reviews
Better business bureau: 1/5 stars from 13 reviews
There seems to be a mixe of opinions on this brand, with a lot of positive reviews on influenster, but few negative reviews on our other sources. Let's take a look at what customers had to say about their clothing.
One mom wrote in her vineyard vines review that her daughter's rugby dress was "adorable and perfect fit!"
Others who tried the shep shirt reported that it was an "excellent fit and great for year around. Very lightweight." and "very soft and versatile. Love how it feels."
Other customers had positive things to say about the vineyard vines style. They especially appreciated that their products let them look their best without sacrificing comfort and wearability.
One woman who purchased a fleece sweater commented: "soft, warm, comfortable, and stylish." another lady wrote this about her summer dress: "absolutely love this dress, comfortable, flattering, and feminine."
As i said, the reviews on trustpilot are more of a mixed bag. Some buyers loved this brand's clothes but had some trouble with shipping and customer service. Others reported really positive experiences of buying from this brand.
Vineyard vines also has customer reviews on the review website influenster, where people mostly praised their classic styles and great color options. As one woman shared in her vineyard vines review: "love the classic prep look of vineyard vines! Everything i have from vineyard vines is well made and never goes out of style!"
Overall, i found a lot of vineyard vines customers who were happy with how their purchases looked and felt. They especially loved the functionality and comfort of the clothes, and they felt the style delivered what they were promised. However, it seems the majority of negative reviews were about the brand's customer service, so beware.
Is Vineyard Vines Worth It?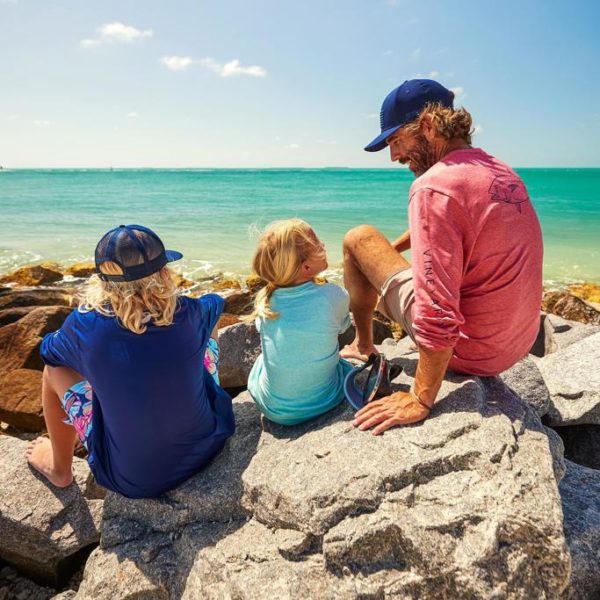 Vineyard vines offers a range of clothing for all kinds of occasions. As shown in this vineyard vines review, this brand prioritizes your ability to comfortably partake in outdoor activities while still looking polished enough to enjoy dinner or a date night afterward.
Customers seem to love their colorful patterns and preppy style.You get what you pay for, and this brand has such positive reviews about clothing quality that they seem to be worth the investment.
Overall, if you need a new, high-quality top or dress and you have a colorful style, this brand is definitely worth trying out.
Vineyard Vines Promotions & Discounts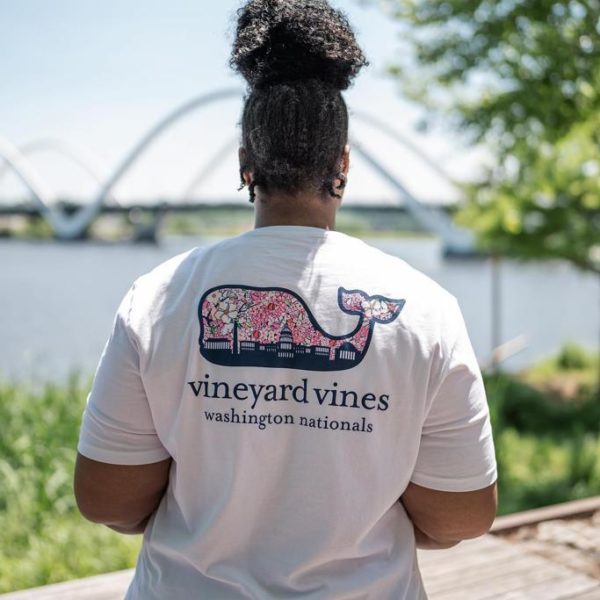 There aren't any sales or promo codes that i came across at the time of this vineyard vines review, but you can save 10% off when you sign up for the brand's newsletter! This is also a great way to stay unformed when they do have seasonal sales.
Where to Buy Vineyard Vines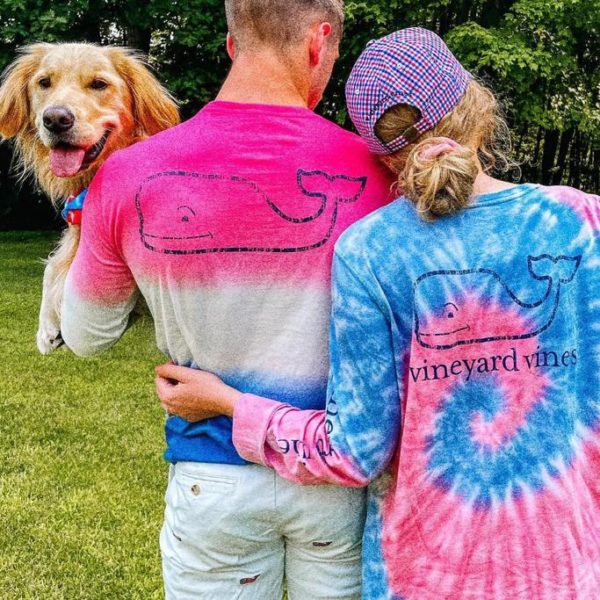 You can purchase all of their products through their official website vineyardvines.Com. If you live in the united states, you can also find them at brick-and-mortar vineyard vines stores across the country.