When we were kids, we used to go to book stores. But the older you get, the more lazy you are. So what's the solution to keep reading?
For Adhiarja personally, the most enjoyable thing is going to the bookstore. Bookstore where we can choose hundreds of books. It's fun to be able to choose the books we like. So that once you can buy a lot directly, Adhiarja chooses to save in advance.
The habit unfortunately disappeared. Because it's getting harder and harder to spend time in bookstores. The solution is replaced by reading books via digital. For the past few years, Adhiarja has downloaded a digital book application. One of them Ipusnas. Adhiarja has already made a review about the Ipusnas application.
It turns out that the iPusnas application is still lacking to complete one's thirst for this book. Next Adhiarja download Gramedia Digital. There are many latest books from the Gramedia collection that are not yet available at Ipusnas. I regret why I didn't download it earlier..
REVIEW OF DIGITAL GRAMEDIA APPLICATION
Gramedia Digital is an official smartphone application owned by Gramedia where we can read thousands of collections of books in the Gramedia bookstore. The difference with the Ipusnas application, here the system is buying, not borrowing. Each book costs different.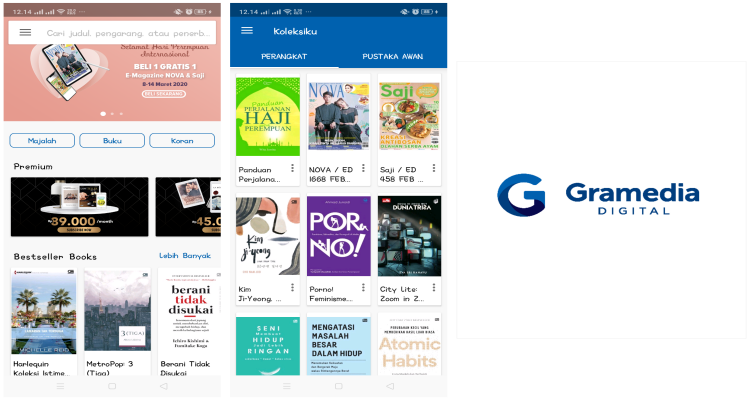 Adhiarja, who happens to really like books published by Gramedia, finds it helpful for the e-books sold here. Although the price is the same as the printed book. It could be cheaper e-book anyway. I don't know, what's clear is that the average price reaches tens to hundreds of thousands per e-book. Can you say the same?
Also read: Easy way to re-register Simcard can be done online without having to go to outlets. MUST READ!
Between e-books and printed books, Adhiarja honestly prefers printed books. Because too much reading e-books is not good for eye health. For Adhiarja personally, if you read the e-book for a long time, your eyes sometimes get watery and feel spicy. But because I'm busy, I rarely go to bookstores. So I just chose to read the e-book so it's practical… even though it's a bit limited. Hehehe..
In the Gramedia Digital application, it is not only a collection of non-fiction and fiction books. There is also a collection of newspapers and magazines published by Gramedia which are updated every day. The collection is complete, from Nova, Saji, Tempo, Cash to Bobo magazines. So it's more like reading this. hihi…
In addition to buying retail books, there is also a subscription system. For the premium package the price is Rp. 89,000 per month. This package includes all books, unlimited reading of the story. Meanwhile, for a package of fiction or children's books the price is Rp. 45,000 per month. One account can be used up to 5 gadgets.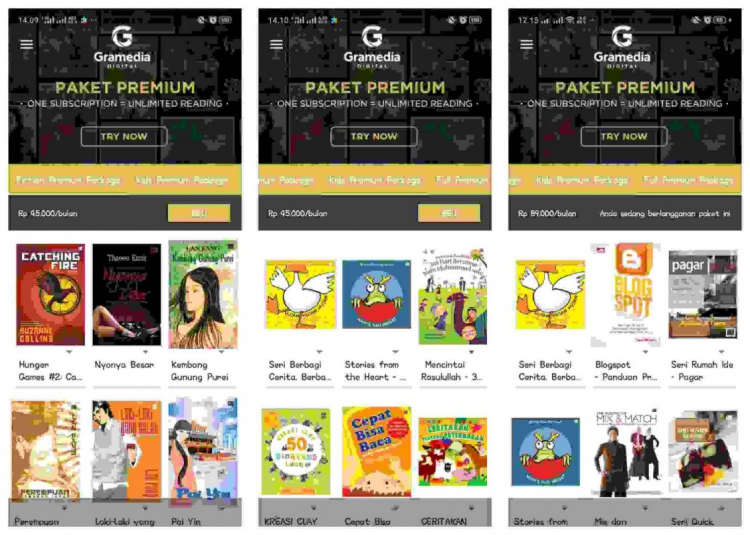 Advantages of Gramedia Digital Application
The book collection is large and complete
Gramedia Digital has a collection of 120,000 books with various titles and genres. Worth-it to read! The subscription fee is relatively cheap, plus we can share reading with 5 other friends in one account. There are updates to the latest books every month.
User friendly application display
The application is quite easy and understandable to access.
Books can be read offline
If you are on the road, in order to save battery, Adhiarja likes to take advantage of this one feature. Even though sometimes when you first open the application, you must also access the internet to enter your account.
Complete e-book reading features
The features are quite similar to Google Playbooks according to Adhiarja. When reading becomes comfortable because there are features zoom, light, bookmarks, search, change pages, and others.
Disadvantages of Gramedia Digital Application
Switching pages is a bit difficult
Just like a real book, the page change feature in Gramedia Digital must be shifted to the right or left. Although now there is also an option to change the page number at the bottom. But according to Adhiarja, it's more fun to just tap than slides, which sometimes make mistakes.
There is no audio book feature for the visually impaired
Unfortunately, there is no audio book yet, just like iPusnas.
Not all books can be accessed even if you subscribe to premium
At first, Adhiarja thought that all her books would be readable. It turned out that it was only limited to Gramedia publications. Beyond that, we still buy if we want to read.
Books can't be screenshot
Unlike iPusnas, the books here cannot be screenshots. Maybe it's a premium book. You should still be able to do it, you're already a subscriber. Avoiding piracy, perhaps?
Tips for Subscribing to Gramedia Digital Premium Packages Save
Psstt.. Adhiarja knows this method from blogger friends. It turns out that we can subscribe to the Gramedia Digital premium package at a cheaper price per month. Curious? The way to do this is by joint venture with friends.
Got it? So this is how one account can be used for up to 5 gadgets. Our task is to gather 5 friends who have the same reading interest as 1 person who is the coordinator. Now the coordinator is in charge of creating a Gramedia Digital account and making payments every month.
Continue to pay with the arisan system. Replace every month. We will pay the cost to the coordinator. Pretty save, isn't it? Cost per month Rp. 89,000 for 5 people, the amount is only around Rp. 17,800's per month. But the drawback is that each one can only access 1 gadget. Can't be more..