About OrthoFeet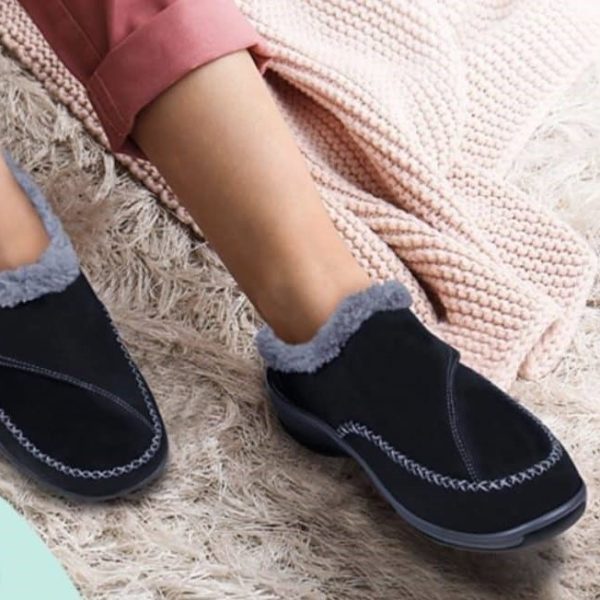 Orthofeet is an orthopedic footwear company that offers men and women comfort and pain relief for 17 different ailments. The brand is committed to both high-quality solutions and top-notch customer service in the hopes that getting help with their products is as easy as walking in them.
You might have heard jokes about people who wear "prescription footwear" in movies and television shows. It's something that the mainstream sees as dorky or embarrassing. But, it's surprisingly common. About 24% of adults suffer from some kind of foot issue1, and this percentage only increases with age. Luckily, brands like orthofeet exist to help you out.
This orthofeet shoes review will take a look at some of their popular footwear, promotions, customer reviews, and more, so that you can decide if orthofeet is the solution for you.
Overview of OrthoFeet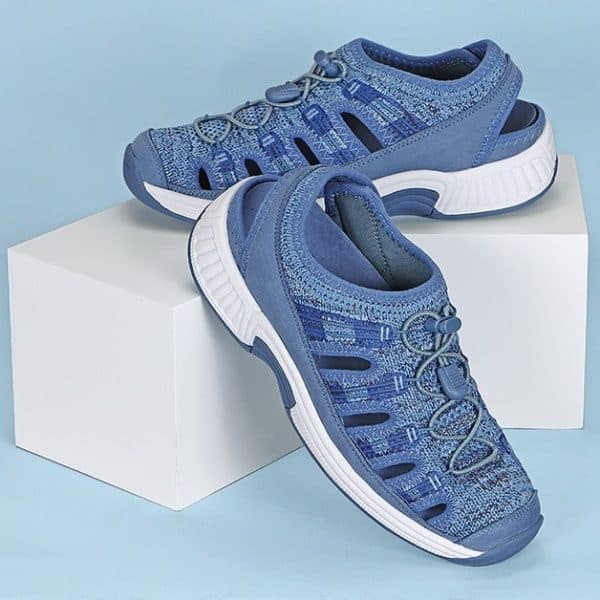 Orthofeet started producing orthopedic shoes in 2000 but brothers ron and michael bar established orthofeet inc. In new jersey way back in 1984. The origins are more traumatic than your average shoe company: ron had lost his leg in the yom kippur war of 1973, and was unimpressed with the hassle and inaccuracy of the casting process used for orthodics. Ron struggled with his lack of mobility and discomfort for years as a veteran.
After receiving a doctorate in biomedical engineering, he and michael, who has a master's in mechanical engineering, teamed up to design insoles and foot orthotics that would mold to the patient's foot. This would remove the need for the difficulties of the casting process and provide a more accurate and effective product.
16 years later, orthofeet took their experience with this patented technology and created a line of comfort orthopedic shoes. These are aimed to give fashionable comfort and support to people struggling with a range of issues, including:
Achilles tendon pain
Arthritis
Back pain
Ball of foot pain/metatarsalgia
Bunions
Diabetes
Flat feet
Foot pain
Hammer toes
Heel pain/spurs
Knee & hip pain
Morton's neuroma
Neuropathy
Overpronation
Plantar fasciitis
Swollen feet/edema
Gout in foot
OrthoFeet Technology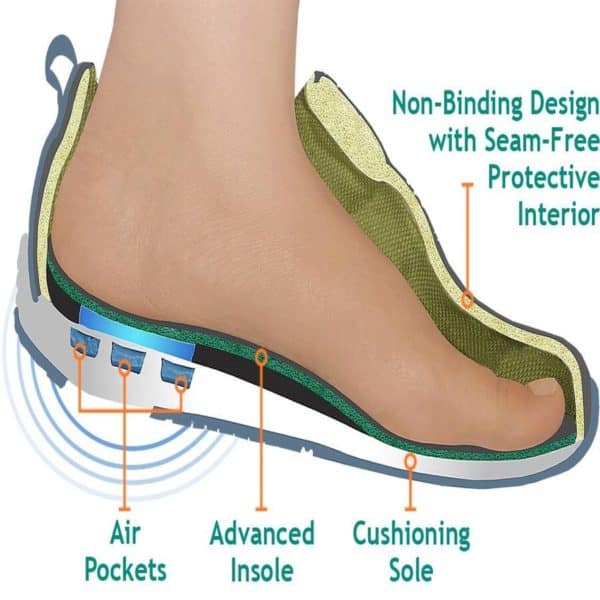 So what is orthotic footwear? They're custom-made, medical devices that fit into a person's shoes in order to help them with any ailments that cause foot pain.
Orthofeet's line of comfort orthopedic shoes uses their patented ortho-cushion system. This features an orthotic insole made up of three layers. The top provides arch support with a malleable material that matches the anatomy of your foot. The arches of your foot are important in helping to support your body weight2. Studies have shown that children who are overweight tend to have "flat feet"3.
The middle layer is a breathable layer that gives extra cushioning and the lower layer runs from the middle of the foot to the heel with a trampoline-like pad at the back to provide relief for heel pain. Heel pain is common in adults over 50 and tends to be even more common in women4. All of these layers rest upon an ergonomic sole that rocks to absorb movements and support the foot.
Before we get into some bestsellers, here's a quick look at key points in this orthofeet shoes review:
Highlights
Positive customer reviews
Competitive prices
Shoes available for men and women in a range of types, widths, and sizes
Attractive and stylish options available
Products are suited to a wide range of foot ailments
Products are developed with the input of doctors and biomedical engineers
Sales and promotions offered
Experts are available to help you find the right shoes for you
60-day wear test, with free returns, and exchanges
Free shipping within the us
This orthofeet shoes review will focus on a selection of their more popular footwear across both the men's and women's collections. Let's dive in!
OrthoFeet Men's Shoes
Men shopping for orthofeet shoes can look through six collections: sneakers/athletic, casual, dress, boots, sandals, and slippers. The athletic and casual sections have the most options, with the others having just a few each. Most orthofeet shoes for men are available in suede or full grain leather, with blacks and browns being the common color choices.
Orthofeet's mo with their shoes is a lot of padding in the sole, padding in the heel, and really just padding everywhere. Metatarsal pads (or pads for the bones of the feet) have been shown to be effective in reducing foot pain5.
This feature is great for comfort and pain relief, but it does have the side effect of making the shoes look less attractive. Some models look downright bulky. There's a bit of a trade-off when it comes to comfort and aesthetics.
Cambria Sandals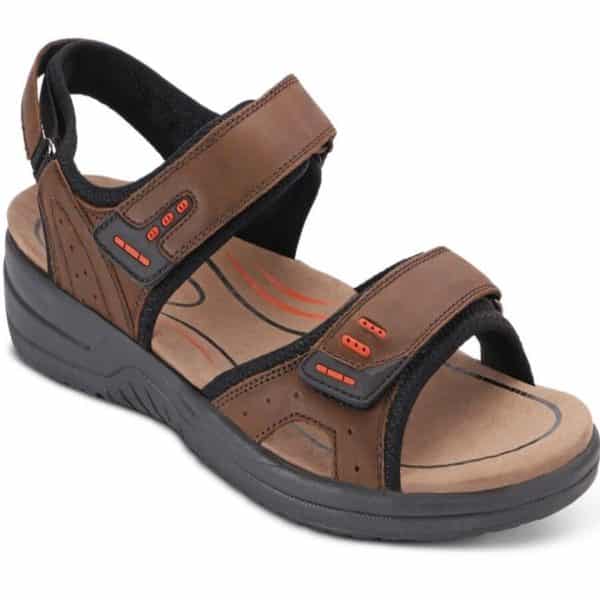 The cambria sandals, which also come in charcoal, are the closest orthofeet gets to regular sandals (the other options have more of a water shoe look to them). The cambria is made from leather and uses orthofeet's ortho cushion system, which is a constant.
The leather straps on the cambria sandals have a layer of cushioning on the bottom, combined with a stretching material to remove pressure points and increase comfort. Studies have shown that foot pain is associated with toe pressure6, so taking some of this away could help with the pain. As a plus, these sandals are easy to put on and remove with a wide opening for your foot.
These orthofeet sandals are great for walking around, doing errands, or going about your day when the weather's hot and shoes just feel too constrained. The cambria sandals are priced at $119.95, which seems like a small price to pay for long-term relief. You can get this pair in medium (regular), wide, and extra wide.
Tacoma Walking Shoes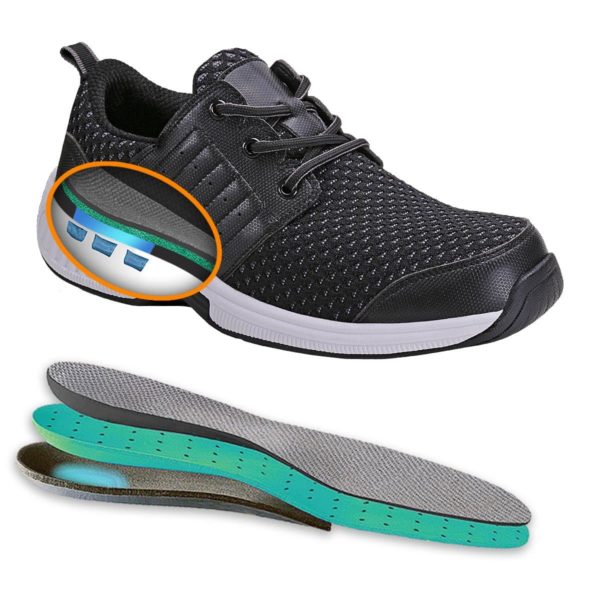 The tacoma was designed to be a seriously comfortable walking shoe, and reviewers indicate that they're great for running, as well. In addition to the standard ortho cushion system, the synthetic shoe has a stretchable padded upper to reduce pressure on the foot from above.
You can pull off a substantial sole on an athletic shoe better compared to casual or dress types—even with all the padded support, the tacoma has a sleek and contemporary look with the all-white sole and black mesh upper.
The tacoma walking shoe is only available in black and sells for $124.95, which is marginally lower than most orthopedic shoe brands. You can get these orthofeet shoes in medium (regular), wide, and extra wide.
Baton Rouge Boat Shoes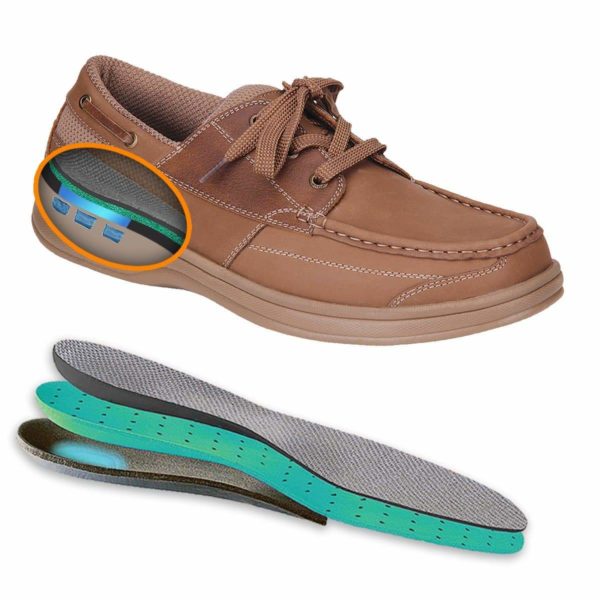 The baton rouge is one of orthofeet's more modern designs, capitalizing on the consistently popular boat shoe. They've done fairly well with it, considering it has substantially more padding than the average boat shoe. The sand colour scheme blends the upper and sole parts of the leather shoe, so this extra padding is subtle.
These low-key baton rouge shoes are a nice casual option that maintains orthofeet's comfort and support, while still maintaining the boat shoe design features (for the most part). The shoes are also available in a deeper brown with black accents, though this model calls more attention to the bulky heel.
The price of $136 puts the baton rouge shoes in pretty much the same tier relative to other orthopedic casual shoe options. These boat shoes are available in medium (regular), wide, and extra wide.
Lincoln Center Dress Shoes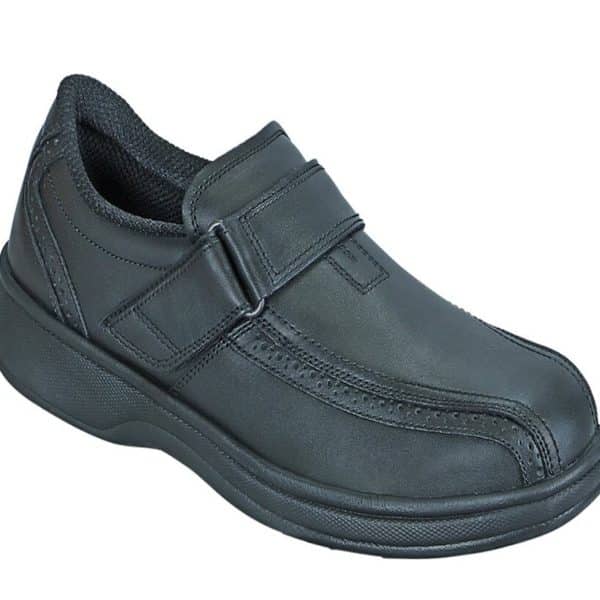 With such famous features as the metropolitan opera house and the david geffen hall, the lincoln center is the place to see live music and opera in new york city. It's all about class and elegance, which is what orthofeet was going for with the lincoln center dress shoes.
The buckle and subtle shine of the leather offer sophistication to the lincoln center shoes. The sole is a little more rounded than dress shoes tend to be, and orthofeet's wide toe boxes are most noticeable in the dress shoe category. But again, with comfort being such a priority, it's natural that these shoes look a bit different.
Shoes that don't fit properly are a major cause of foot pain, so don't be afraid to go for this wider fit as it could bring you a ton of relief. One study showed that a whopping 63 to 72% of people wear shoes that don't fit either the length or the width of their feet.7
The big question is could you wear the lincoln center to the lincoln center? Well, it's a big place with lots to see. It will put demands on your feet that orthofeet's comfort and relief can answer. The lincoln center puts the ortho cushion system into a buckled dress shoe selling for $136, available in medium (regular), wide, and extra wide.
OrthoFeet Women's Shoes
Orthofeet's shoes for women are available in eight categories, offering more type variety compared to the men's line. Their collections include sneakers/athletic, casual, dress, boots, sandals, heels/pumps, mary janes, and slippers.
The women's collection also features the patented ortho cushioning system, with a mix of synthetic and leather models. The trade off of losing sleekness to gain padding still remains, but that's a debate for you to have.
Verona Sandals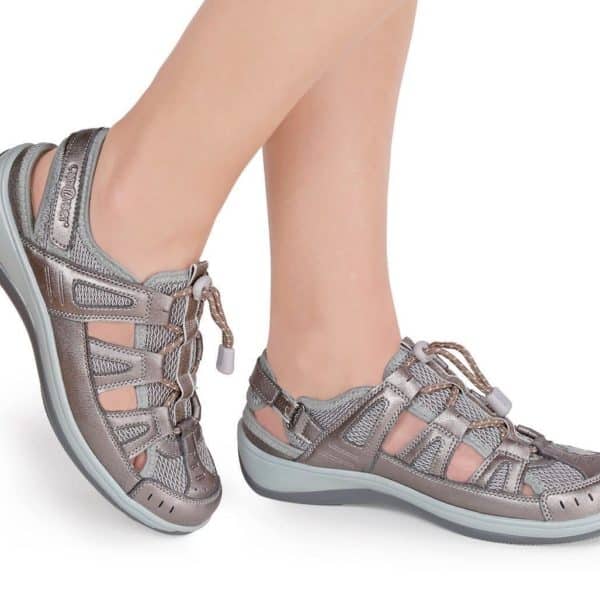 The verona sandals are orthofeet's take on a comfortable walking sandal for women, with a feminine flare offered by the pewter metallic finish. This pair offers plenty of support with padding around the heel and in the upper resting on top of the cushioned sole. It's designed primarily for function, but that doesn't mean it isn't stylish for a walking sandal.
We envision the verona sandals for a summer stroll along the boardwalk or while touring a new city on your travels. Would the verona sandal look out of place in verona? Well, it's decidedly not a european look, but it'll keep you from experiencing a painful stride that would put a damper on your exploring.
Selling for $120, the verona is decently priced for a good quality orthopedic sandal. It's only available in pewter, but you have your choice of medium (regular), wide, and extra wide to choose the fit that's best for you.
Joelle Walking Shoes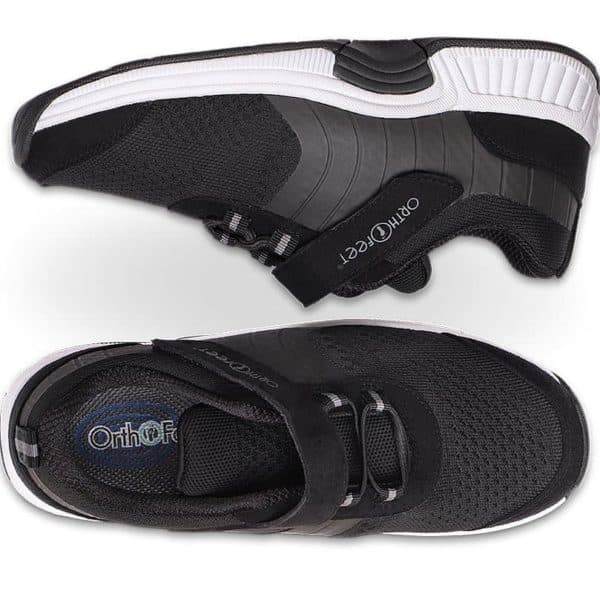 The joelle has the look of a running shoe but it falls into both the athletic and casual categories, while it can benefit pain relief for long walks. It uses a strap instead of laces and is available in black and silver.
As with the men's category, the athletic shoes have the least problems combining style with the extra padding. It's actually quite a modern shoe thanks to the mesh upper region and synthetics. The joelle walking shoe is decently priced at $125, and has an impressive width variety: you have the choice between medium, large, extra large, and extra extra large width.
Emma 2" Heeled Boots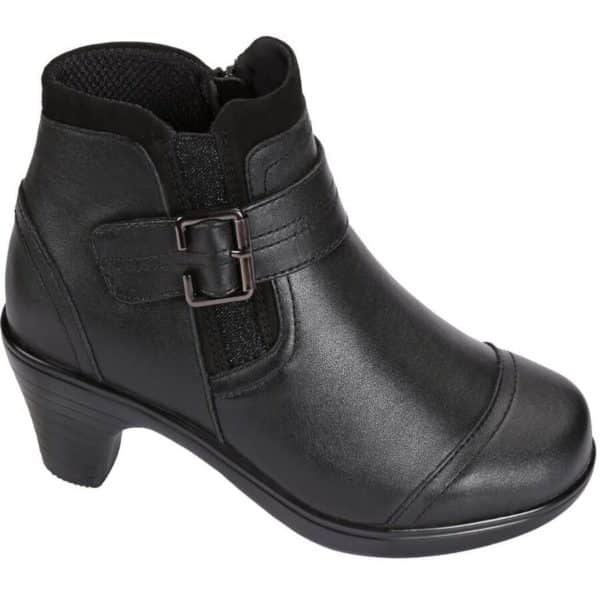 The emma 2" heeled booties are as subtle as they come with their orthodic padding. They masquerade as typical low-rise boots with unseen comfort. Wedge heels are generally more comfortable compared to a slimmer heel, but these boots offer next level relief with orthofeet technology.
These orthofeet boots are easy to slip on and off with the elastic and zipper sides, while the buckle is an attractive aesthetic feature. The black leather has a subtle shine and will only complement your outfit, rather than being the main feature. The emma 2" booties have a synthetic inner layer that adds extra padding, paired with a comfortable wide toe box.
The emma high heel booties are priced at $130, which is expected for orthopedic tech, combined with quality leather. These orthofeet boots are available in medium and wide.