What's up guys, sagi here and welcome to another tech gear talk. Today we're going to check out the peak design everyday backpack 20l. This is a fantastic camera and everyday carry bag. Lately i've been reviewing a lot of cameras and wanted something that i can easily and quickly configure to accommodate different setups, and also something that would let me carry a drone with me.
I recently took it on a two week trip to italy and seriously put it through some abuse so let's get this review going.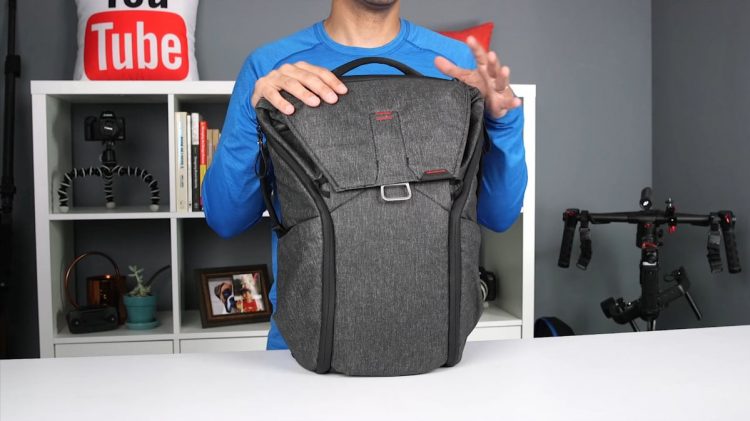 Overall this is an outstanding backpack, it's super well made, it has a ton of pockets and storage options, it's configurable and can accommodate so many different types of photography and video equipment and works as a great everyday carry. I love how thoughtful this bag is and you can tell that peak design understands how their target audience will use this backpack.
I really only had one real complaint about this bag and i'll mention later in the review.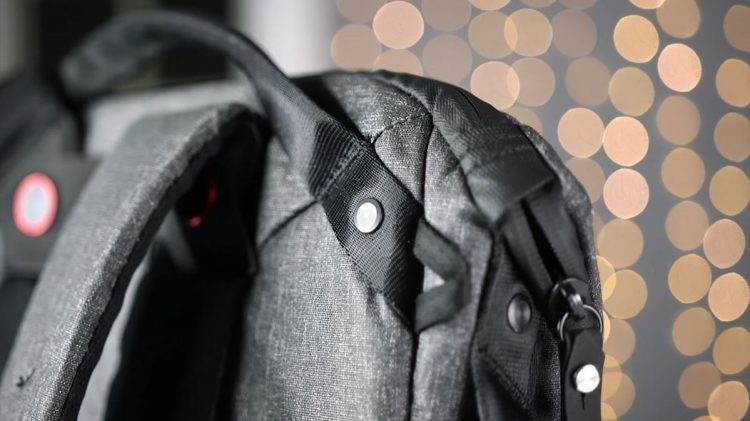 My goal with every product review is to give you a detailed overview of the product features in a way that relate to real life use. If you find it helpful please let me know by giving it a like and hitting the subscribe and notification buttons for more bag and tech reviews.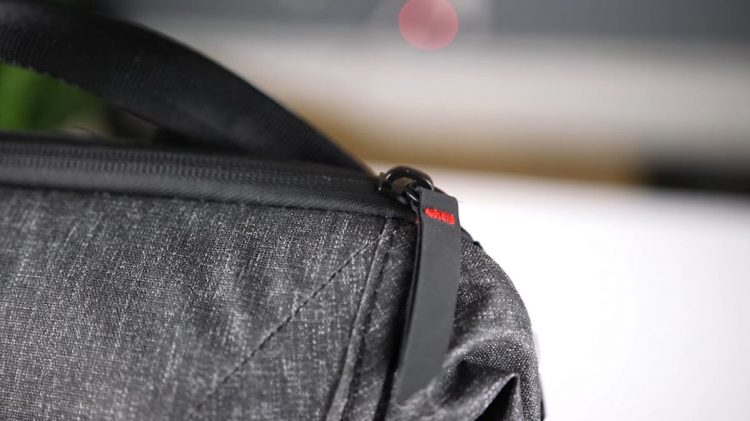 PEAK DESIGN EVERYDAY BACKPACK AESTHETICS
I'm going to start off by talking about the way this bag looks because i love how it looks. And one of my favorite things is that it doesn't really look like a "camera bag".
It has really sleek, clean lines and you can tell that peak design took their time to get this right. There are small details and accents that really give this bag a super refined and unique look.
You know how sometimes you get something and every time you use it or wear it, you think, i really like how that looks. That's how i feel about this bag. There is also a really cool ash color bag which was the other one i was thinking of getting, and now i almost wish i had gotten that one because it looks dope.
But i was worried about getting it dirty and decided to go with the charcoal model. It does also come in black and tan.
So in this color option there are a few things here and there that add a little splash of color, or shine, really good work by peak design.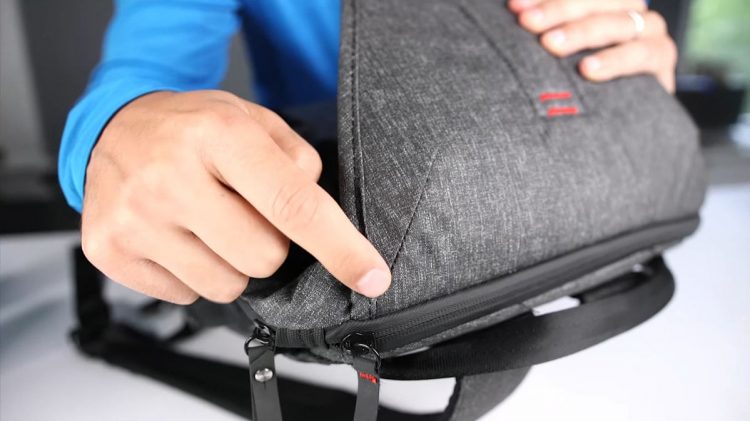 PEAK DESIGN EVERYDAY BACKPACK UTILITY AND ACCESS
This bag was obviously designed with access being a priority and what Peak Design did here is give a large top access with the use of the expandable MagLatch closure system.
Here are two very large side zip panels on either sides of the bag so you're never having to reach through the bag in order to get something that's on the other side.
And finally there is a large zipper at the top that gives you access to this back compartment.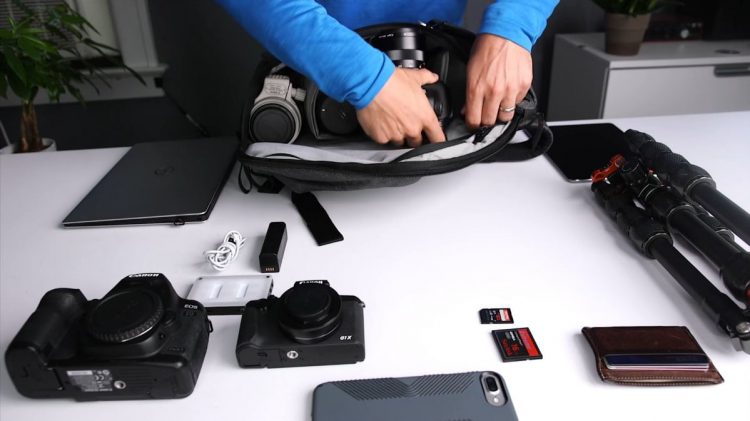 Let's start out by looking at these side zip panels which were one of the reasons i really like this bag. I'm usually testing multiple cameras and it's really important to me to quickly be able to get to my gear and then put it back, and switch between different bodies and lenses.
So i really like the fact that i can get to my gear from both sides. We'll get into these dividers in a minute, but are different ways to set this back up, depending on what type of equipment you're bringing with you.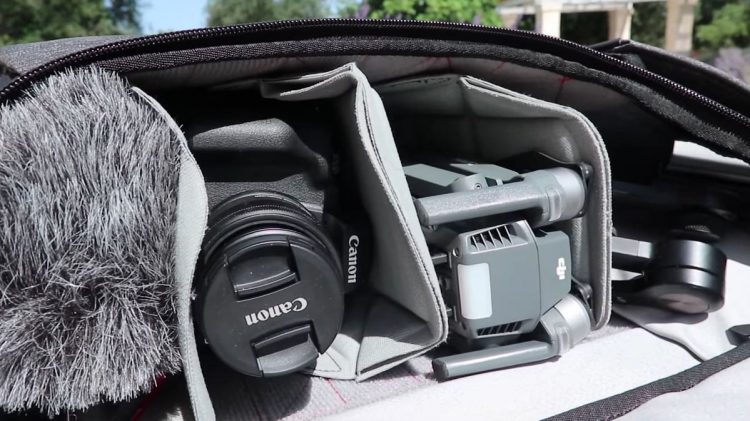 One of my concerns about getting a backpack was the ability to get to my equipment quickly and in situations where i may not want to or not have the ability to put the bad down. A nice feature that was integrated into the straps is that if you pull on this release tab, you can swing the bag around, and it now hangs horizontally in front of your body, and creates a really nice working platform and both of your hands are still free.
In addition to these size panels, we also have top access using this patented maglatch closure system. And this is a really clever design, i really like thing. First, take a look at how easy it is to open, i just lift up and then pull down.
So that looked so easy that you might think this will open all the time on it's own. But it won't, it never, once, opened, with throwing it into overhead compartments, under the seat, in the car, on the floor, getting kicked around, it never opened on its own.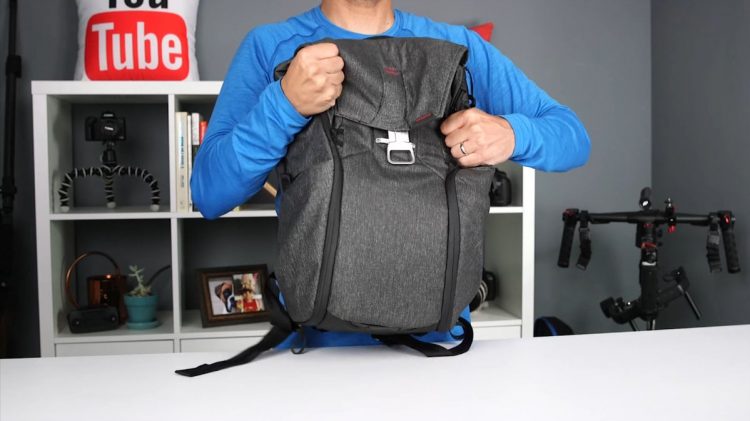 I can pull on the top flap as hard as i want and it won't go anywhere, i can pull down on the latch as hard as i want and it won't budge, i can even pull up on the latch and it won't open, and that's with the whole weight of a full bag.
But then at the same time, i lift up, then pull down, and it easily opens. Brilliant.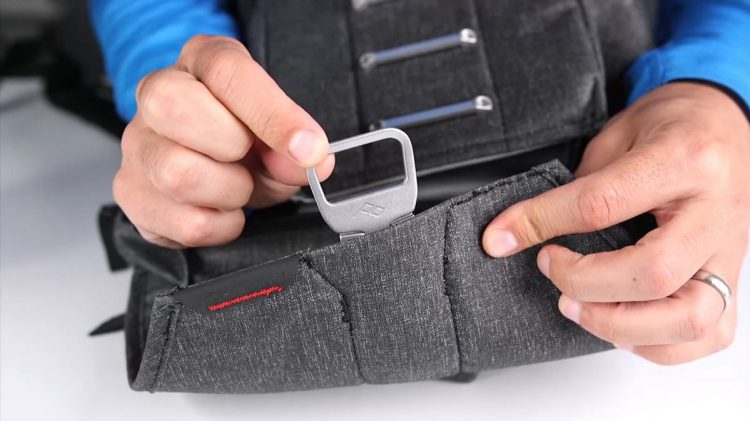 Let's move on to capacity. I chose to go with the 20l model, there is also a larger, 30l model but i felt that for most of what i'll need, this size is plenty big. Of course, you're going to have to make that choice yourself depending on what you plan on carrying, but i'll show you what i was able to carry.
Because of the maglatch system, this bag can go from 12l to 20l in terms of capacity, and that depends on which of the 4 bars you use. So obviously at the lowest bar, we're at 12l, but i need extra carrying space, i can move all the way up to the top bar.
And this almost serves the purpose of multiple bags. I hate having a backpack on that is just too big for what i need, it gets all floppy and looks terrible. With this bag, i can decide how much space i need and make that adjustment on the fly.
The only thing that i noticed happening a few times, especially when i was using the higher latch points is that the bag sometimes "flared out" on the sides. That could potentially let some water into the bag if you were carrying like that in the rain.
But honestly, that was only when i was messing around with the bag, i would probably not have it that full. If i felt like i need to carry that much stuff i would probably just get the 30l version.
Again, i value having the option to overstuff this bag for those rare times when i need it, over the unlikely event that i will be doing that in a rainstorm, because, i'd probably go inside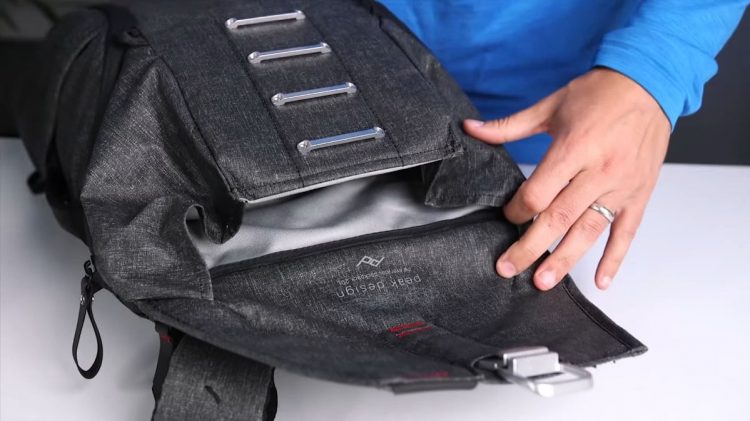 PEAK DESIGN EVERYDAY BACKPACK ORGANIZATION
Let's move on to organization, and there is a ton of stuff here and i love how organized i can keep all my gear.
You may have noticed that there are some dividers inside the main compartment, and they are what peak design calls flex fold dividers.
The bag comes with 3 of these and they let you split up this main compartment into so many different configurations, depending on what you want to take with you. They also prevent your gear from banging against each other, or falling to the bottom of your bag.
When i first looked at these i remember thinking, that's not that great, it's pretty much splitting this big compartment into 3 smaller ones, which of course is better, but not ideal.
But you'll see, that i can actually take each one of these dividers and pull this little flap, and now i very quickly created some more compartments. So now i can fit smaller items in each of these new sections, and i still have the rest of the shelf to work with.
Alright, let's move on to these awesome side zip panels. Both sides have these great interior stretch mesh pockets that are enclosed behind zipper. I really like this because it keeps whatever i put here, away from the gear i have inside the bag.
And i know it's hard to tell in the video, but this separator material isn't flimsy, it it does provide some good separation. .
There are different sizes of these stretch mesh pockets and they have been great for anything from memory cards, batteries, external power packs, and just pretty much anything else i didn't want floating around in the main compartment.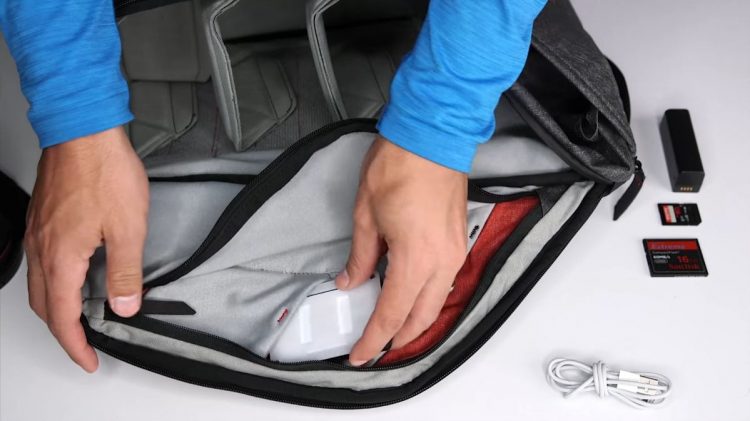 Next let's look at laptop/quick access compartment. There is a single zipper at the top of the bag that gives access to the laptop, tablet and what i call a quick access pocket all at the same time.
As far as laptops go, you can fit up to a 15" macbook pro if you have one. I prefer smaller laptops so i have my 13" dell xps and i also have an ipad that i can put in the dedicated tablet section, which by the way, is super deep.
Then, another one of my favorite features is this quick access pocket at the top. This is the pocket i use for the thing i need most often, so during the trip, my sunglasses went in there, my airpods, my keys, iphone 7 plus and initially my wallet.
I love how big this pocket is and quickly i can get to what i put in there.
Remember, that i said i had my wallet in there in the beginning? That was until i found this hidden pocket inside of the main compartment. If you open the top flap, you'll find this pocket up against the other portion of the bag. It's closed by a little magnet so your stuff won't fall out.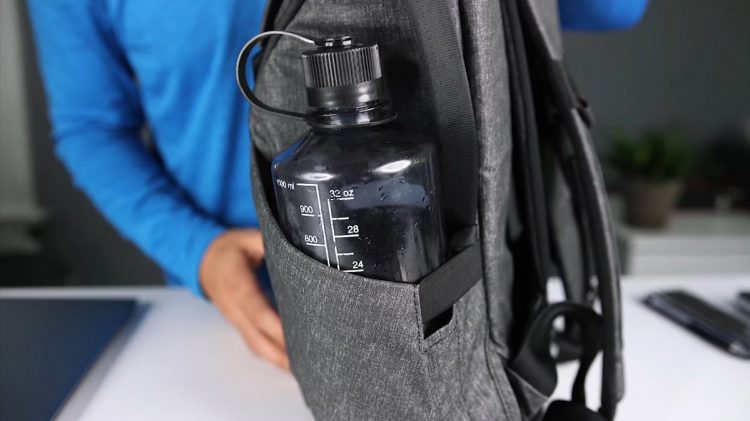 PEAK DESIGN EVERYDAY BACKPACK CONSTRUCTION AND COMFORT
Next i want to talk about the construction and built quality of this bag. Well, it rocks. And as far as comfort, the everyday backpack has some really nice ergonomic touches to it.
This is one of those things that is a little difficult to convey in video or images but i'll do my best.
First, let's talk about this outer shell. It's made of 400d (denier) kodra nylon canvas shell with dwr coating for weatherproofing. It feels really nice to the touch. I know it's not something that against my skin and maybe i'm just weird, but when i buy stuff i'm always rubbing the material and how it feels is important to me.
This material is also very strong and durable and i feel super safe about carrying expensive camera equipment or my drones in it.The weatherproofing continues on to the zippers which are water resistant. The zipper pulls are nice and big and the zippers operate really smoothly, even when the bag is packed.This bag also has a ton of padding, so everything from this top flap, where i love that they didn't skimp on this fabric and they put it on the exterior and interior. There is a layer of padding in between.The whole front panel is padded, the side panels have padding all along the pockets and the bottom is also well padded.
Again, this is really important to me. I'm putting thousands, and sometimes tens of thousands, worth of photography or video equipment in the bag and i want to know that it's protected.
As we move into the laptop compartment, there is a lot of padding both between the exterior of the back and the laptop compartment, as well as the separating the laptop compartment from the interior of the bag. Also, really nice to know that my laptop and tablet are safe. You can see that the bag holds its shape, even if it's empty, and that has to do with how the bag was designed and how the padding was incorporated throughout the entire bag.
I'm really happy with the build quality of the bag. I've only had it for about a month now, but it sure does seem sturdy and well made, and regardless, peak design offers a lifetime warranty.
Let's move on to the shoulder straps, which you can see are attached with these axial strap attachment points. This is a pretty innovative design and it accomplishes two things. First, it allows for the straps to sort of find the position that best fits your body type.So maybe you have a smaller frame and these need to be closer together, or maybe your have a larger frame and it would be more comfortable if they were rotated out. This design can easily accommodated different body types.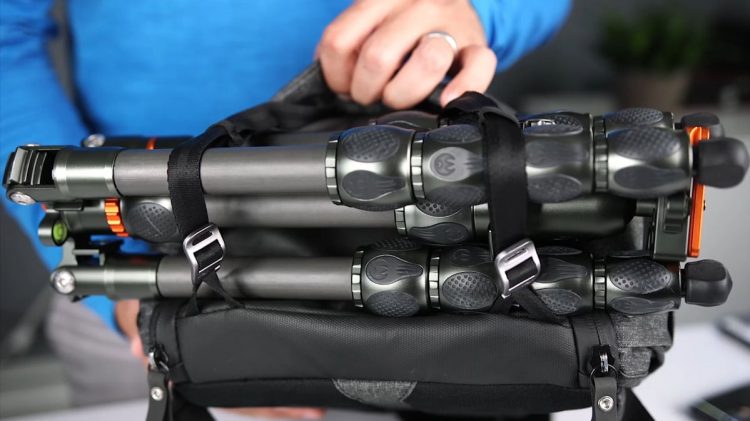 The second thing is that it rotates when we swing the bag around to open the side zip panel. Without this rotation , the shoulder strap would be pulling this bag down in this position.
My only major complaint about this bag is that the shoulder straps are not super comfortable. The material that was used to extremely durable but i wish that there was a little more or maybe just softer padding inside. This is really only a problem when the bag is really jam packed with heavy stuff but seems like it would be a simple change.
The same material that is on the straps continues down these channels on the back of the pack. Peak design really thought this through and maximized airflow to help you stay cool. First, you'll see that these 2 strips push the bag away from you, and next, you'll see that they have channels in them which allow for air to flow through them. Super clever.The pad that sits on your lower back, also has those same channels.
I was wearing this backpack in italy for 2 weeks, in the june heat, and from that standpoint it was very comfortable. There are 3 external handles, one on each side and one at the top of the bag. I have the charcoal color so these are hypalon. The ash backpack comes with natural nubuck leather touchpoints. And finally, all of the hardware is anodized aluminum with a sweet sandblasted finish which is super solid and looks great.