Are you a big fan of organizing everything in your backpack so you could easily find anything and everything you want? Or did you ever just want a backpack that provides a whole range of functionality while also being pretty stylish and not too large? Well whichever it is, the nomatic travel pack, emphasis on the pack as nomatic tends to have not very intricate names, delivers an astounding performance with the multiple different pockets throughout and inside the backpack. Thus, paired with a solid and durable material, a good amount of padding and a pretty stylish look, the nomatic travel pack may just be one of the best backpacks, or rather travel packs for you.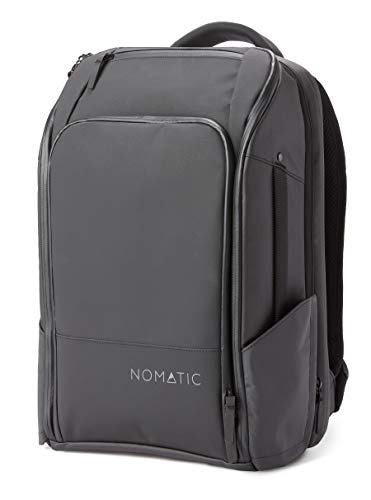 Why We Like It – Nomatic Travel Pack
Made for you organizers out there, the Nomatic Travel Pack is a backpack that comes with multiple pockets, with unique inner designs of their own. Each of them make it easy for you to store everything you need for almost 3 days of travel, separating them into the many different parts of the pack to find them quickly and easily whenever you need to. And with a sort of high end price, the Nomatic Travel Pack does indeed deliver a premium feel and quality while also making it possible for you to expand and compress it to an everyday backpack when you need to.
Pros
Expandable space
Numerous pockets for easy and fast storage
Material is solid and durable
Performance
To start off with how much the nomatic travel pack can fit, first let's look at how many pockets it has. Three large zipped pockets on the front, the first one being the medium sized compartment with a number of inner pouches made of mesh, a zippered pouch inside and a sleeve to keep your notebook or journal. In front of this pocket you also get a rfid safe pocket which can be locked to store important things such as your passport and boarding pass during travel. You can also use the mesh pouches to store your charger and cables, which as a matter of fact you can use to charge your phone much more easily through the cord pass in the quick grab pocket which is located right above the front pocket. And as a plus point this pocket even allows you to quickly get a hold of things you need fast access to, without digging through everything else.
Moving onto the next one, we have the main pocket which is the largest one here, providing you with a case for your sunglasses as well as four mesh pockets divided across either side. The case makes it easy to store your sunglasses whilst protecting it when you're moving around. You can even expand the main pocket using a zipper outside, which will allow you to take advantage of the backpacks 30 litre size instead of the usual 20, thus, making it a much better fit for travel than the nike hayward 2.0 backpack and even the matein travel laptop backpack. Moreover, the main compartment also features a zipper in the middle which you can use to separate most of your clothes or less emergency belongings from the ones you need. This however cannot be tucked away which could pose a slight problem for some people. And while the main zippers can be pulled down all the way to lay the backpack flat, the two zipper pockets on the back of the main compartment also make it possible for you to store certain things separately if you want to, like the separate shoe compartment and separatable laundry bag on the opposite end. Do keep in mind though that the quick grab pocket actually connects to the main compartment meaning that the cord pass through is actually in front of the main pocket.
Furthermore, coming back to the last pocket up front, we have the laptop compartment which comes with a laptop sleeve to store your 15 inch laptop as well as another sleeve which can be used to store your tablet. The sleeves both come with a false bottom which will protect your devices even if the bag is accidentally dropped, and you also get padding on the back panel which contributes to both your comfort and the safety of your devices. As for in the opposite end of this pocket, you get a zippered compartment that allows you to store documents and papers that you may need quick access to.
Additionally, the nomatic travel pack even features a secret pocket at the back which is hidden by a button with the back strap, allowing you to easily store money or anything valuable in there to free you from the worry of theft. Aside from that you also get a water bottle holder and side handle on both sides making it easy for you to carry a water container and the backpack itself. The bottle pocket can also be smoothed over using a magnet when you're not using them.
Finally, moving onto the straps and other functionalities of the nomatic travel pack we have, decent shoulder straps which are adjustable but may cause a bit uncomfort when the pack is heavy. This is mainly due to the lack of enough padding, but thanks to the adjustable sternum strap you can easily attach the metal buckle over your waist to lighten the load on your shoulders. And while the straps are flexible enough to be comfortable and even feature some useful pockets, they can also be detached if you don't need them. This is especially useful for anyone using it in the standard 20 litre state for class or work, as you won't have any extra straps hanging around the backpack, that too with a metal buckle clanging sound. Apart from that, the nomatic travel pack has a padded handle that you can use to carry the backpack, but being attached to the shoulder straps it's not as easy to use. However, you can always use the luggage pass through to carry the backpack with any of your other luggage that has wheels.
Design
Measuring to be 18.5 in x 12 in x 9.5 inches and weighing just around 4.16 lbs, the nomatic travel pack is nowhere near as compact as the nike hayward 2.0, but being a travel pack as it is, it allows you to carry all the stuff you may need. And when you don't need the extra space, you can always just zip down the expandable main compartment for everyday use. This makes for a pretty functional design as like the retractable key leash in the front pocket that you don't always have to connect and disconnect. Thus you even get a backpack that allows you to carry around a backpack that can be compact while also having almost the same space as the north face borealis backpack.
On the other hand, being made of tarpaulin unlike the standard polyester material of other backpacks, the nomatic travel pack is different, but not bad. The body is still pretty durable and water resistant, not proof, to a good extent. But the place where the tarpaulin falls behind is that it easily catches marks and scratches, giving it a bad look after rough use. So i would definitely say that for the rough users out there, the nomatic travel pack may not be for you, but if you can take a fair amount of care regarding where you keep it and how you handle it, it will far surpass your expectations in terms of both durability and aesthetics.
Aside from that, the zippers on it are fairly durable as well but they don't really stand out that much, they're just the standard pretty solid zippers. However, when it comes to colour availability, the nomatic travel pack falls behind the nike hayward 2.0 with only a single black colour available.
Value
Priced at around $180 on amazon com right now, the nomatic travel pack does pretty much fall on the expensive side of backpacks. But while buying it is actually worth it for the quality and functionality, do keep in mind that nomatic backpack and the nomatic travel bag are completely separate items. You can however get the separate packing cubes which offer a much more functional travel experience at a cost of around $30 more. So with a good travel backpack review from multiple users, the nomatic travel pack is definitely worth the expensive price. But if you do need a more budget travel backpack, don't hesitate checking out the matein travel laptop backpack.
Nomatic Travel Pack Wrap Up
With an expensive price tag, the nomatic travel pack delivers a performance worth it's price. If you can get past the single colour, a slightly less padded shoulder strap, you'll find a durable build with multiple pockets as well as a laptop bag sleeve. You get a detachable sternum strap and even a included sunglasses case, and so offering both functionality and durability with a stylish design, the nomatic travel pack is a backpack definitely worth your money.