The quality of a helly hansen rain jacket is an open secret amongst olympic professionals (sailing), outdoor emergency workers, and those who demand the best waterproof rain gear available to keep them dry and comfortable when hiking, skiing, sailing, fishing, or working in a torrential downpour. If you are looking for an exceptional rain coat for any situation, you will be able to find one amongst the extensive collection of helly hansen rain jackets available for men and women.
What is the Helly Hansen Story?
Long ago (1877) in a faraway land (norway), there lived a giant (whoops, wrong story!) – brave sea captain who wanted better waterproofs for him and his men. Helly juell hansen and his wife margrethe started with coarse linen and linseed oil, but the brand continues to innovate and is trusted not only for comfort but for safety.
A helly-hansen rain jacket design is for its intended use, so you find them in ski resorts (worn by the instructors and other professionals), on olympic sailing boats, and the most challenging workplaces like lifeboats and fishing trawlers. Helly hansen rain gear is not just for athletes but is ideal for keeping you dry and comfortable on your morning commute, exploring a rainforest, or trying to land that tricky trout. A helly hansen rain jacket lives up to the promises and delivers weatherproofing demanded by the professionals and by you.
Helly Hansen Rain Gear Technology
Moving on from oilskins (linseed oil and linen), you have a series of innovative advances in helly-hansen rain gear. Below, i discuss the most important ones. If you would prefer to skip this overview so that you can get on with finding the best helly hansen rain jacket for you, please find the heading "how the reviews are organized" and start reading.
Helox Waterproof Fabric
Adding a thin sheet of pvc plastic (transparent) as a layer in the helly hansen jacket construction produces 100% waterproofing if you take care to seal any points of weakness like seams. Helly hansen adopted this technology in 1949 and still uses helox+ today.
Pvc is a poor environmental choice because of the high level of toxic chemicals in production, usage, and final disposal. None of this information was available when this new material came on the scene in 1949. Despite its toxicity, it is invaluable for healthcare, construction, and other industries. In these applications, it stays in place and has a minimal environmental impact (compared with alternatives) and significant benefits.
In clothing, pvc is replaceable, and helox+ is pvc-free. It is as waterproof as the original laminated fabric. Plus, the helox+ material has the benefit of a stretch construction, giving you plenty of mobility (handy when you work outside) and 100% water and wind proofing. Each helox+ helly hansen rain jacket comes with a color matching pu repair kit so you can maintain your helly hansen jacket for a long time – repair don't replace – so we can be kinder to the environment..
Some helly hansen rain gear continues with pvc when it is the most appropriate material for the product, but mainly you can expect pu coated fabrics as a replacement.
Helly Tech
The issue with waterproof fabrics is that bodies heat up and produce water vapor that condenses inside the rain jacket. The development of microporous membranes that let water vapor move from your body to the outside but prevent water from coming in was a game-changer in the eighties. Helly Tech is Helly Hansen's first adoption of this different way of managing rain and perspiration.
The helly hansen rain jacket fabric combines a material (typically polyester or nylon) with a dwr (durable water repellant) coating on the outside, a comfortable layer inside, and a breathable membrane providing temperature control between the outer and inner layers.
There are three types:
Helly tech protection – gives you daily protection from the elements and lets your skin breathe.
Helly tech performance – ramps up both the waterproofing and breathability for challenging weather conditions and sporting levels of activity.
Helly tech professional – is for extreme or enduring weather and when you need to exert yourself regardless of the harshness of the environment. It is the highest level of performance and you pay a bit more for it.
For most leisure and work purposes, the helly tech protection is adequate and affordable. You will know if your level of activity demands a higher quality performance fabric
H2 Flow
Still thinking about dealing with internal moisture, helly hansen developed an airflow venting system coupled with a waterproof barrier in 2012. This revolutionary technology won a design excellence award in norway. This type of technology lets you be highly active outside in the rain without overheating. If you need more breathability, look for the helly hansen jacket with h2 flow listed as one of its features.
Meeting the Standard
Helly hansen is a norwegian company, and some of its helly hansen workwear meets the en343 standardization tests for waterproofing. The fabric and the seams are tested and assigned a level 1, 2, or 3 for waterproofness and resistance to water vapor as two separate measures.
Design Details Of A Helly Hansen Rain Jacket
Typical design details found in a Helly Hansen jacket, depending on the model, are:
Storm flaps on zips and pockets – with or without snap fastenings.
Secure zipped chest pocket.
Internal pockets.
Ventilation features like pit zips or air holes protected by a back cape or yoke.
One-handed adjustment for drawstring hem.
Zip pulls.
Adjustments for cuffs and hoods.
Sport-specific features like space for race id.
Enhanced safety features.
The details that matter to you depend on the reason why you want to buy a helly hansen rain jacket – for leisure or work or a combination of the two. Suppose you are a marine professional or rescue worker. In that case, you will want a different standard of helly hansen jacket to someone who wants a waterproof jacket for commuting and some weekend hiking.
How These Reviews Are Organized
Many styles of helly-hansen rain jackets are available for women and men and have similar features with minor variations. The section that reviews styles of helly hansen jackets for men and women lists the standard features and highlights the gender differences. The same is true in the sections that highlight styles of helly hansen jackets for men or women only. Overall, the idea is that you check at a glance which coat has the key features that most interest you.
The technical fabric performance is the best method for deciding if a helly hansen rain jacket meets your needs. Breathability is desirable if you intend to exert yourself but less essential if your sole focus is to keep your clothes dry during an unexpected rain shower.
Everyone has a different set of priorities for important features. The bullet points will help you decide if it is worth delving deeper into that particular helly hansen rain jacket.
Other options
If you can't find what you are looking for, try two other rain jacket manufacturers.
Columbia produces excellent rain jackets with its own technology. Most of them are very value driven and you can find excellent products at great prices.
Marmot is more in league with helly hansen – producing very technical high end rain jackets. For a review of their rain gear line, please take a look at 11 best marmot rain jackets: staying dry is a breeze.
Helly hansen rain jackets for men and women
The helly hansen rain jacket range for men and women provides popular, affordable jackets with more advanced features.
Helly Hansen Products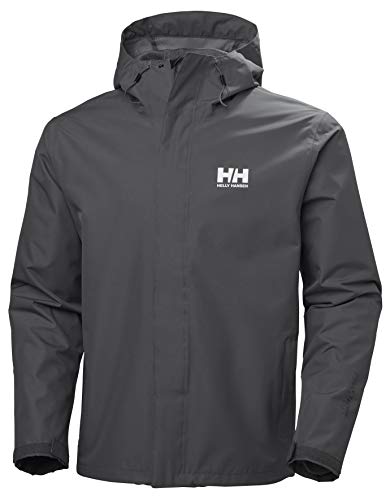 Helly Hansen Seven j Rain Jacket For Women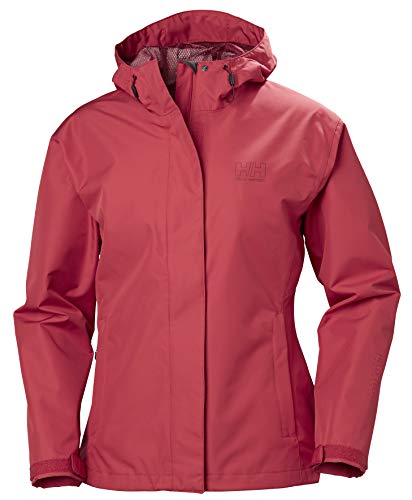 For what can you use it?
Excellent for daily life in the city and some outdoor leisure activities like camping, hiking, biking, trekking, and climbing. It is also a perfect outer shell if you want to layer up for winter weather.
Best features
Waterproof, windproof, and breathable helly tech protection.
Storm flap with velcro fastening covering front zip.
Quick-dry lining.
Seam sealed.
Ykk zippers.
Attached hood – easy one-handed adjustment with a drawstring.
Adjustable cuffs and hem.
Anti-chafing chin guard.
Lightweight and machine washable.
Regular fit allows for additional layers.
Gender differences
Different color choices for men and women with some overlap.
Women sizes available in x-small to 4xl and men from small to 5xl.
Women's version has slight tailoring at the waist and a flare to the hips.
Conclusion
Helly tech protection is for everyday wear. This helly hansen raincoat is a popular choice because it is affordable and available in various colors and sizes. It will keep you dry for most outdoor activities, and you can fit some extra layers underneath for winter warmth. It has the standard level of waterproofing and breathability. If you intend to do strenuous outdoor activities in challenging conditions, you will want to opt for a higher-performing helly hansen rain jacket with the next level of technical fabric.
There are some lovely details like an anti-chafing chin-guard (microfleece lining) and a quick-dry lining. Plus, you get all the standard adjustment points to make the jacket weatherproof at the bottom and wrists. The two hand pockets zip to keep the contents in your pockets when moving around. Ykk zippers have the best reputation for being reliable and robust.
If you want a helly hansen jacket to walk the dog, take the kids to school, dash from the car to the office and enjoy a leisurely hike, then this jacket is affordable, colorful and an excellent choice.
Helly-hansen loke rain jacket for men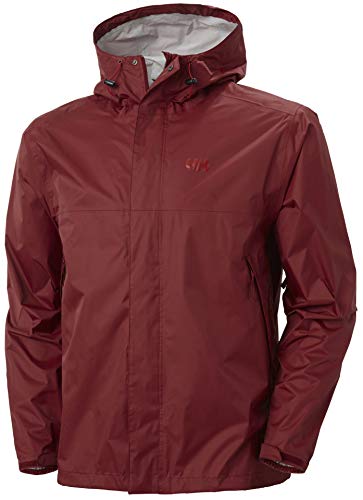 Helly-Hansen Loke Rain Jacket For Women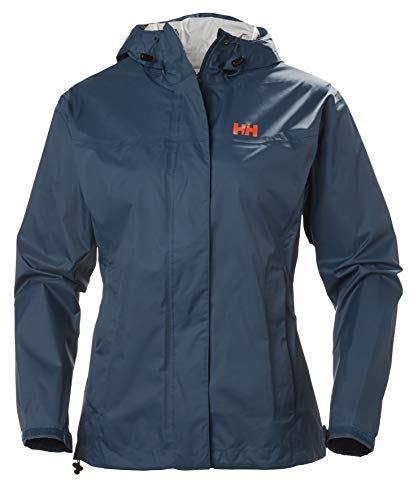 For what can you use it?
This helly hansen rain jacket uses the helly tech performance 2.5-layer construction with enhanced waterproofing and breathability. It is excellent for hiking, mountaineering, and trekking when you need better execution. Plus, you can use it for all your everyday urban activities.
Best features
Waterproof, windproof, and breathable with helly tech performance fabric.
Waterproof – 10,000 mm
Permeability – 10,000 gm
Storm flap over the zip, adjustable cuffs, drawstring waist, and attached hood.
Armpit zips for ventilation when necessary.
Lightweight and will pack into a hand pocket.
Around $100
Gender differences
Different range of colors with some overlap.
Women sizes available in x-small to 4x and men from small to 5x.
Women's version has slight tailoring at the waist and a flare to the hips.
Conclusion
If you take your outdoor fun more seriously and like to spend your time climbing and trekking (but are not ready for even more extreme challenges), then this helly hansen rain gear will meet your needs for enhanced performance without breaking the bank. Plus, you can still use it to walk the dog.
If you exert yourself (fast hiking or trekking), your body heat may outstrip the breathable membrane capacity to cope. The hottest part of your upper body is the armpit (that's why there is a billion-dollar industry in deodorant and antiperspirant). Strategically positioned armpit zips are an option to keep you cool while hiking, climbing, or any other fast-paced activity.
Helly hansen crew hooded rain jacket for men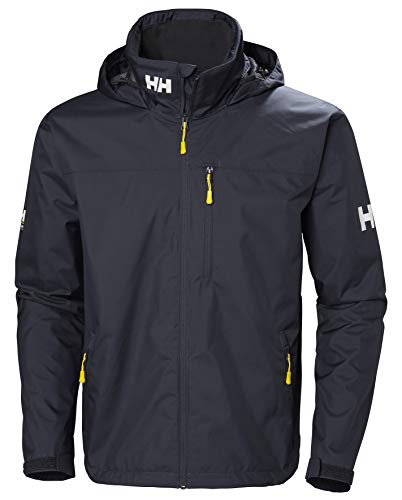 Helly hansen crew hooded rain jacket for women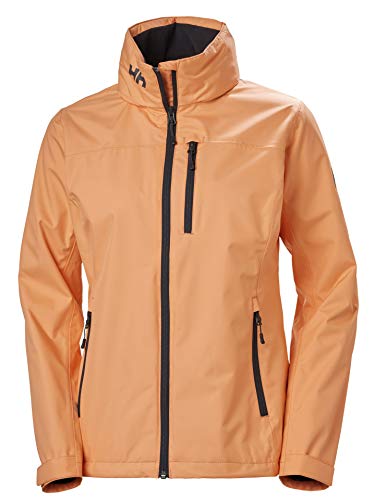 For what can you use it?
For sailors – inshore sailing, dinghy sailing, marine lifestyle. Camping and hiking, casual, commuting.
Best features
Waterproof, windproof, and breathable with helly tech protection.
Hood packs into the collar.
Features a pocket at the back of the collar to display race id.
Collar lined with polartec fleece.
Two zipped hand pockets.
Chest pocket with zip.
Mesh lining.
Zip pulls
Adjustable cuffs.
Gender differences
Different range of colors with some overlap.
Women sizes available in x-small to 3x and men from small to 3x.
Women's version has slight tailoring at the waist and a flare to the hips.
Conclusion
You don't have to be a sailor to benefit from this helly hansen rain jacket, but if you like to spend time on the water, then you will enjoy the weatherproofing with breathability. You get an excellent choice of colors, and the style won't look out of place on any city street.
Having a fleece-lined collar may seem a trivial item, but it makes a heap of difference to how comfortable your neck and chin will feel when you spend a day outside in the rain. The hood stows away neatly in the collar, and the chest pocket keeps your small valuables on hand in a secure location.
Helly hansen moss hooded raincoat for men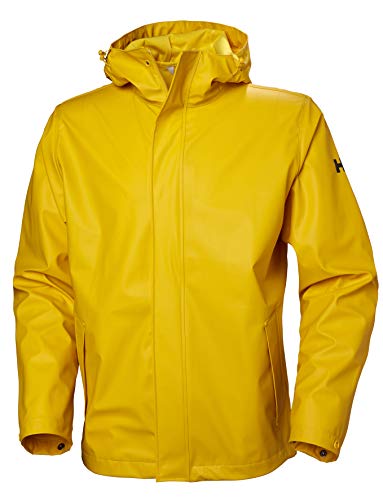 Helly Hansen Moss Hooded Raincoat For Women