LinkedIn is a great platform for lead generation and hiring. Several platforms allow you to further enhance and automate the process, helping businesses reach out to more people faster. Cleverly is a LinkedIn lead generation platform that works to automate your outreach. Cleverly uses data from thousands of outbound B2B campaigns to send personalized messages to clients. That's what they say at least, but is the platform actually worth your time and money?
Initiated in 2016, Cleverly was made to simplify LinkedIn lead generation, doing all the work for you. The only intervention needed is when your clients respond and you can take it further, hopefully getting a deal.
Getting a response on LinkedIn takes skill. As several platforms such as Cleverly are constantly messaging clients trying desperately to get those responses. People are more likely to ignore messages that seem artificial and have no connection with the client.
Cleverly's data-driven messages are supposed to be personal and more likely to get a response on your campaigns. The platform, known for its messages, has a few other features that it advertises.
Features of Cleverly
Cleverly is kept updated with user data, meaning it improves itself based on responses acquired in the past and successful lead generations. The service is meant to be used by growing businesses, startups, and freelancers.
Although the platform is simple enough with a clean UI, it doesn't seem to have any exceptional features that make it stand apart from other B2B campaign tools. Here's what we know about the platform:
Prospect Builder
Cleverly has a built-in prospect builder based on LinkedIn data that you can use to build your client lists. Based on actual data that's collected from LinkedIn, Cleverly makes a list of potential clients who may be interested in your product.
This data is acquired through group participants, post comments, and profiles. It lets you add custom entries as well as importing your own lists for your campaigns.
Once you have built a list of clients you want to connect to Cleverly moves ahead with your campaign and onto the next stage of lead generation that is messaging the clients on your list.
Personalized Messages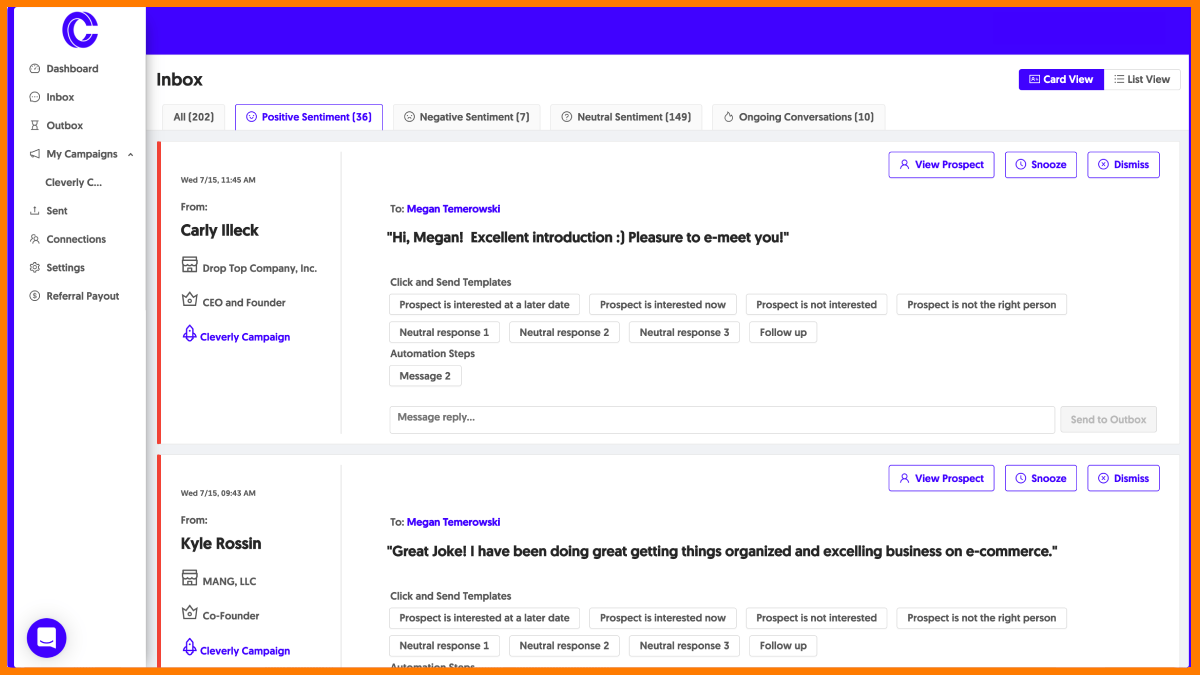 Data-driven personalized messages for your campaign sounds great on paper. Sending those eye-catching messages that get people interested all without any effort on your part is unfortunately too good to be true.
Based on Cleverly customer reviews on several platforms, the messages sent aren't really personal. Although data-driven, the messages fail to generate leads as promised. According to users of the platform, the messages appeared to be way too direct, spam-like and inconsistent with the campaign theme.
For a lead generation tool that relies on its messaging feature, this is something that Cleverly needs to improve. The company offers to guarantee that the service will generate any leads at all. The service isn't liable to get you leads even though that's what it's supposed to do.
Automation
Automation of your workflow is a standard feature when it comes to any lead generation tool. The whole idea of paying for a service like this is to simplify your efforts and get more work done.
Cleverly does indeed automate messages to clients and lets users set a time interval based on your campaign for sending those messages. Automatic follow-up messages and quick reply functionality is provided as well.
When required, the Cleverly account manager is present to make better decisions on message and campaign timings. However, the reasoning and reliability of this feature are questionable.
Customers have complained previously about unplanned actions taken by the platform because they had been provided with campaign data. Taking unauthorized business decisions is certainly bad for both the platform and the client using the service.
Pricing of Cleverly
For a lead generation tool that's supposed to be versatile to conglomerates and small businesses alike, the pricing certainly isn't appropriate. Starting at $297/month for the Silver plan that offers just 250 prospects, there are certainly better alternatives to the platform.
Spending almost $397/month gives you almost all the functionality of the platform along with its integrations, customer support, and account manager with the only limit being the number of prospects. There is no free trial which means you have to make a purchase even if you wish to try the platform.
Additionally, it's worth mentioning that the only difference between all 3 plans is the number of prospects available.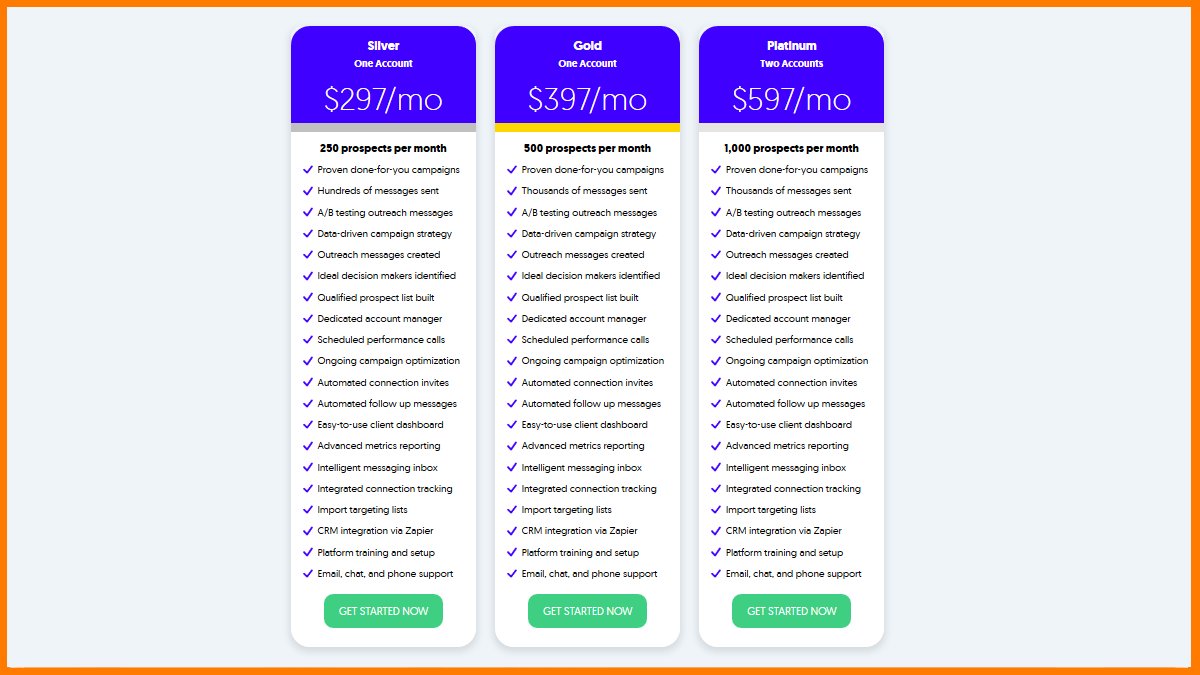 CASTANET: A Better Alternative
Priced much lower than Cleverly, CASTANET is another tool for LinkedIn lead generation. It offers similar features, except that it doesn't create messages for you. Instead, it offers a dedicated message sequence builder that allows you to craft your own messages and replies with ease. This makes sure that the messages you send are personal, relevant, and natural. Besides messaging sequences, the platform also has:
A Dedicated IP Address per profile
Randomized Delays between actions
Cloud-based
Intelligent Limits
Deep Segmentation
Starting at $199/month for the solo plan, you get one LinkedIn profile and access to all the platform's features including unlimited campaigns and sequences. CASTANET is surely a better alternative for those who wish to automate their B2B lead generation.
It also offers a free 14-day trial for all the plans so you only pay if you like the service. Considering the price and features you get, it's clear that CASTANET is much more versatile and a better alternative to Cleverly.
Conclusion
Having the best tools doesn't necessarily mean you will get more leads. It's about your product and the type of messages you send. That being said it's always better to use a service with more value and good reviews.
Cleverly was a great platform back in 2016 but with the progression of time, there are better alternatives out there. Making the right choice can mean more leads for your business and that's all that really matters.
FAQ
What is the pricing of Cleverly?
Cleverly has three plans, the silver plan which is priced at $297/month, Gold plan which is priced at  $300 and platinum priced at $597/month.
What is Cleverly?
Cleverly is a LinkedIn lead generation platform that works to automate your outreach.
What are the alternatives of Cleverly?
Castanet is a great alternative of Cleverly.