About Design Toscano
Design toscano brings whimsy, wonder, and meaning to your beloved spaces. Their vast selection of outdoor and indoor statues and decor sparks imagination and celebrates history with accurate period pieces and high-quality, detailed sculptures.
Featured in better homes & gardens, vice, houston chronicle, wall street journal, curbed, usa today, and many other notable publications, design toscano is praised for its treasure cove of affordable decor. They have 43.3k followers on instagram and facebook combined.
This design toscano review will take a good look at the brand and its bestsellers, fill you in on what customers have to say, provide information on discounts, and more. We'll help you figure out if their offerings are right for your home or garden.
Overview of Design Toscano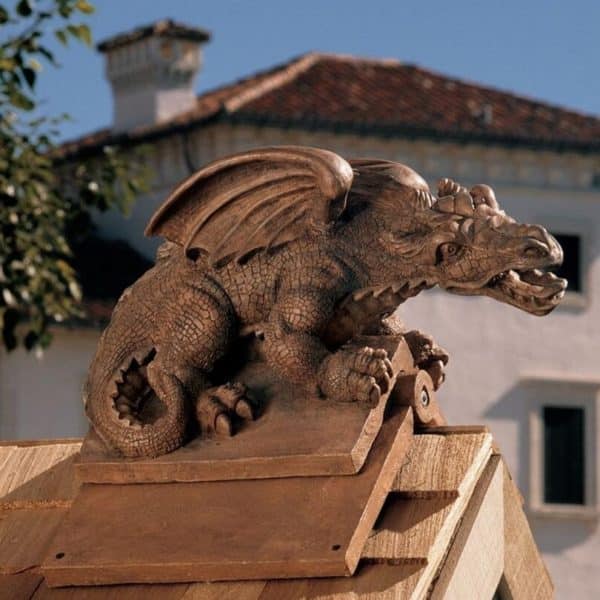 Design toscano was launched in 1985 after its founder, michael stopka, toured europe and remarked at all of the glorious art and culture that the continent had on display. He wanted to bring the same quality experience to the us, but first making sure to put an attainable price tag on everything.
Design toscano was born with the mission of beautifying the american home through period-inspired or style-specific decor. The company designs 90% of their decor themselves, and has over 6k products to choose from.
Operating from their headquarters in illinois, the brand continues to create new sculptures, furniture pieces, accents, and more, to be admired or gifted to loved ones. Now, this design toscano review will move on to the brand's pros and cons.
Pros
Over 6,000 products available on the website across various home decor categories and themes
Brings a taste of other cultures in and outside of the home
Vast selection of culture and era-specific pieces, ie. Design toscano egyptian statues, as well as italian, roman, asian, hawaiian decor
The brand has been in business for over 35 years
90% of pieces are designed and cast in-house
All dimensions are listed in detail alongside product descriptions, many pieces are easily moveable
High-quality; customers remark on the quality and aesthetic of the pieces
10% off first order when signing up to their mailing list
60-day return policy
Cons
Manufacturing location is unknown
Some customers noticed design flaws upon receiving their sculptures, especially on larger pieces
Shipping can be quite expensive for orders over $175
Not all items ship internationally
Short period (24 hours) to notify them of any damages to your order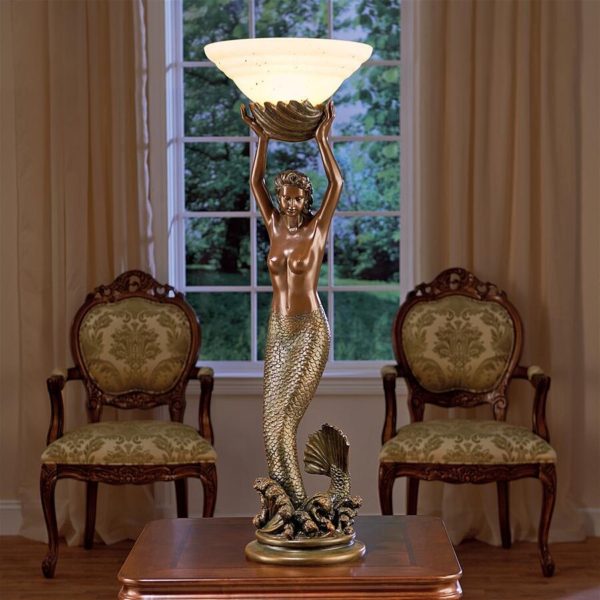 The company's website is overflowing with different themes of decor—from art nouveau to fantasy, with mermaids and cherubs sprinkled in between! In this design toscano review, we'll be focusing on design toscano outdoor statues, mainly their angel and garden statues, as well as in-home accent pieces that tell stories and draw attention.
Design Toscano Angel Statues Review
Angel statues are revered for their breathtaking presence. This design toscano review will fly over the brand's thoughtful and emotion-provoking celestial sculptures. These bestsellers are carefully crafted and intricately detailed.
Design Toscano Resting Grace Sitting Angel Sculpture: Large Review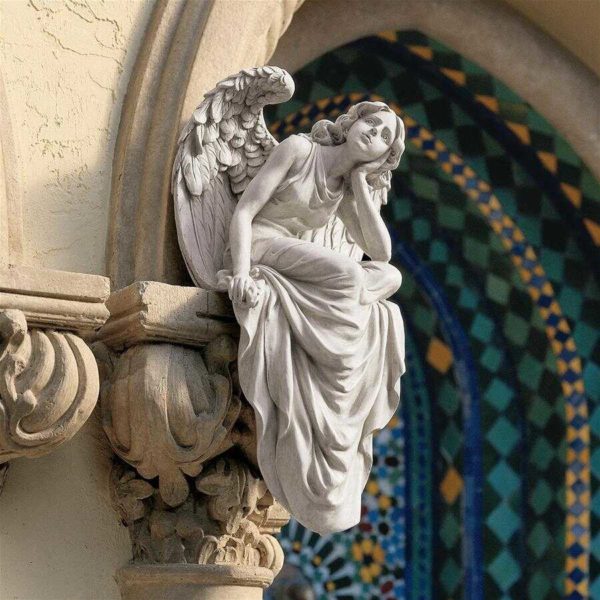 Lost in a sunny daydream, the resting grace angel sculpture: large looks up to the heavens. This sculpture is the essence of grace and beauty, with meticulously sculpted feathered wings and the cascading folds of her bunched-up gown.
Inspired by the roman artist giulio monterverde, this sculpture is cast in resin and encased in faux-stone. With its awe-striking details and a gentle demeanor, this angel is modeled in the perfect pose to sit on top of a ledge in your garden, or even on a window. Design toscano recommends keeping it out of extreme winter conditions.
The resting grace angel sculpture: large measures 10½ w x 7 d x 18½ h in inches and weighs just 8 lbs (easy to move about). Enjoy this curious sculpture for $76.
Design Toscano Remembrance and Redemption Angel Statue: Grande Review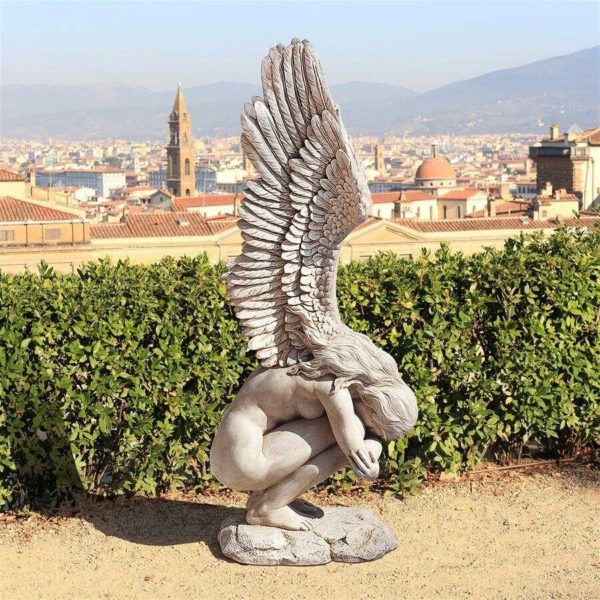 Full of pain and sadness, this divine statue holds so much emotion, that it is almost mesmerizing to gaze upon. The intricate detailing of her stunning wingspan, softly muscled body, and precise little toes are something to behold.
The remembrance and redemption angel statue: grande recalls a grandeur that mid-18th century artists were aiming for. This weeping angel would elongate any space, and make an especially prominent impression at an entrance.
The remembrance and redemption angel statue: grande measures 14 w x 19½ d x 47 h inches. Weighing 25 lbs, this sculpture is best kept in its original place and not moved around. Add meaning and depth to your home with this statue for $399.
Design Toscano Garden Statues Review
Tuck your design toscano garden sculptures in with your plants to bring a playful, other-worldly vibe to your outdoor space. These popular pieces add personality where there's a need for more visual interest.
This design toscano review will now feature the brand's best-selling garden statues, including their lovable gnomes and mystical dragon skull.
Design Toscano Mother Dagmar & Father Friedmann Garden Gnome Statue Set Review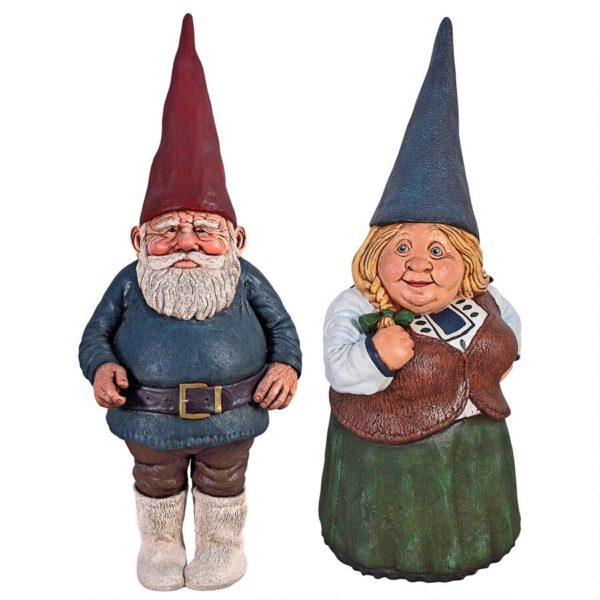 Homely and inviting, this mother dagmar & father friedman garden gnome statue set is a charming way to add joy to your garden or porch. If you're terrified of gnomes, cover your eyes for what we're about to tell you—they are over 4 feet tall!
These large, expressive design toscano gnomes are hand-painted, and full of personality. Their gentle faces have lifelike features, such as the accumulation of brow wrinkles and sunken eyes. Mother friedman has a glint in her eye as she twists her braid. The exact measurements for the gnomes cast in resin are:
Mother dagmar: 23½ w x 20 d x 48 h inches
Father friedemann: 19 w x 17 d x 49 h inches
Nestle these design toscano garden gnomes in between your overflowing flower beds, or under an archway covered with vines. Wherever they are placed, just make sure that they won't make you jump when arriving home after sundown.
Design Toscano Ram Skull and Horns Wall Trophy Review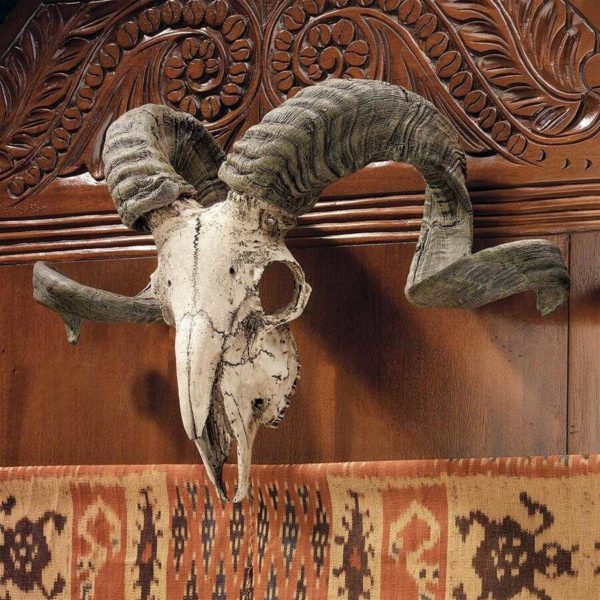 Corsican rams are hunted mainly for their skulls. Their majestic horns are so stunning, you can't help but step back in awe. Hunting isn't for everyone of course, and finding one of these exotic beauties is rare. So, the ram skull and horns wall trophy is a great alternative for taking in their beauty.
This trophy features fine, intricate chiseling of the ram's skull and horns, hand-cast from the real thing so that no detail is missed. Measuring 18½ w x 7 d x 11½ h inches, this sculpture only weighs 5 lbs—despite its grandeur— and has two holes on the back for easy hanging.
Design Toscano Roman Gladius Sword Review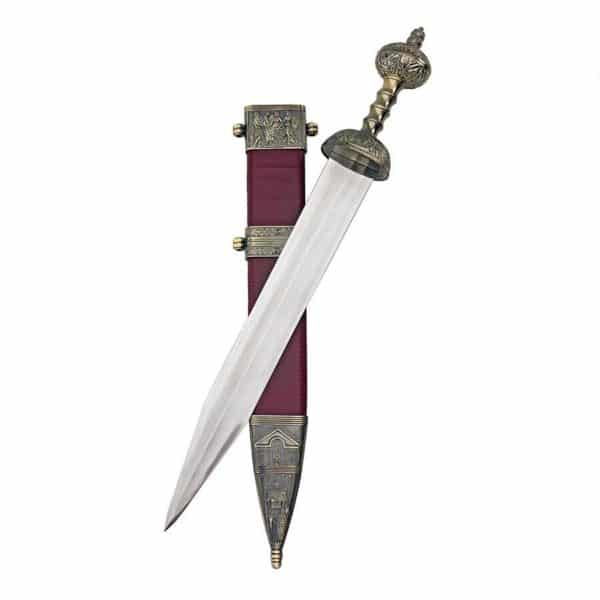 For the ancient history enthusiast and collector, the roman gladius sword is an exact replica of what soldiers wore under caesar's rule. Coupled with a scabbard, these two items have a timeless, regal look.
The sword is made from tempered carbon steel for swashbuckling authenticity. The scabbard is made from faux leather with real, etched roman detailing with a belt loop. The whole thing measures 4 w x 2½ d x 30 h and weighs 3 lbs, making installation and display effortless.
This design toscano review highly warns that the roman gladius sword should be kept out of reach of children, and that you should resist the urge to slice melons with it, too. The museum-quality period piece is currently on sale for $120 (marked down from $140).
Design Toscano Sixteenth-Century Italian Replica Globe Bar Review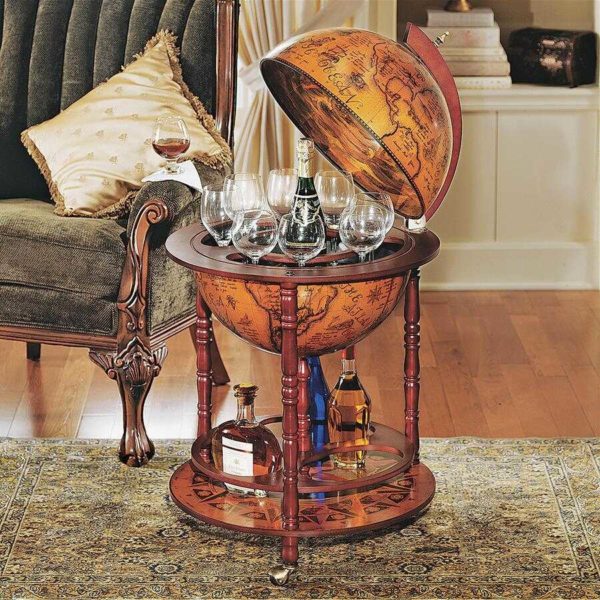 A great discussion piece for an opulent lounge or drawing room, the sixteenth-century italian replica globe bar is perfectly outfitted for all your entertaining needs. Included in this set:
A professional waiter's all-in-one corkscrew
A wine bottle opener
A foil cutter
The outside of the globe features a real replica of a 16th century nautical map provided by the national museum of science in florence. Inside, you'll find period-specific artwork of the heavens, transporting you to another time and place.
Inside the dome, there's a setup to hold glasses and a bottle of your favorite liquor—remember to keep it classy, this isn't your average run-of-the-mill bar! Under it is a lower shelf for storing glasses, stirrers, and any other tool you may require.
Measuring 22 dia. X 38½ h inches and weighing 21 lbs, this bar is on wheels so it's easy to move about the room. Throw an unforgettable dinner party with the lavish sixteenth-century italian replica globe bar for $200.
Design Toscano Drekar, the Viking Longship Collectible Museum Replica Ship Model Review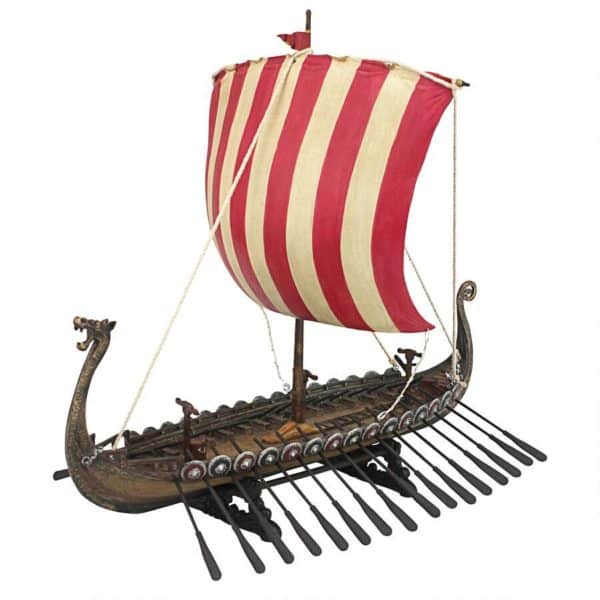 Viking ships are intimidating. Back in the day if there was one rolling up to the shore, you knew it was a sign of trouble. Drekar, the viking longship collectible museum replica ship model is exactly like the one found in a museum, made from designer resin.
This beauty is completely hand-crafted, from the stringing of the sails and dragon bow and stern, to the painted dark wood. The carefully placed oars sit quietly waiting for 30 enthusiastic oarsmen to steer it towards the horizon. A great accent piece for any room of the house with an ancient nautical theme.
The lightweight collectible weighs just 2 lbs and measures 9 w x 13½ d x 11½ h inches. You can purchase this viking longship model for $90 (discounted from $100).
Design Toscano Walpole Manor Gaming Chess Table Review 
This heirloom table injects some play into your living room. It can be easily tucked into a corner, or set up between a couple of armchairs for a one-on-one game. Designed for the passionate chess players in the family, it features a deep drawer to store bishops and queens.
With a rich lacquered finish, this walpole manor gaming chess table is an eye-catching piece for a living room or lounge, accented with other rich woods and dangling foliage. Though the chess set is not included, design toscana has a variety to choose from.
This chess table measures 20½ sq. X 26 h inches, weighs 19 lbs, and is available for $200 (from $300). It's currently sold out, but expected to be back soon.
Design Toscano Reviews: What Do Customers Think?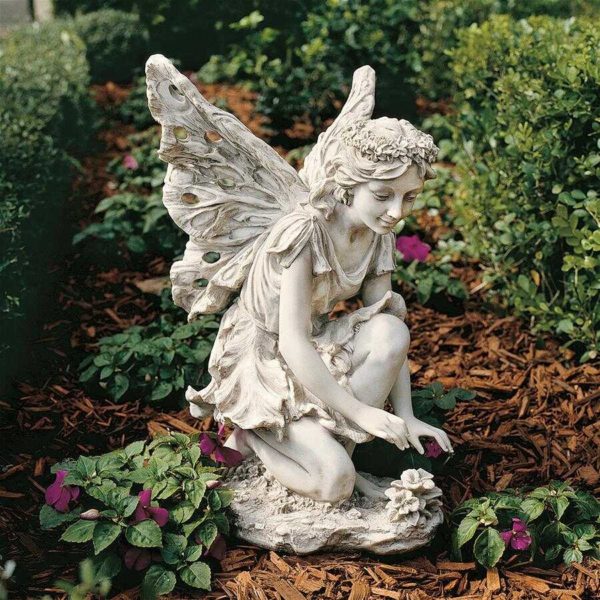 Design toscano's products seem authentic at first glance, but we want to give you a better understanding from a customer's viewpoint. So, this design toscano review turned to the internet to find out more. Ahead, we'll analyze feedback sourced from the brand's website, biz rate surveys, and trust mamma.
We checked out the brand's website (designtoscano.Com) first, to get a general feel for how their bestsellers are received.
The sixteenth-century italian replica globe bar has 4.5/5 stars awarded by 43 customers
Drekar, the viking longship collectible museum replica ship model is rated 4.9/5 stars by 27 buyers
The resting grace sitting angel sculpture: large has a rating of 4.8/5 stars from 56 customers
The stoker's moors dragon skull sculpture: large is rated 4.9/5 stars by 30 shoppers
The remembrance and redemption angel statue: grande was awarded 4.7/5 stars by 120 customers
The products listed above are all rated above 4.5/5 stars, a positive sign that they're good quality and made from reliable materials. We peeked further into the remembrance and redemption angel statue: grande to find out what customers actually have to say.
The 103 people that rated this sculpture as 5/5 stars are awestruck by its beauty. Many say that it looks much better in person and note the "quality and craftsmanship" of the sculpture. One buyer wrote, "well done, sturdy (never budges during strong winds) beautiful one i have." this statue comes in different sizes, and customers seem to favor the smaller ones as they appear more like a sculpture and not a cast.
Customers with a keen eye for detail picking up flaws on the larger versions. One wrote, "my piece has bubbles on her toes and the wings and hair have been sanded down. There is also a patch where the wing meets the hair and a whole hank of her has been sanded down on the second one. Yes, stunning piece but poor workmanship." others have noted similar details.
The design toscano profile on biz rate surveys (bizratesurveys.Com) shows a customer rating of 9.1/10. The breakdown of feedback from customers is:
Positive 85%
Neutral 11%
Negative 4%
Buyers generally write of design toscano's good selection and quality products. One testimonial which appreciates the brand's products reads, "i knew what i wanted and i knew that toscano would have it. It's unique and not easy to find." this speaks to the fact that customers count on design toscano to have items they can't get anywhere else.
Despite the high ratings, design flaws are noted frequently. Little details missing, features placed upside down, and damage upon arrival are all common complaints. One review read, "i purchased a wall hanging that was chipped pretty bad." still, design toscano has many repeat customers.