Want to give it a try? Skip everything and start your Canva Pro 30-day free trial now.
Are you struggling to create graphics that represent your brand in the best light? Or maybe you're feeling uninspired by the same old design templates.
If you're looking for a way to freshen up your visuals, Canva Pro might be the way to go.
With access to millions of images fonts, and templates, Canva Pro gives you everything you need to design graphics that are both on-brand and on-trend.
Let's have a closer look!
Disclosure: Our website is reader-supported. If you purchase any service through our partner links, we may earn a commission at no extra cost to you.
What is Canva PRO?
Canva PRO is a premium version of Canva that gives users access to additional features and resources. With Canva PRO, users can create more professional designs, access exclusive templates and elements, and more.
Click here to sign up for Canva PRO to try it free for 30-days
Some of the features available with a Canva PRO subscription include:
A library of premium templates
100+ million stock photos, elements, video, audio, and more
Brand Kit to organize your brand assets
One-click Background remover tool
Resize your designs with just a click
Instantly animate your designs
Download PNG images with transparent backgrounds
Content planner to schedule your designs for up to 8 social media platforms
Canva Pro is perfect for freelance designers, small businesses, and anyone who wants to create professional-looking designs without spending a lot of money. If you're looking for a powerful yet easy-to-use graphic design tool, then Canva Pro is definitely worth considering.
You can choose your preferred plan that is right for your business, or organization, without any hassle. Moreover, they also offer special programs for students, teachers, and nonprofits as well.
Stand Out from the Crowd with Design Templates
Whether you need a new logo, website design, or social media post, Canva has a template to suit your needs.
Simply browse through the library of templates, select the one you want to use, and customize it to your liking. With just a few clicks, you can create a beautiful design that's sure to impress.
There are many different types of Canva design templates that you can use to create amazing designs. Here are some of the most popular types of templates:
Social media post templates: These templates can be used to create eye-catching social media posts that will help you promote your brand or business.
Business card templates: Make a lasting first impression with a professionally designed business card. Choose from hundreds of designs, or create your own custom card.
Presentation templates: Impress your clients or bosses with a sleek and professional presentation.
Infographic templates: These templates are perfect for creating stunning infographics that will help you communicate complex information in a visually-appealing way.
Resume templates: These templates will help you create a polished and professional resume that will help you land your dream job.
There are thousands of templates to choose from, so you're sure to find one that fits your needs.
Your Brand's New Best Friend
A brand kit is a guide to your brand's visual identity. That really helps you to communicate with your audience those who love your brand.
It doesn't matter If you're running a large or a small business. Brand kits can include all your essential assets like logos, fonts, and illustrations. Canva has a special feature to store your all brand kit assets in one place.
Canva is offering this feature with the Canva Pro. Once you add them, no need to upload your brand assets every time you create a new design, Canva will take care of all of them for you.
Your One Stop for Stock Photos, Videos, and More
One of the best things about Canva is its huge content library. You can find millions of high-quality free and premium photos, videos, graphics, and audio to create beautiful designs.
Whether you're looking for stock images to use in your next marketing campaign or need some audio for your latest video project, Canva's content library has you covered.
Background Remover, Effects, Filters, and More
Removing the background from an image is not an easy task at all. But with the Canva Pro's background remover tool, it's easy than ever and anyone can remove image backgrounds in seconds.
When you need your image for something more serious, like a job application, Imagine the power of the background remover tool that can add a professional look to your resume image. And yes, you can also create a great resume using Canva templates as well.
More than that, you can add effects and filters to images, and generating mockups is simpler than ever.
Plan and Schedule Your Social Media Easily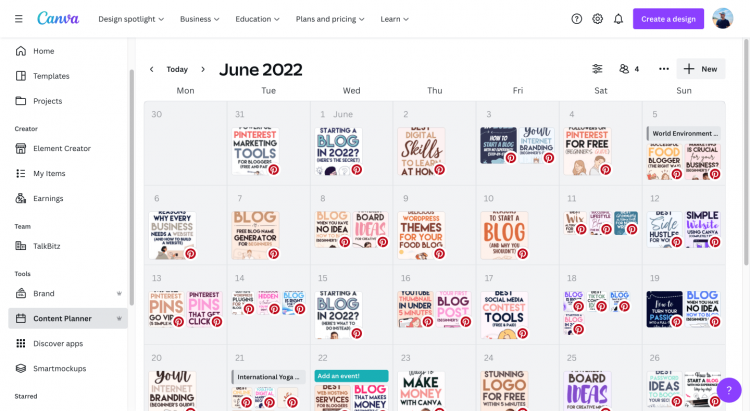 If you manage social media for your business, you know how time-consuming it can be to constantly create fresh content.
And with the built-in content planner, you can schedule and coordinate your posts across all your platforms in one place. So you can save time and stay organized while still creating beautiful content that will help grow your business.
Moreover, it makes it easy to see what content you have scheduled for each day, week, or month. You can also rearrange your content if you need to make changes to your schedule.
This feature is only available in Canva PRO and you will be able to access this content planner through the right sidebar once you logged into Canva.
Get a Website without Any Design Skills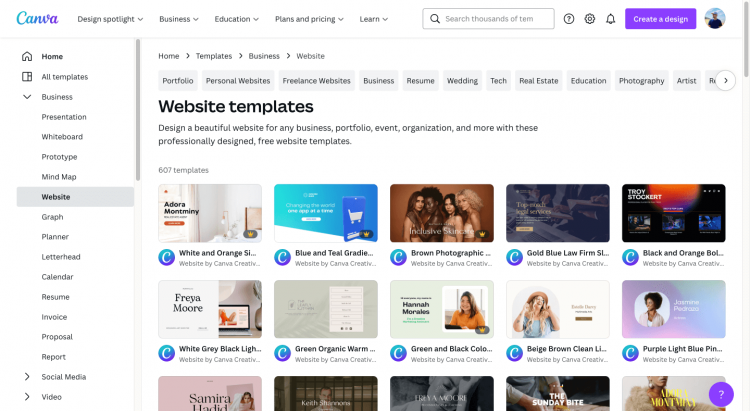 If you don't have any design skills but want a website. Not to worry, you can create a website without any design skills by using Canva's website templates.
Once you've selected your template, you can customize it however you like. You can add your own photos and text, change the colors, and more.
To start creating a website follow this simple guide.
Design and Order Custom Prints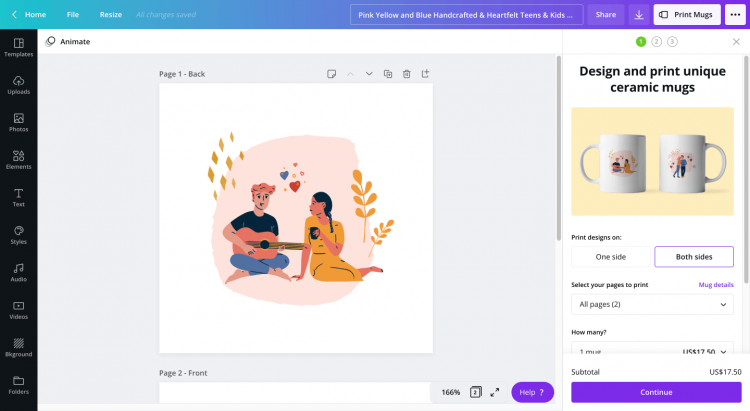 Canva Print allows you to get print your designs with their printing service. All you need to do is, choose a designer-made template, customize it with your photos in a few clicks and they'll print and deliver it to your doorstep.
Canva Print is currently available for limited products in a few regions. You can order prints such as paper products, apparel products, and home decor products with lots more to try.
A Free Way to Level Up Your Design Skills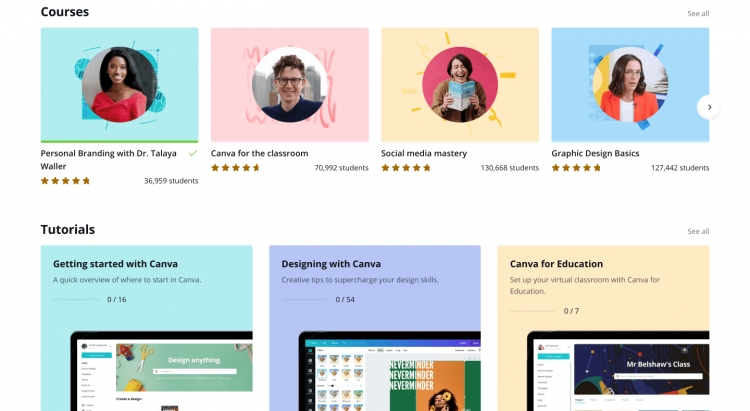 If you're looking to improve your design skills and learn how to create beautiful designs, Canva Design School is the place for you.
Canva Design School offers courses on everything from basic design principles to some advanced practices. And best of all, it's completely free. Whether you're a beginner or a seasoned pro, there's something for everyone at Canva Design School.
The Changemaker is Canva PRO
Canva Pro is perfect for small businesses or individuals who need high-quality designs but don't have the budget for a professional designer.
With its easy-to-use interface and wide range of templates and resources, Canva Pro is a great way to get professional-looking results without spending a lot of money and time.
The Canva Pro subscription costs $6.49 per month, or $54.99 per year if billed annually. (you may find pricing in your currency depending on where you are.)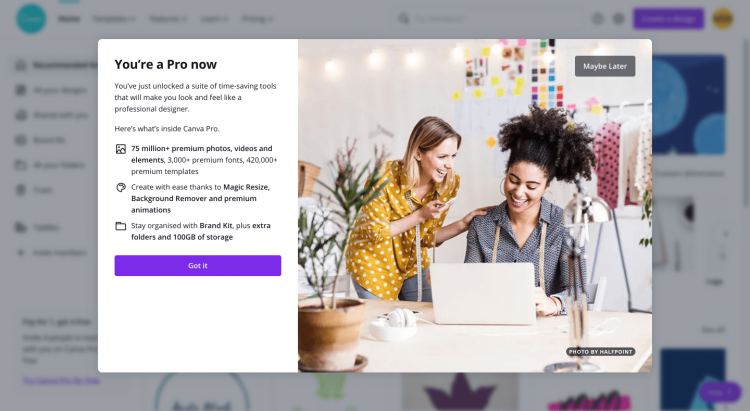 No matter where you live, you can enjoy a 30-day free trial of Canva Pro before committing to a subscription.
This way, you can explore all of the features and benefits of Canva Pro to see if it's right for you.
Happy designing!