When it comes to travel and commuting backpacks, ogio is one of the world leaders. The brand has honed in on this market niche and with their cool and versatile designs, it's hard to put a foot wrong when buying one.
All their backpacks are made with durable materials and come with integrated laptop sleeves, easy-access storage compartments, and are comfortable as hell to wear. Ogio's backpacks are not cheap, they sit in the mid-level pricing range and their quality and usability make them worth every penny.
Most people who buy an ogio backpack become loyal customers for life and don't stray to other brands easily. They love the quality, comfort, look, design, and functionality that comes with the ogio brand.
There's a big range of ogio backpacks out there, each designed for a specific or a multitude of purposes, and it can be hard to work out which is best for you. Here, we've taken some of their top packs in this ogio backpack review to make your choice a little easier.
Best Ogio Backpacks Review
Ogio bandit 17 inch laptop backpack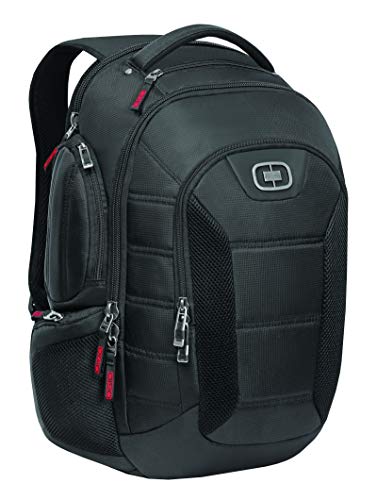 If you work in media or need a comfortable bag for your daily commute into work then the ogio bandit 17 inch laptop backpack might just be the bag you're looking for.
The bag is a great size and has enough room for your lunch, a few changes of clothes plus dedicated protective pockets for all your media items.
There is a fleece-lined 17″ laptop compartment, a little bigger than most that can only hold a 15″ computer. There's also a padded tablet pocket, padded camera/mouse pocket, a quick-access phone pocket, two fleece-lined valuable stash pockets, a water bottle pocket with a bottle lock feature, and an organization panel with zippered stash pocket.
This is a huge array of storage of options that will keep all your gear safe, secure, and incredibly organized. In terms of comfort, this bag is also hard to beat. The adjustable shoulder and chest straps make it a delight to wear. It's not so great for taller people as the straps are a little short and it can be a bit tight and tough to get on.
This backpack is perfect for commuting or traveling but it's not the best adventure bag due to the lack of weather protection. If it rains your gear will most likely get wet.
Pros
Fleece-lined laptop compartment
Padded camera pocket
Comfortable & durable
Great storage options
Cons
Not water-resistant
Not the best for taller people
Product Information
Not waterproof
9 compartments
Laptop sleeve
30l
Ogio Wheelie Pack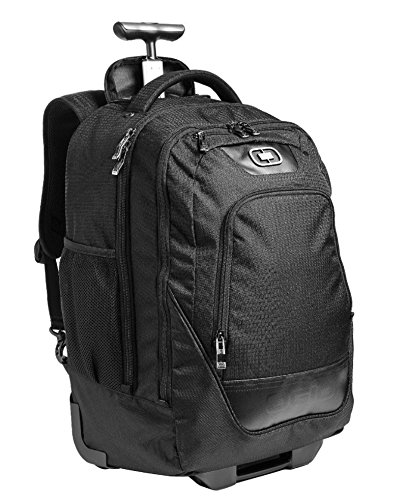 If you travel a lot or want the option to wheel or carry your backpack, then the ogio wheelie pack will be right up your street.
It's the perfect bag for getting through airports, changing trains, and long walks between meetings. It's comfortable to use as a backpack and when you need to start wheeling, simply put the bag down, pop out the handle and start cruising.
This wheelie pack may look on the small side but it can actually hold quite a lot. It's the perfect carry-on size for a weekend mini-break with a spacious overnight compartment with garment straps and the main compartment with a padded laptop and tablet/e-reader sleeves.
It also features a front organizational pocket, fleece-lined valuables pocket, and a rear pocket so all those travel and office essentials and organized and only a zip away.
The wheelie pack is a little heavy, especially for petite travelers when carried on the back plus it's a little bit more expensive than most. But it's still an awesome travel backpack.
Pros
Awesome for travel
Spacious
Doubles as backpack
Good storage options
Wheels around
Cons
Not water-resistant
Heavy for petit people
Expensive
Product Information
Not waterproof
5 compartments
Laptop sleeve
Medium size
20.25 x 14.50 x 11 inches
Ogio international soho pack
The ogio international soho pack is as good-looking as it is functional. If you're looking for a sleek, compact, and lightweight backpack for commuting, travel, or day trips, this is certainly one to consider.
This bag is definitely on the smaller size and while not ideal for weekends away, it's the perfect size for getting to work quickly, easily without any fuss, or as a light carry-on when traveling.
It has a dedicated, padded laptop sleeve in the main compartment. The sleeve is built for computers up to 17″, larger than most laptop sleeves you may find. The main compartment is also spacious enough for your lunch and gym clothes.
Outside you have a file compartment sleeve, two fleece-lined stay pockets, a front slip pocket, and an organization panel with zippered stash pocket. So while you're laptop, lunch, and gym clothes are tucked away in the main compartment, all your little extras are organized and accessible. There's also a water bottle slot on each side of the bag.
It's the perfect bag for light travel and commutes
Pros
Great looking & not too big
Perfect school/commute bag
Padded base
Good storage options
Cons
Not water-resistant
Doesn't sit flat
Product Information
Not waterproof
7 compartments
Laptop sleeve
Small-med size
19.02 x 12.8 x 3.39 inches
Ogio fugitive streetpack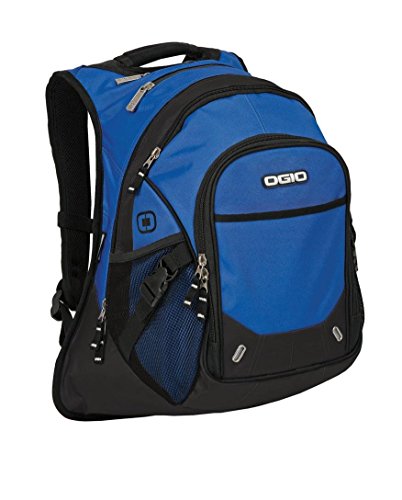 The ogio fugitive streetpack is the perfect balance between organized commuting overnight pack and a spacious day pack. With a capacity of around 33l, it'll hold quite a lot while having all the dedicated storage areas you might need.
To start off, it's light and comfortable to wear. The main compartment is roomy enough for a weekend away while having an integrated sleeve to keep your laptop safe. There is a fleece-lined audio zipper pocket on the top, side mesh water bottle pockets, a secondary zipped compartment, and a front pocket with an organizational panel for pens, keys, phones, and any other valuables.
It's not the best back for hiking or and adventures that'll put you in adverse weather conditions as it's not water-resistant. It is, however, perfect for hopping from city to and city and is one of the better value bags that ogio offers.
Pros
Comfortable
Good value & stylish
Great for commutes/day trips
Spacious with storage options
Cons
No warranty
Not water-resistant.
Product Information
Not waterproof
4 compartments
Laptop Sleeve
33L
Ogio mach 5 motorcycle backpack
The ogio mach 5 motorcycle backpack is made for you extreme commuters out there who choose to cruise among the urban traffic on your motorcycle or bicycle. It's drag-free, compact, and sit's tight to your body while you're making wide turns.
The bag consists of one armored large compartment with quite a few extra storage options on the inside. It really is armored and some have even been through motorcycle crashes with broken bones while the contents of their mach 5 backpack have been kept perfectly intact.
Inside the main compartment is a punch that fits a laptop and multiple storage areas to keep your valuables organized. It's also pretty spacious and there is enough room for all your daily needs.
The bag is comfortable and sit's tight but the straps can loosen a little while you ride. The straps are quite long and easy to put on even when you're dressed in your full biking gear.
The bag is labeled as not being water-resistant but many users have boked home in the rain to find everything inside their pack to be dry as a bone. It's an awesome backpack for any biker/cyclist.
Pros
Can manage the elements
Perfect for biking/motorcycles
Good size & comfotable
Drag free
Keeps valuables safe on the road
Cons
Not water-resistant
Expensive
Product Information
Not waterproof
1 compartment
Laptop sleeve
Med-large size
7 x 20.5 x 14.5 inches
Ogio no drag mach 3 backpack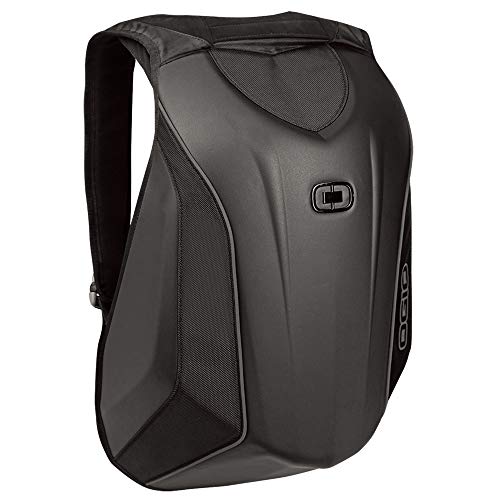 Similar to mach 5, the ogio no drag mach 3 backpack is also perfect for bikers or anyone who wants a protective backpack. It's made to handle coming off a bike at speed while still keeping your belongings safe.
This is the first backpack in the review that's made to be water-resistant and the heard shell exterior is what protects your valuables from the weather as well as grazes with tarmac.
Once you open the bag you'll see a padded laptop sleeve, padded ipad sleeve, organizer panel, hydration bladder compartment, shoe compartment, valuables zipper, and more. The outside has a reflective lining to keep you visible and there is even a helmet clip for when you're walking.
It's super comfortable to ride with and conforms to your body shape to reduce drag and keep you steady on sharp turns.
If you're a biking commuter, this bag has everything you need plus a lifetime limited warranty.
Pros
Water-resistant
Perfect for bikers (reflective elements)
Great warranty
Comfortable
Lots of pockets in the main compartment
Cons
Only for riding
Coating scratches
Product Information
Water-resistant
1 compartment
Laptop sleeve
Large size
19.1 x 12.6 x 6.7 inches