Agoda is an online travel agency for hotels, vacation rentals, flights, and airport transfers. Although the company promises easy, seamless, and affordable booking service, customer reviews across various review sites have shown otherwise. There are many negative reviews on Agoda, most of which cited poor customer service, not getting what they booked for, lack of transparency by the company, poor communication, and dishonest pricing, among others.
Agoda has gained a name for itself, since its creation in 2005, as a cheap and fast-growing online travel agency. Operating in over 200 countries worldwide, with two million properties registered on its site, Agoda has quickly become a front runner in the budget travel world. But is it legit or merely a scam?
With a multitude of mixed reviews, Agoda has faced a lot of criticism and controversy, with poor customer service, dishonest pricing, unconfirmed bookings, lack of transparency, and incorrect bookings being the major complaints. When booking with this site, you must first consider whether the hotel exists. Is this what you want from your travel company, even if it saves you a few bucks?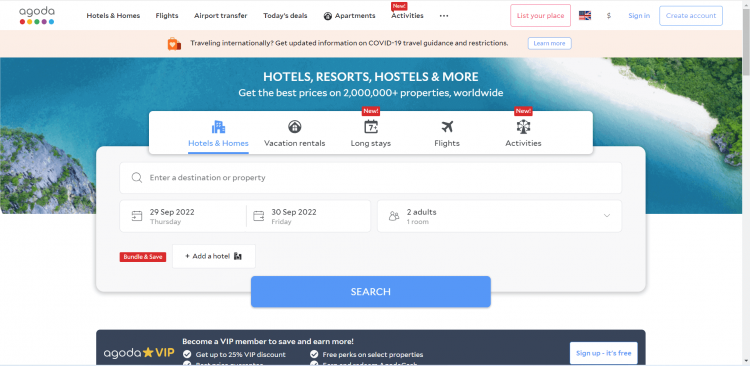 What is Agoda?
Agoda is an online travel booking service designed with budget travel in mind. Acquired by Booking Holdings Inc in 2007, formerly The Priceline Group, Agoda has grown exponentially, becoming a well-known name in the travel industry. Expanding further, Agoda has acquired many other travel companies worldwide, such as in Thailand and Israel.
Agoda doesn't just offer hotels but also allows customers to search for vacation rentals, flights, airport transfers, private stays, and more. There's also the option for monthly stays and searching for activities in cities worldwide. Agoda provides detailed travel guides for many different places, allowing customers to get the best out of their destinations.
Agoda also has a mobile app for customers to search through their services on the go, and customers get even lower prices on the app than on the website. The app features money-saving features like AgodaCash, AgodaVIP, and Promo Codes to improve customer experience and showcase its best deals.
Is Agoda safe or a scam?
Reviews
Overall, Agoda receives very mixed reviews; some are highly positive, and others call Agoda a scam. On Trustpilot, the company received an abysmal rating of 1.9 out of 5 stars from 34,702 reviews, with many complaining about the company's dishonest pricing, incorrect bookings, terrible customer service, and refusal to honor their promo codes, among others.
The company got an even worse review of 1.2 out of 5 stars out of 5,184, with one of the customers claiming that 'Agoda has the worst customer service in the world.' These definitely don't speak well for the company.
COVID-19
Particularly concerning COVID-19, there have been a large number of issues. When countries prevented travel due to the pandemic, Agoda refused to refund customers, claiming their reason for the cancellation wasn't good enough.
On the 29th of January 2020, Agoda published a statement on Facebook, claiming they were there to "assist our customers with changes to their travel plans." However, their actions were very different from their claims. They failed to refund their customers' booking fees when they could not travel due to COVID-19 restrictions, as the company claimed the bookings were non-refundable.
Is Agoda reliable and trustworthy?
Reputation
Agoda receives a 1.9-star rating on Trustpilot, this culminating from 34,661 reviews. Despite having largely mixed reviews, a large amount shows a particularly negative view of Agoda. Many complaints accuse Agoda of stealing money from their customers, taking more than the agreed-upon amount, and making incorrect bookings from what the customers paid for, among others.
The annoying part is that Agoda has terrible customer service, making it very difficult for customers to resolve their issues; some customers cited having to take legal steps before getting their issues resolved.
In addition, complaints surrounding the validity of the booking are many. For some customers, their reservation never went through with the hotel, or, in a few cases, their hotel never existed in the first place. In fact, in 2017, Agoda faced an enormous scandal as they refused to refund a customer even though their hotel didn't exist. Following a fraudulent complaint to the Thai government, they were eventually made to pay the customer a full refund. The Thai government also called for Agoda to drop all illegal and unregistered hotels in Thailand; however, this wasn't done until a year later, in 2018.
Also, in 2020, a proposed class action lawsuit against Agoda claimed that the company 'fabricated fake discounts and used a false sense of urgency as a uniform policy and sales tactic, in violation of several California consumer protection laws.'
Customer Service
For customers facing problems, help is tough to contact. Agoda's customer service is severally lacking and difficult to get hold of, providing no email or internationally-friendly phone number. Those who could get a hold of a human being have complained that they were unhelpful and unfriendly.
Pros and Cons
Pros:
Cheap, budget travel.
A wide choice of destinations in over 200 countries.
Cons:
Bad customer service, challenging to contact.
Issues surrounding COVID-19 travel and their approach to this.
Refusal of refunds.
False bookings and monetary scams.
How does Agoda make money?
As an online travel agency, Agoda doesn't make money by selling its products. Instead, they act as a middleman, selling products and services of others for a percentage. Following an affiliate marketing business model, Agoda sells the services of its hosts, earning a commission for each sale they make. This commission is around 15% to 20% of the profit, the remaining 80% to 85% going directly to the host. In this way, the host has no access to any credit card details from the customer; this information is held only by Agoda.
Best Alternatives to Agoda
Airbnb- able to book places to stay and offer online experiences with good customer service.
Booking.com- 24-hour customer service.
Expedia- no hidden fees as well as affiliation with many brands.
Travelocity- good holidays, but challenging to change aspects.
FAQs
What are Agoda's Destination Guides?
What is day-use?
In August 2020, Agoda introduced the day-use feature, designed to provide "greater flexibility and value for people who do not require a full night's stay." This allows travelers to book rooms for only a few hours while enjoying all the perks of staying in a hotel overnight. This helps to increase revenue as there is an increase in occupancy during the day. Currently, this is available in Korea, with customers choosing to stay between two to ten hours in a room.
What is the VIP program?
Agoda offers a VIP program for customers who have accrued a certain number of bookings in 24 months. As they are less inclined to cancel their bookings, they receive exclusive discounts. The rules for Agoda's VIP program are as follows:
After creating an Agoda account, you automatically get Member status with no VIP benefits.
Silver membership comes after two bookings within 24 months, with Silver VIP customers receiving a 12% discount.
Gold membership is achieved after five bookings within 24 months, and customers receive an 18% discount.
Platinum membership comes after ten bookings with a discount of up to 25%.
You can track your VIP status on your account, via the webpage or mobile app, in the AgodaVIP section. This will display your current status and how many bookings you need to achieve the next stage.