Priority tire is one of the most popular online tire sellers. But is it the best place to buy tires? This priority tire review has all the answers.
In this priority tire review, we will examine its tire selection, how it works, shipping and delivery, deals and discounts, and its return policy. We will also examine its pros and cons, to help you decide whether it's the best place for you to purchase tires online.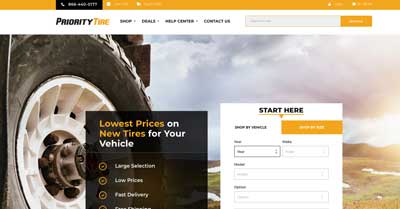 Priority tire offers a huge selection of tires, sourced from some of the leading brands in the world. Its tire selection is categorized into winter tires, summer tires, all-terrain tires, all-season tires, highway tires, touring tires, and performance tires, just to name a few. It also offers several deals, discounts and rebates, designed to help you save money on tires.
We are dedicated to publishing objective and comprehensive reviews of products and services that affect your finances. Simply put, our reviews are designed to help you make an informed buying decision and choose a product that aligns with your needs while offering value for your money.
About Priority Tire
Priority tire is an online tire seller, which focuses only on selling tires. It has three distribution warehouses, which are located in texas, pennsylvania, and florida.
Unlike other tire sellers, priority tire doesn't offer tire installation services. When you buy tires from this company, it will ship them to your home, office or preferred physical address. From there, you can then have the tires installed at your preferred installer.
And if you live close to one of its 3 warehouses, you can opt to pick up the tires and then take them to your installer. According to priority tire, you will get a discount when you pick the tires up from one of its warehouses.
Available Tires
Priority tire has one of the largest tire selections, designed to complement almost any road condition or driving style. Some of the available tires at priority tire include:
All Terrain Tires
All-terrain tires are built to handle almost all types of surfaces. Whether you are driving on soft surfaces, loose terrain or uneven road surfaces, these tires can comfortably handle almost all driving conditions and deliver a solid performance.
Their tread pattern resembles an open shoulder design, which enhances their self-cleaning capability, thus preventing dirt, snow and other types of debris from blocking road contact.
On the other hand, their enhanced sidewalls give them sturdiness based on their intended use, while ensuring longevity. All-terrain tires can deliver reliable performance for both on and off-road driving. Their distinguishing features include:
Open-tread Design
Unlike other types of tires, all-terrain tires come with an open-tread design, which helps to improve traction, especially during off-road driving. Their tread design features several interlocking tread elements, which deliver enhanced grip on mud and rocks while ensuring adequate handling when driving on paved roads.
Armored Sidewalls
Some models of all-terrain tires feature reinforced sidewalls, which give them more load-carrying capacity. Such tires are usually built for heavier trucks, campers or other types of vehicles that carry heavy loads.
All-year Use
Since all-terrain tires are multipurpose, you can use them on icy or snowy road surfaces. However, if you live in an area that experiences heavy snowing, then you are better off using winter tires as opposed to all-terrain tires.
Some of the available all-terrain tires at Priority Tire include:
Atlas Crosswind
Venom Power Terra Hunter
Goodyear Wrangler Trailrunner
Goodyear Wrangler Adventure
BF Goodrich KO2
Accelera Omikron
Firestone Radial
Fortune Tormenta
Bridgestone Dueler
Dick Cepek Fun Country
Toyo Open Country
Cooper Discoverer
Michelin LTX
As you can see, you have numerous options when it comes to all-terrain tires at priority tire. Whether you opt to purchase bf goodrich ko2, cooper discoverer, dick cepek goodyear wrangler or any other brand will depend on your preferences.
High-Performance Tires
High-performance tires are built to deliver better energy transfer from the vehicle to the road. And this helps them to achieve higher speeds and acceleration, compared to general market tires. The benefits of buying high-performance tires include:
Better Vehicle Handling
High-performance tires are manufactured using softer rubber than general market tires. And the use of softer rubber helps them to adhere to the road surface, especially when you are driving at high speeds.
So, if you are driving a sports car, roadster, coupe or sedan, you will find it easier to navigate the car around tight corners if it's equipped with performance tires.
Enhanced Traction
These tires feature a wider surface than most of the other tire types. As a result, the greater surface area helps them to cling to road surfaces.
However, you should note that high-performance tires are mainly built for warm and dry driving conditions.
Great Stopping Power
As noted above, high-performance tires feature wide surfaces and bber.sticky ru And this combination will help to stop your vehicle quickly, even if you are driving at high speeds.
If you normally drive your vehicle on paved, dry surfaces, then high-performance tires will be an ideal fit. They can improve your vehicle's handling and control. Also, they will make your car more fun to drive.
Priority tire has a huge selection of high-performance tires that you can buy for your vehicle.
They include bfgoodrich g-force sport comp-2, michelin pilot sport 4s, bridgestone potenza re760 sport, continental extremecontact sport, michelin pilot super sport and bridgestone turanza er30, just to name a few.
Summer Tires
As their name suggests, summer tires are built for warm weather conditions. While they can perform well in a wide range of environments, their rubber cannot handle cold climates and conditions.
When compared to conventional market tires, you will notice that summer tires feature less-grooved surfaces and lower sipping density. This design helps to improve the surface area that comes into contact with the road.
Thanks to their better road contact, these tires deliver better cornering capability, improved steering responsiveness, as well as shorter braking distance.
If you frequently drive on twisty roads or you hit the track regularly, summer tires will significantly improve your vehicles' road-holding performance. These tires will also perform well on wet roads and pavements, thanks to their unique tread patterns.
Priority tire has plenty of options to choose from if you are looking for summer tires for your vehicle. They include michelin pilot sport 4s, bridgestone potenza re-11, continental extremecontact sport, firestone firehawk indy 500, nokian zline and achilles atr sport, among others.
Mud Terrain Tires
Driving on mud has proven to be a challenge for most vehicles, including those equipped with the latest technological features. And this is where mud-terrain tires come in.
Mud terrain tires are built to perform well on muddy conditions, loose terrain and soft road surfaces. They can tread through sand and loose mud with remarkable ease. Some of the key features that set these tires apart from general market tires include:
Wide Tread Spacing
Mud terrain tires are designed to eject mud and self-clean so that the vehicle can keep moving forward or backward. They feature wide tread space and hollow voids, which allow mud and debris to eject with maximum ease as the tire rotates.
The wider tread spacing also gives mud-terrain tires increased grip whenever you are driving on loose terrain.
Kickout Bars
Mud terrain tires are also equipped with kick-out bars, which are positioned between its main lugs. These bars help to remove mud and debris, which may have gotten stuck between the tire's treads. As you probably know, if a tire is filled with mud, then you will find it hard to move forward.
Sidewall Tread
Some mud-terrain tires also come with a sidewall tread, which may look more like a styling feature. The additional sidewall tread will give the tire additional grip and traction, during those dugout hill climbs.
Priority tire stocks mud-terrain from almost all the brands that manufacture them. They include goodyear wrangler, bfgoodrich mud-terrain, nitto trail grappler m/t, firestone destination, cooper discoverer mtp and mickey thompson baja mtz radial.
Others include pro comp xtreme mt2, toyo open country m/t, fierce attitude mt, and milestar patagonia, among others. Mud terrain tires cost between $100 and $400 at priority tire and all come with free shipping.
Highway Tires
Highway tires are designed to handle different road conditions and terrains. For instance, your highway driving may feature sunny and arid conditions, extended freezing temperatures, smooth, well-paved roads, or choppy rough roads.
If your highway driving involves frequent snowfall and freezing temperatures, then you should purchase tires featuring mud and snow or m&s designation. You can also opt for dedicated winter tires.
Tires with an m&s designation feature a rubber compound combined with a higher silica content, which helps to keep them more flexible and softer in cold weather conditions.
On the other hand, if you usually drive in arid and dry areas, then you should go for highway tires with independent tread blocks. Such tires will provide reliable traction when it comes to acceleration, cornering and braking.
Highway tires are built to handle the heavier roads that come with light trucks and suvs, which can be attributed to their reinforced internal structure.
Whether you drive on paved roads, rough roads, dry areas, or wintery conditions, priority tire has a wide range of options for people who are looking for highway driving tires.
They include yokohama advan sport, bridgestone potenza, michelin pilot super sport and bridgestone driveguard.
All the highway tires that priority tire sells are available in different sizes. Also, they are available for different types of vehicles. Whether you drive a light truck or an suv, priority tire has a wide range of highway driving tires to choose from.
Winter Tires
Navigating icy or snowy roads with regular tires can be a nightmare. And this is where winter tires come in. They are uniquely built to deliver improved traction in icy or snowy conditions.
What sets winter tires apart from standard tires is the rubber composition, siping, texture, and tread pattern.
Rubber Composition
Winter tires are made of special rubber, designed to remain pliable and soft when temperatures start falling.
Therefore, they will continue providing adequate grip and traction when the weather cools. The rubber used on standard tires will stiffen when temperatures start falling, leading to loss of traction and grip.
Texture
Apart from having a softer rubber compound, winter tires also feature a unique texture, which helps them to perform exceptionally well on icy or snowy road surfaces.
For instance, the bridgestone blizzak winter tires sold at priority tire employ microscopic pores on the rubber, which help to break down the thin water layer that forms on the tire's surface.
By removing that layer, these tires will have direct contact with the ice or snow surface, thus increasing traction.
Tread Depth and Pattern
If you inspect winter tires closely, you will notice that they have a deeper tread than standard tires. The deeper tread helps to minimize snow buildup while improving traction on the icy surface.
You will also notice that these tires have tiny slits in the tread's face, which help to soak up the water layer while providing an additional biting edge, which helps to grip the road in icy or snowy roads.
Apart from bridgestone blizzak ws80, priority tire also offers you numerous other purchasing options when it comes to winter tires.
They include michelin x-ice xi3, pirelli winter sottozero 3, firestone winterforce 2, goodyear ultra grip ice wrt, yokohama iceguard g075 and continental wintercontact si.
Passenger Tires
Passenger cars are the most popular vehicle type on the roads today. They include sedans, smaller suvs, compact suvs, and crossover suvs, among others.
Due to how versatile passenger cars are, passenger tires are equally designed to provide safe driving in all weather conditions.
These tires are available in winter, summer and all-season varieties, thus catering to the needs of almost all users.
Passenger tires feature tread designs that promote great road-gripping capabilities while allowing tread longevity.
Whether you own a compact suv, a sedan, a minivan or a hatchback, you can easily find the right tires for your vehicle at priority tire.
Some of the passenger tires that you can purchase at priority tire include michelin defender t + h, pirelli p4 four seasons plus, nokian entyre 2.0, continental truecontact, continental extremecontact, pirelli cinturato p7 all season plus, pirelli pzero, pirelli scorpion verde and goodyear assurance comfort drive, just to name a few..
Commercial Tires
Also known as commercial truck tires, these tires are built for heavy trucks and rigs, which haul and transport various goods and commodities across the country.
They are manufactured to withstand heavy loads, long-distance drives as well as extended driving times.
Unlike other outlets that only stock only one type of commercial truck tires, priority tire sells commercial tires from almost all the major brands.
Whether you are a local short-haul trucker or a regional trucker, priority tire has a wide range of commercial truck tires to choose from.
Some of the available options include michelin x line energy z, bridgestone r284 ecopia, continental hs3, pirelli h89 plus, goodyear marathon lhs, goodyear g572 fuel max, cooper roadmaster, bf goodrich highway control s, and general hs steer, among others.
Golf Cart Tires
Golf cart tires are built for different terrains. And there are two main types of golf cart tires
Street or turf tires
Off-road golf cart tires
Street or turf tires feature a unique tread design, which ensures they don't damage the delicate turf on golf courses. These tires also offer a comfortable, quiet ride.
Off-road tires, on the other hand, are not built for sensitive golf courses. They are designed for sand, mud, wooded and other tough terrains.
Priority tire has close to 50 different types of golf cart tires, sourced from different manufactures and brands.
They include transporter gf-01, kenda hole n-1, rubbermaster sawtooth, carlisle fairway pro, innova driver sawtooth rib, duro excel g and c, trac-gard n367 and otr gc.
How it Works
Priority tire offers a seamless process when it comes to purchasing tires. Here are the steps you will follow.
Select Your Tires
First, you need to visit priority tire's website and then search for the right tires for your vehicle.
You can search by type, size, brand, vehicle, season or performance. For instance, under type, you can shop for passenger tires, suv tires, golf cart tires, light truck tires, commercial tires or racing tires, just to name a few.
Under season, you can shop for all-season tires, winter tires or summer tires. And if you opt to search under the performance category, you can shop for all-terrain tires, highway tires, mud terrain tires, touring tires, and high-performance tires.
Get the Tires Delivered
Once you've selected the right tires for your vehicle, you will then confirm your purchase and pay for your order. After that, priority tire will have them delivered to your preferred address, whether it's at your home or workplace
Install the Tires
Once the tires have arrived, you can then have them installed in your vehicle, using your preferred local installer. Priority tire doesn't offer tire installation services.
Payment Methods
You can pay for your tires at priority tire using a wide range of methods such as paypal, paypal credit, visa, mastercard, american express credit cards, and discover credit cards, among others.
Priority tire also offers financing, where you can buy tires today and pay for them over time.
The financing is offered via bread loans, where you can repay for it over 3, 6 or 12 months. The loans come with interest rates of between 6% and 30% apr per $1000 borrowed.
Deals and Discounts
Priority tire offers a wide range of deals, discounts, offers and promotions, to help its customers save money when buying tires. Some deals and discounts are available throughout the year while others are seasonal. They include:
Military Discount
Priority tire offers a military discount, for all members of the u.S armed forces, whether active, retired or veteran.
This discount is designed to appreciate them for the great work that they do for the country.
Eligible buyers will get a $5 discount when they place an order at priority tire. To receive this discount, you will be required to send a picture of your military id via email, which will be used to verify your status.
After verifying your id, priority tire's customer support team will then get in touch with you to help you place your order. You will then receive a coupon code, which you will use for your purchase.
First Buyer Discount
If you are purchasing tires at priority tire for the first time, you will be eligible for a $5 discount.
Just like the military discount, the first-buyer discount is also offered via a coupon code, which is displayed on the homepage.
Seasonal Discount
Priority tire also offers a discount of up to 60%, if you purchase various types of winter tires. Priority tire further offers a deal of the week, where you can get tires for as low as $50.
Rebates
Priority tire offers a discount of up to $70 when you purchase a set of four select cooper tires. The discount is offered via cooper tires visa prepaid card or virtual account.
To get this discount, you will need to download the mail-in form from the offer page, complete it and then mail it to priority tire, together with your original sales receipt
Shipping and Delivery
Priority tire offers free ground shipping to all customers within the 48 contiguous states.
If you are in alaska and hawaii, then you will have to pay for shipping charges.
Also, deliveries made to army post office (apo) and fleet post office (fpo) will incur shipping charges.
You should note that fedex, which priority tire uses, only delivers orders to confirmed business or residential street addresses.
According to priority tire, if you place an order before 1 pm est, your order will be shipped out on the same business day. On the other hand, if you place your order after 1 pm est, then priority tire will ship it out the following business day.
Priority tire doesn't make shipping arrangements on weekends and during national holidays. So, if you place your order on a national u.S holiday or over the weekend, then it will be shipped out the following business day.
For instance, if you place an order for tires on saturday, then your order will be shipped out on monday, as long as it's not a national u.S holiday.
Delivery Duration
How long your order takes to arrive will depend on your location in the 48 conterminous states. But on average it takes approximately 1 to 6 business days.
If you provided a residential address, then your order can be shipped any day between mondays to saturday.
On the other hand, if you provided a business address when placing your order, then your order can be shipped any day between mondays to friday.
Priority tire only offers fedex ground shipping. Unlike other companies like tire rack, priority tire doesn't make arrangements for expedited shipping.
Delivery Signature Requirement
Priority tire may not require any signature upon delivery if your order is worth $500 or below. However, orders worth over $500 will require a signature upon delivery.
In short, you will need someone to receive the shipment, if you order tires worth more than $500 from priority tire.
Shipping Address Policy
Priority tire only ships orders to the billing address on your registered paypal account or the one indicated on your credit card. Simply put, your billing address must match your shipping address.
Therefore, if your shipping address doesn't match your billing address, then priority tire will cancel the order. And you will incur any charges that arise from this situation.
Order Tracking
Once you place an order with Priority Tire, you will receive a tracking number via the email address that you provided.
You can then use that number to track the status of your order on priority tire's website. However, you will need to open an account at the priority tire website for order tracking.
Return Policy
Priority tire offers a 90-day return policy, in case you receive an incorrect order or the tires are damaged. You shouldn't unpack the tires or alter the original packaging in any way.
In such a case, you should contact priority tire's customer support team right away. Priority tire's customer support representatives will guide you on how to proceed with the return request.
From there, priority tire will arrange for a free return, if the tires are incorrect or damaged. Priority tire will send a shipper, who will inspect the tires, pick them up and then return them to the company.
You will then receive a full refund or free exchange, which will be shipped to your address at no additional cost.
Your refund will be issued back to your original form of payment. So, if you paid for the tires using a credit card, then your refund will be returned to that credit card.
Unlike other tire retailers, priority tire will not charge you restocking fees if you return an order if it's damaged or incorrect.
Priority tire will only issue a full refund or free exchange if your order meets the following conditions:
Should be returned within 90 days of delivery
Tires shouldn't have been mounted on a rim
The order should have the original packaging
Tires should not have been used in any way
according to the information posted on its website, it's your responsibility to verify your tires' sizes and other specifications before you pay for your order. to this end, priority tire will not accept returns based on the wrong tire size or other specifications.
Warranties and protection
All tires that priority tire sells come with their respective manufacturer's warranties. Some of the warranties that protect the tires include:
Material and Workmanship Warranty
A workmanship and materials warranty will protect you from defects or issues within the manufacturer's control.
For instance, if you purchase goodyear tires from priority tire and they experience issues like broken belts, tread separation, or irregular wear and tear, then you should get a free replacement.
Most manufacturers offer a material workmanship warranty of 12 months from the date of purchase. So, if you submit a claim within 12 months and the tires have more than 75% of their original tread, then goodyear should replace the tires free of charge.
However, if the tires are worn out beyond that, then goodyear will only compensate you based on their prorated life.
The materials and workmanship warranty for tires comes with a term limit. For instance, you will only receive a free replacement for the first 12 months after purchase and up to five years for a prorated refund
Tread Wear Warranty
Most of the tires sold at priority tire also come with a mileage warranty. It's probably the most popular type of tire warranty.
When you purchase tires, you expect them to last a certain number of miles, as promised by the manufacturer.
So, if the tires wear out before they attain the promised mileage, then you are eligible for a prorated credit. The prorated credit that you will get will go towards buying the next set of tires.
For instance, you may purchase continental tires at priority tire with a mileage warranty of 50,000 miles. Unfortunately, the tires may wear out after 40,000 miles, meaning they didn't attain their premised mileage.
As long as those tires are evenly worn out, then continental tire should give you a refund of approximately 20%, which will go towards buying your next set of tires since they only delivered 80% of the promised mileage.
For you to get the prorated refund, the tires should have 2/32 of an inch or less of tread left, which is usually the minimum legal limit in most states.
In case the tires you purchased experience any issues covered under the materials and workmanship warranty or the mileage warranty, priority tire will help you to file a claim.
It will also follow up and ensure you are duly compensated, as long as your claim is valid and within the terms of the warranty.
Customer Support
Whether you need help choosing the right tires for your vehicle or you want to follow up on your order, you can get in touch with priority tire by calling 866-440-0177.
Its customer support team is available via phone from monday to saturday from 8 am to 6 pm.
Priority tire customer support team is also available via live chat, via a link provided at the top of its website. Also, you can get in touch with priority tire by sending a message via a contact form
Pros
Competitive prices
Easy order process
Easy-to-navigate website
Fast delivery
Cons
Doesn't provide tire installation services