There are many reasons why I love books. First, books can open my horizons. I can get a lot of knowledge from books. It helps me not to be clumsy too. When I chat with my friends, I know what they are talking about.
Second, books brought me to meet many great people, both dead and alive. Through the book I was able to meet Umberto Eco, for example. Or, I can chat with Ziggy Z., one of my favorite writers, over an afternoon cup of artichoke tea. Books also take me here and there. Together with books, I can go to a time before civilization or to the future fifty years from now.
Third, books entertain me. It is a place of escape when I am sad. It's no exaggeration to say that books are my friends. Fourth, books make me better. Books help me develop as a person.
Actually there are many other reasons, but these four reasons are enough to show my love for books. These four reasons make me try to find time to open a book every day, even if it's only ten pages.
Now when the price of books is getting more expensive and I am not one of the rich who can spend their money freely, then I have to find a way out so that I can continue to carry out my hobby. The best way is to borrow books from the library. Since the library in my city is not very attractive, I looked for other libraries on the internet.
If you imagine iPusnas and iJak, that can also be an option. If you want a paid online library, maybe you can mention Kindle Unlimited, Bookmate Premium, Scribd, and Gramedia Digital Premium. I won't go into all of them because I haven't tried them all. I will only discuss the service that I have tried, namely Gramedia Digital Premium.
What is Gramedia Digital?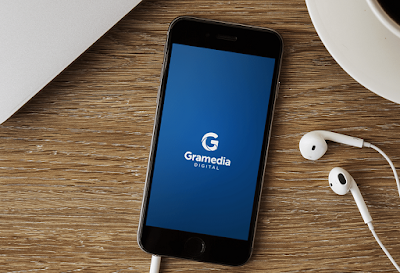 Have you ever heard of Scoop? Scoop is an e-reader application as well as an online bookstore where users can download books, magazines, and newspapers. Well, this Scoop application was acquired by Kompas Gramedia in February 2016. In its journey, Scoop was rebranded to become Gramedia Digital. Here we can buy books published by Kompas Gramedia (of course) and from other publishers. Not only domestic publishers, but they also sell ebooks from foreign publishers. They claim their digital reading collection is more than 120,000. Specifically, the Gramedia Digital book collection provides more than 45 thousand book titles. Wow! For the size of an online digital bookstore in Indonesia, that number is quite large.
What Services Are Available There?
Of course you can buy digital books in the middle or retail. Not only buying in retail, you can also subscribe to premium. So, you don't have to buy the ebook you're after. You just download it.
I, of course, chose the full premium package. By subscribing to this package, I just need to download (almost all) the ebooks published by Kompas Gramedia that I want without having to buy one by one. Both old and new books are all there. Can you imagine how cheap it is to subscribe instead of buying the book? For example, the last time I checked on the website, Laut Tells from Leila S. Chudori costs Rp. 93.500 and Philosophy Teras from Henry Manampiring costs Rp. 75.000. If I buy the two ebooks, I have to pay IDR 168,500. Tskckck… That's expensive! By the way, if the digital book is from another publisher, you still have to buy it.
This full premium package is not only limited to digital books. You are also free to download e-magazines, such as Gatra and Bobo. Since I rarely read magazines there, I only knew of the two magazines which were free to download without having to pay again. For e-newspapers, it seems that they have to be purchased separately if we want to subscribe to newspapers.
With this subscription system, it's not wrong if I call Gramedia Digital a paid library. I pay for a monthly membership to then enjoy the books, magazines, and newspapers to the fullest. As a book connoisseur, the offer of IDR 89ribu/month is certainly very tempting. I became more and more diligent in reading. At least in one week there is one book that I finish reading.
What are the Impressions During Subscription?
I have subscribed to Gramedia Digital Premium since the beginning of this year, to be exact in February 2019. During the subscription, of course there are positive and negative impressions. What are the impressions?
Positive Impression
1. Cheap.
This is very clear right. No need to discuss it further.
2. Can be used on five devices.
That means you can joint venture with your friends. Subscription fees that are already cheap will be even cheaper when you subscribe together with friends. I and four of my friends share the cost of Rp. 89 thousand/month. Please calculate for yourself how much each of us pays each month. hihi.
3. A large collection of books from quality publishers.
Besides being cheap, another important reason why I was attracted to Gramedia Digital Premium is, well, Gramedia. We all know that the books published by Kompas Gramedia are of high quality. Maybe not all, but let's say most. So, you can subscribe cheaply and freely read books from Kompas Gramedia to your heart's content, which other favor of God would you deny?
4. Can be read offline.
When the signal is not friendly, I can still enjoy my Gramedia Digital Premium. The books that I have downloaded, I just open it without any obstacles.
5. Choice of many payment methods.
The initial time of subscribing to the choice of payment methods is not as much as now. In the past, you could only pay using a virtual account of BNI, Bank Mandiri, and other banks. Now you can pay using Google Play, Visa and MasterCard credit cards, and Gopay. Yeay!
6. Display is simple and user friendly.
In order to be able to feel at home in the e-reader application, of course the appearance must be simple and user friendly. This requirement has been fulfilled at Gramedia Digital. The digital book is also neat. The font used, the space, the right-left-top-bottom margin, everything is okay. I feel comfortable reading it. So, even though we can't change the appearance of the letters (both size and type), paragraph or line spacing, and margins, it doesn't matter to me. Because it looks by default is satisfactory.
Negative Impression
1. It's complicated when you want to change pages.
Before Gramedia Digital was updated, reading in this application was very fun. If you want to move pages, we simply touch the right or left screen. Now it takes a little "effort" by sliding the screen of the device to change pages. For me, this is quite disturbing comfort.
2. The difficulty of choosing the desired page.
It means this. Of course, there are times when reading an ebook on a smartphone, we want to go straight to a certain page. We want to go directly to Chapter V or to page 101 easily without having to scroll through many pages. In Play Books and Moon+ Reader there is an option where we can do that. When we touch the screen, a table of contents menu will appear and we just click on the menu. Now we just have to choose which chapter we want to jump to. Unfortunately, at Gramedia Digital this is not possible.
3. Complicated filters.
When I'm confused about what book to read, I look for books by category. There are lots of categories. There are adult fiction, classics, psychology, fiction & literature, and many more. If you want to choose a book from all categories, it will take time. So Gramedia Digital provides filters for us. Just click which category you want, the books that appear only from that category. The problem is, Gramedia Digital only allows filters for one category. So, I can't filter two or three categories at once, for example classics, psychology, and history. If we want to find books with these three categories, we have to patiently search through the filters one by one.
4. There is no notification when the subscription period is up.
Once or twice I was late in extending the subscription service because I forgot. Luckily, none of my friends protested and scolded me. So I really have to be diligent in checking the subscription period. I've also asked my friends to remind me if I forget to renew.
5. Can't change the name on the profile.
It's actually a dime, but it's fun if you can change the name on your profile. hihi.
Hopefully the team from Gramedia Digital will stop by and read this article so that in the next update they will listen to my complaints and fix them.
Now that I'm satisfied with Gramedia Digital's service, a random question pops up several times: With this subscription method, how about the distribution of the author fees? Well, somehow that's the system, I hope the author won't be harmed.