Planet Beauty is a company that describes itself as a privately owned, upscale beauty retailer that has been in operation for more than 20 years as a one-stop beauty shop.
How Does It Work?
According to their website, Planet Beauty was founded in Newport Beach, CA in the early nineties with the goal of providing their customers with an exceptional shopping experience for all professional beauty and personal care needs.
They have since expanded to more than thirty different locations throughout the state and established their online store, PlanetBeauty.com, and they offer more than 20,000 beauty products from makeup to skincare to haircare to fragrance, and more.
Customers who are lucky enough to have access to one of their brick-and-mortar stores will be able to work with their staff, all of whom have been trained to have both knowledge and experience of beauty techniques, products, and brands, and many of their in-house beauty advisers are licensed estheticians, hair stylists, or makeup artists.
Customers who don't have access to a brick-and-mortar store can use their online store for shopping.
You can search for a specific item you are hoping to find, or you can search through their inventory by category, including Makeup, Skin, Hair, Body, Nails, Men, Fragrance, Tools, Gifts, Natural, Accessories, and Brands.
Cost & Price Plans
Because this company offers a wide range of products, there is no real way to quote a static or specific price range, as a high quality skin serum or fragrance will be priced far higher than a basic bottle of nail polish or lip balm.
And since this company will frequently be adding new products or phasing others out as they come and go, and prices will fluctuate as sales and promotions take place, customers will need to check the website at the time they are considering their purchase to find the most trustworthy pricing information.
Refund Policy
Customers have 15 days from the date they receive a product in which to return it, as long as it is still unopened, in saleable condition, and the invoice number can be provided. You must also be able to provide all parts, pieces, printed materials, promotional items and original product packaging to qualify for a refund.
All packages that have been returned will be evaluated by the company and only after they have been approved as meeting all the qualifications will a refund be issued.
Unfortunately this company will not accept any returns of electric appliances or makeup, nor any returns of seasonal products, promotional, cutlery, special orders, fashion items, or nail products.
Customer Service Contact Info
Customers who would like to speak to their Customer Service team about their questions, concerns, or complaints can do so by phone at 949-752-1885, by email at [email protected], or by submitting them directly to their website through their Customer Us link.
Reputation
Most of the available reviews are for individual brick-and-mortar locations of this store, and it appears that most reviews are generally positive.
That being said, customers who are using the website to buy their beauty products should be very thoughtful of their strict Refund Policy, which does not allow you to return any electrical items, such as curling irons or straight irons, nor any makeup product, which certainly should constitute a large percentage of their overall sales.
In addition, no product can be returned if it has been opened.
This means that customers who live outside of California and cannot get to a store should limit their purchases on this website to those that they know for a fact work for them and have previously purchased, or customers should at least be willing to check out many different reviews of a product and feel confident in their choice to purchase it before purchasing from this website.
Best Planet Products Reviews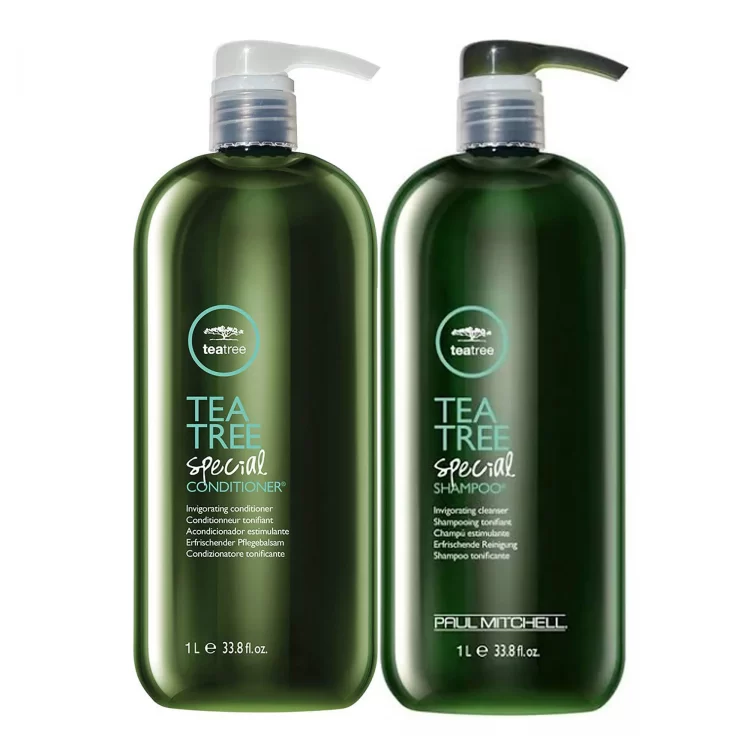 Paul Mitchell Tea Tree – Special Shampoo & Conditioner Duo Liter
Paul mitchell tea tree special shampoo is an invigorating cleanser that rids your hair of all impurities and debris as it adds volume and shine. This product is safe for all hair types.Paul mitchell's tea tree special conditioner is an invigorating conditioner can transform the driest of hair into beautiful, soft hair. Helps to detangle your hair as it softens.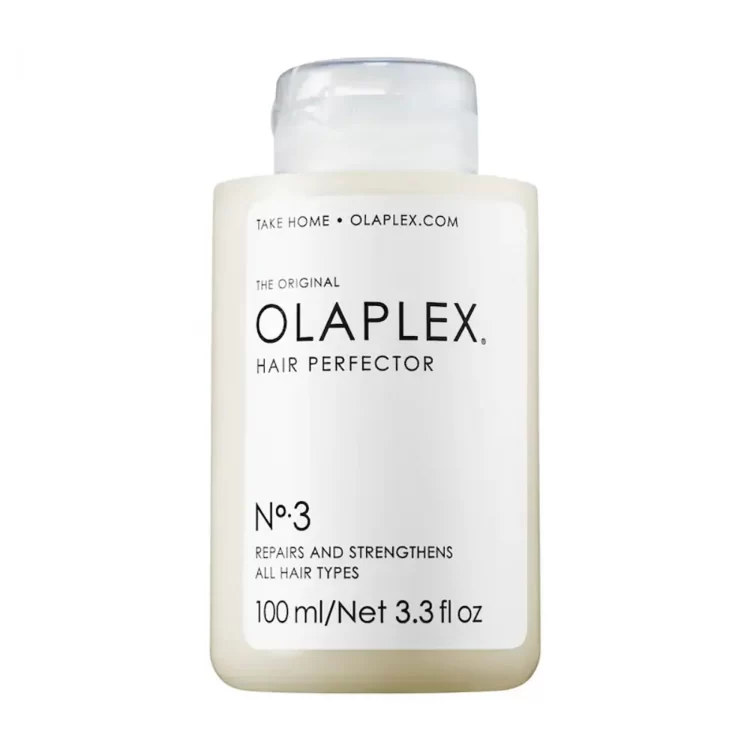 OLAPLEX No.3 Hair Perfector
A treatment, not a conditioner, that reduces breakage and visibly strengthens hair, improving its look and feel.  Key benefits: Repairs damaged and compromised hair  Strengthens and protects hair structure Restores healthy appearance and texture Suitable and beneficial to all hair types.   Paraben-Free Sulfate-Free Phthalate-Free Cruelty-Free Vegan Sizes available: 3 oz.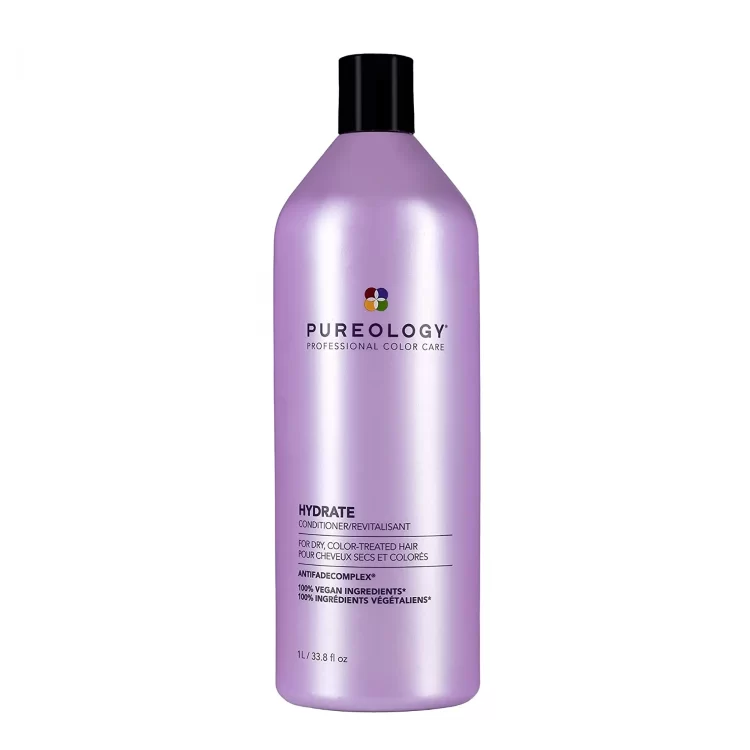 Pureology Hydrate Conditioner
This moisturizing conditioner is so gentle and moisturizing that it can be used as a conditioner for color-treated hair and a conditioner for dry hair. The thirst-quenching formulas of Hydrate provide superior replenishment, touchable softness and extraordinary color protection. Advanced Hydrating Micro-Emulsion Technology deeply hydrates to revitalize dry hair and enhance color radiance, while Jojoba, green tea and sage condition. Multi-weight proteins of soy, oat and wheat help strengthen, rebuild and repair, and Pureology's exclusive AntiFade Complex protects colour vibrancy. A final touch of our signature aromatherapy blend of Peppermint and Corn Mint essential oil.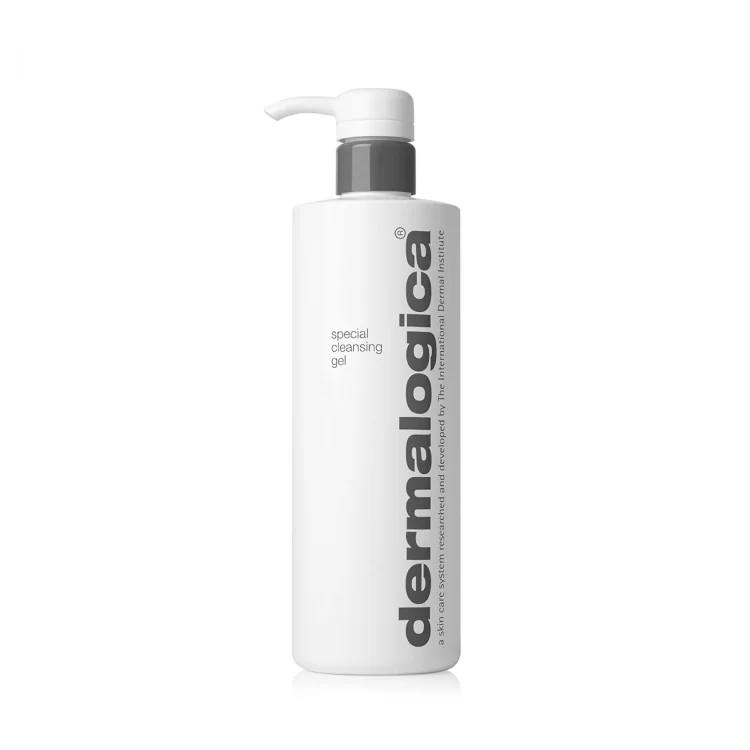 Dermalogica Special Cleansing Gel
Special Cleansing Gel Cleanser is Dermalogica's iconic soap-free, foaming gel cleanser. Formulated with lavender and removes impurities and excess oils, leaving the skin feeling smooth and clean, without disturbing the skin's natural moisture balance. Gentle, foaming face wash gel. Refreshing lather, thoroughly rinses away daily toxins and debris to leave skin feeling soft and smooth. Lightweight and mild enough to use every day – does not strip or dry out the skin. Great for all skin types.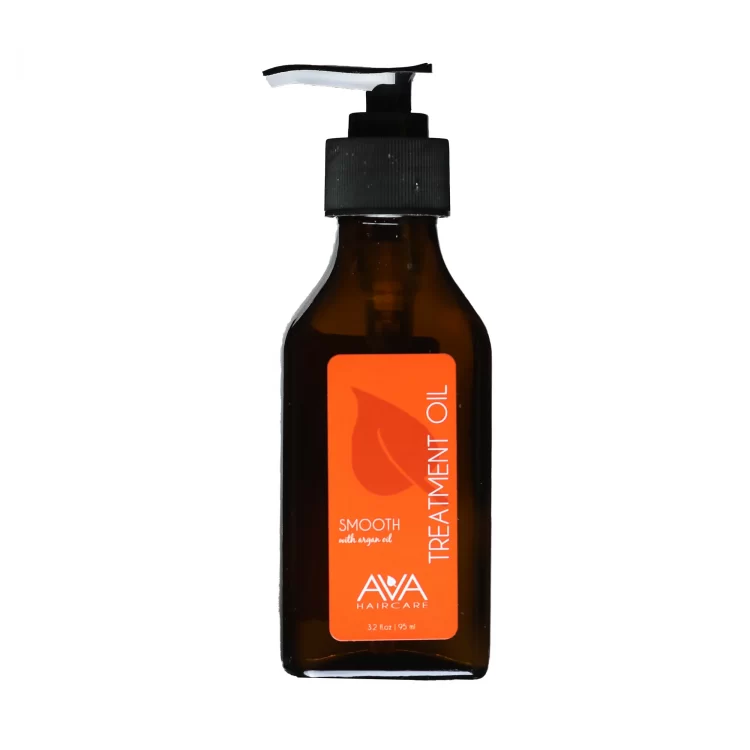 AVA Haircare Hair Oil 3.2oz
For thicker, coarser hair types, frizz and flyaways are a near constant. Which is why there's AVA's Argan Treatment Oil. The ultimate in smooth, sexy strands delivered by the original Advanced Velocity Argan oil.  This peptide-enhanced treatment features super antioxidants like grape seed oil for strength. Uses frizz fighters like arcticum majus root and horse seed chestnut to restoreDelivers the ultimate luxury with cumulative benefits – the more often you use it, the more incredible your hair looks and feels. The blooming fragrance from essential oils contain notes of : Top: Bergamot, White Grapes, Valencia Orange Middle: Carnation, Velvet Rose, Jasmine, Dewy Cyclamen Base: Cedarwood, Transparent Musk. Ava oil restores smoothness, strength and moisture while providing a nourishing and lightweight finish. Thermal protection prevents breakage and improves overall health. Delivers optimal shine and softness. 3 oz.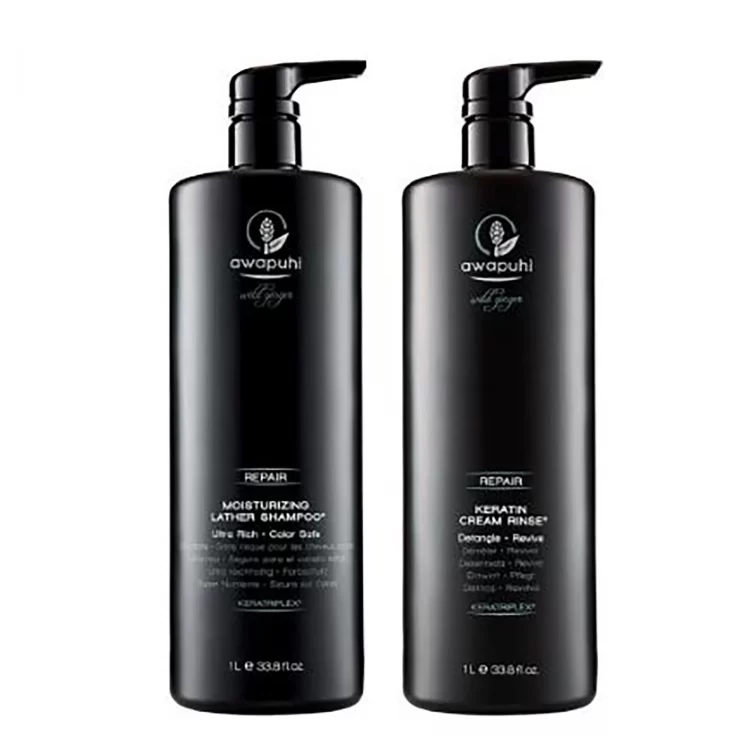 Paul Mitchell Awapuhi Ginger Repair Shampoo and Conditioner
John Paul Mitchell Moisturizing Lather Shampoo and Cream Rinse 33.8 ounces duoSulfate-Free • HydratingFor all hair types; ideal for color-treated and chemically processed hair. Lather in this rich, sulfatefree shampoo to gently cleanse, soften and protect. Natural Awapuhi extract balances moisture for manageability and shine. KeraTriplex™, an exclusive blend of keratin proteins, rebuilds and repairs for healthy-looking hair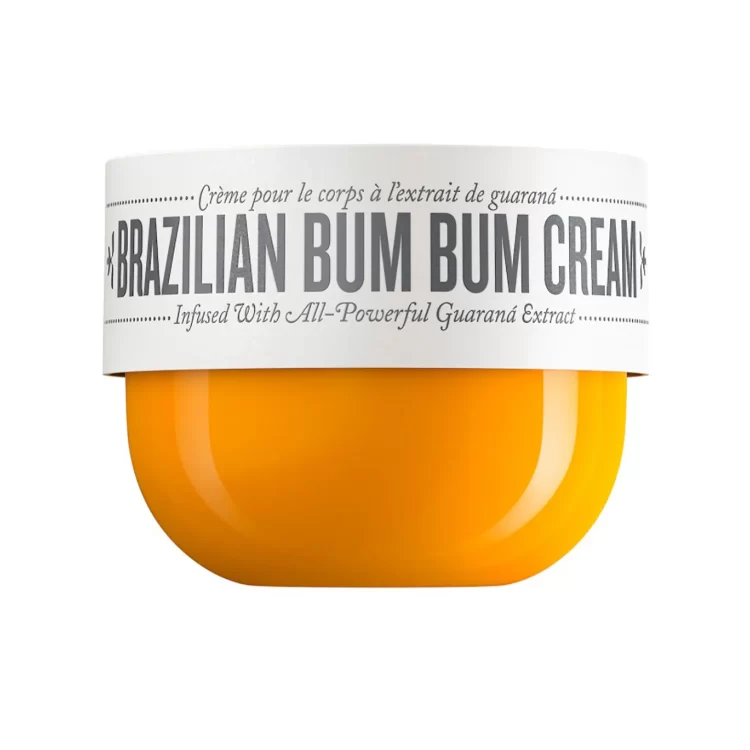 Sol de Janeiro Brazilian Bum Bum Cream – 8.1oz.
Throughout Brazilian beaches, the bum bums have it. Beautiful Brazilian bottoms have a special secret, a cream rich in guaraná, a native Amazonian plant whose fruit contains one of the most potent forms of caffeine on the planet. Together with cupuaçu butter, açaí and coconut oil, guaraná caffeine stimulates circulation and helps keep posteriors their smoothest, tightest and positively most pinchable. Recommended by tanga-wearers and admirers everywhere.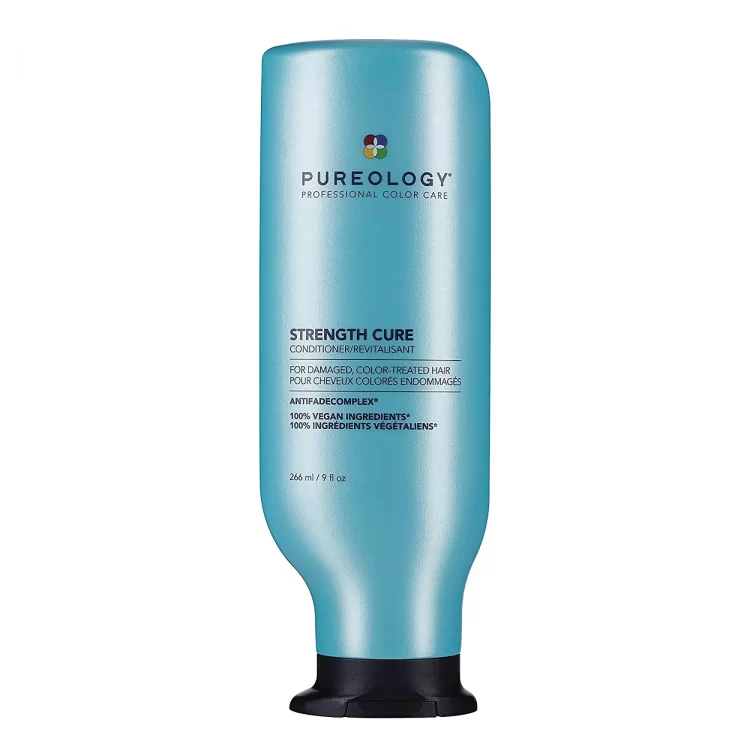 Pureology Strength Cure Conditioner
A lush, concentrated strengthening conditioner helps fortify and moisturize strands that have been affected by heat, mechanical and environmental damage. Pureology Strength Cure repair conditioner helps restore elasticity and suppleness from the very first use. Strength Cure features exclusive Asta-Repair with Astaxanthin, a powerful nature-derived antioxidant, plus Keravis, Ceramide and Arginine to help heal and repair damaged, micro-scarred hair. Strength Cure replaces the Cysteine bonds to restore strength and add softness, while exclusive AntiFade Complex protects color vibrancy. The signature aromatherapy blend is lavender, honey inspired accord, peach and vanilla. Sizes: 9 oz. and 33 oz.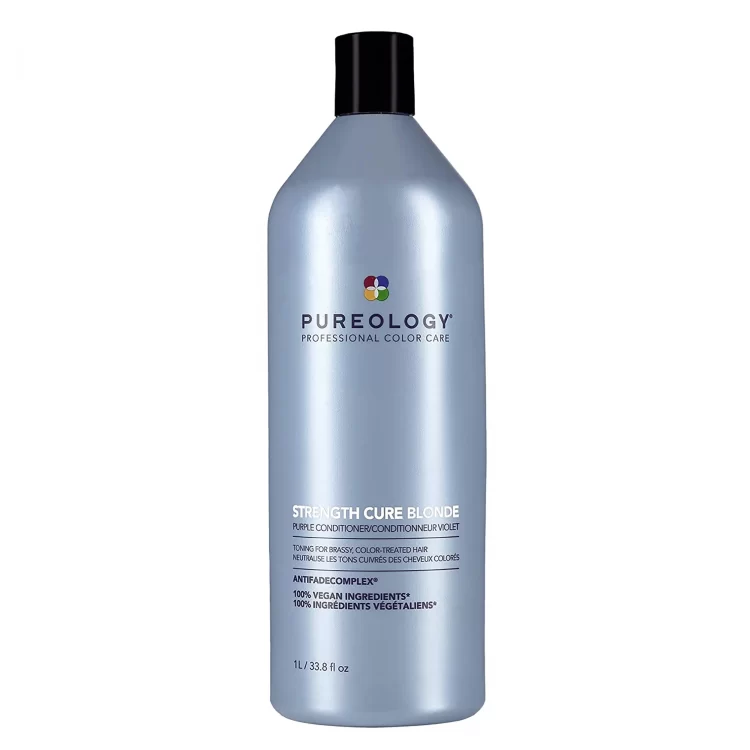 Pureology Strength Cure Blonde Conditioner
Toning purple conditioner for all shades of color-treated blonde, highlighted and lightened hair created with violet toning properties for your strongest and brightest blonde hair yet. Created with violet toning properties, the Strength Cure Best Blonde Conditioner instantly conditions, detangles and tones all shades of color-treated blonde, highlighted and lightened hair. Formulated with the Strength Cure Asta Repair, this toning conditioner for blonde hair moisturizes and restores hair by strengthening from root to top for shiny, moisturized hair. Plus, our exclusive AntiFade Complex protects against heat damage and keeps highlights bright and vibrant while refreshing brassy, yellow tones. Discover the perfect balance of strength and velevty softness for your best blonde yet! Vegan.