You are one step away from giving your money to blue nile, with hopes to get the best diamond you can afford. You just want to make sure, it's the right decision.
In this article, i will explain the brutal truth and give you the full unfiltered blue nile review, and why you can't trust them with your money.
Let's dive in.
Blue Nile Photography and 360 Videos
It doesn't matter if blue nile offers diamonds and engagement rings for a fair price. As long as you can't inspect the diamond properly, you can't know what you pay for.
There are two main problems with blue nile's diamonds videos.
The first is that in most videos, they use strong lighting with high contrast and an unbalanced white balance. By doing so, every diamond appears brighter than it really is, hiding its true color. So if a j color diamond shows a yellowish tint, with blue nile photography, you won't be able to see it, and it might look like a higher color grade. But not only that, the strong lighting makes it much harder for us to spot the inclusions. In other words, you can't know if a diamond is eye-clean or not.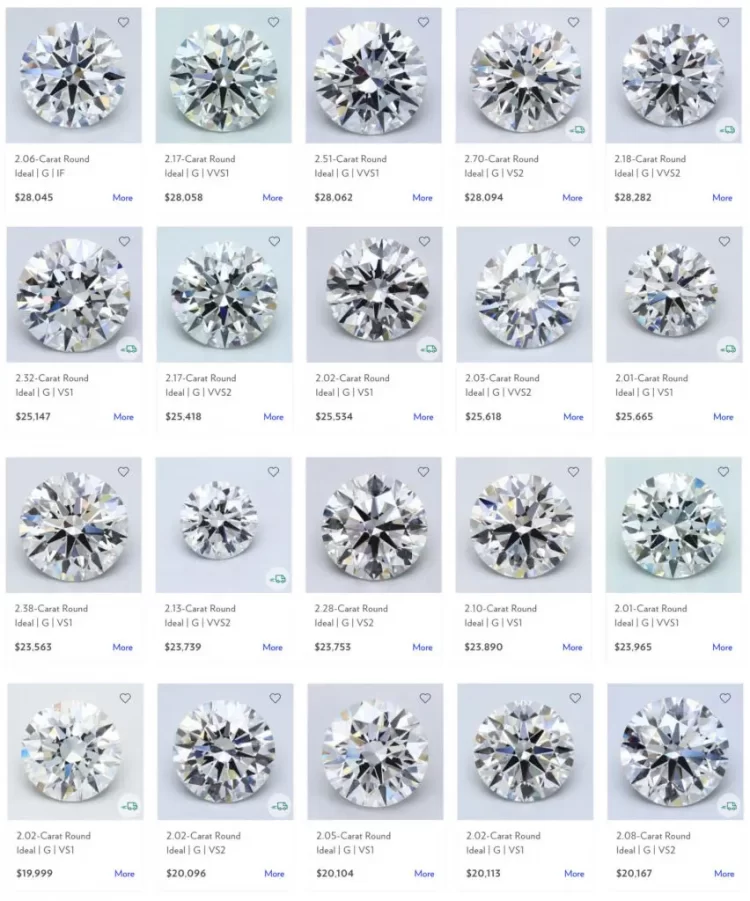 Blue nile didn't invent the wheel. If you visit your local jewelry store, you will see they use the same strategy: manipulating the customer's eyes with strong lighting.
The second problem with blue nile photography is its inconsistency. Notice every photo has a different background color, meaning there are different lighting and white balance settings on each one. As a consumer, you cannot know the real color of the diamond, so you cannot compare different diamonds and choose the best one.
Take for example the following diamonds below. All share the same i color grade. Can you tell which one is better?
For comparison, take a look at james allen photography, all three are i color as well. You can immediately tell which one has a stronger yellowish tint, and which one is better. Reliable photography helps you make the right choice, without getting unwanted surprises when getting your diamond.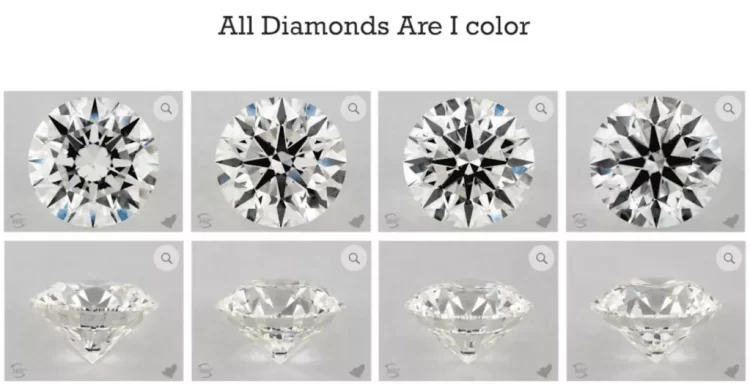 Now that you see the difference, how can you feel safe that what you see is what you get? Does it worth gambling your money? I think not.
To sum it up, with blue nile you can't know the real color of the diamonds, you can hardly see the inclusions because of the bright light, so you can't know if the diamond is eye-clean or not. With james allen, you can feel safe that you get what you paid for.
Blue Nile Diamonds Pricing Review
For those who compare blue nile prices to most local stores, it might sound like a no-brainer, they do offer better prices. But it's not a secret that online retailers have fewer expenses, as a result, they can compete and offer better prices. The real question here is, can you get the diamond for a better price from somewhere else than blue nile?
The answer is yes. James allen offers better prices than blue nile, plain and simple.
Let's do a pricing comparison between blue nile and james allen. This way, you can see which one offers more bang for your buck. Where you can save some cash or invest it in a larger and better diamond. All diamonds share the same carat weights, color, and clarity, with triple x, no fluorescence, and graded by the gia:
Blue Nile Diamonds Inventory Review
If we change the search options to show all diamonds, from all color and clarity grades, all carat weights, and all cut levels, we will know if blue nile has a good variety to offer. We can see they have a large inventory, around 230,000 diamonds. But here is the thing. If you pay close attention, you'll notice:
40% of their diamonds are not photographed, meaning you buy them only based on their gia certificate, without seeing it. No one does that in the last 15 years. Buying an unphotographed diamond is not an option.
The other 60% of photographed diamonds have unreliable videos.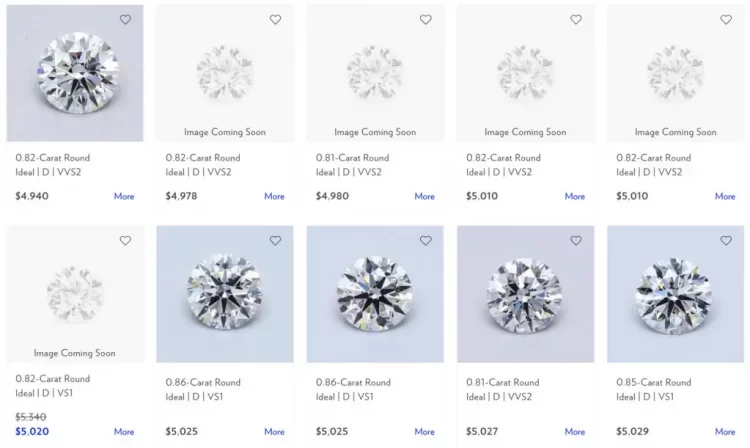 Like most of the big retailers, blue nile decided to stick with the agenda that believes lab-grown diamonds are not suitable for engagement rings, only for fine jewelry. If you are on the hunt for a beautiful lab-created diamond, i recommend checking james allen lab-created diamonds gallery.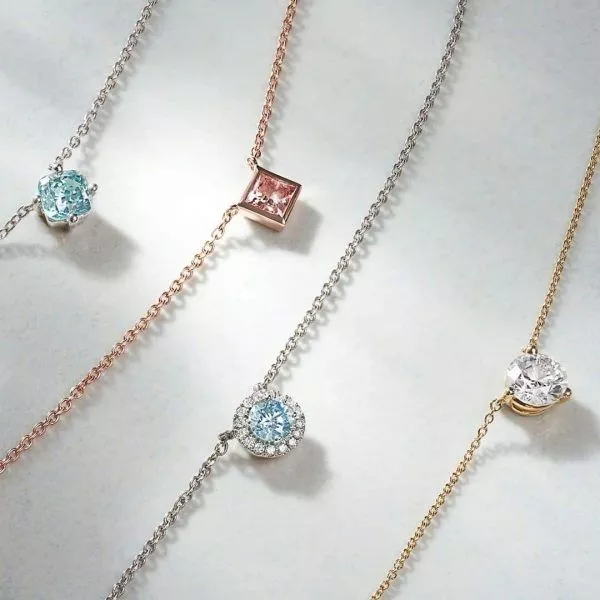 That being said, blue nile does offer lab-grown fine jewelry pieces by lightbox jewelry. Their collection focuses on pink and blue cvd diamonds, for earrings and necklaces. The only secret i want to tell you is that you can buy it for a better price from lightbox directly. Skip blue nile aka the middle man, and save some cash.
What Is Astor by Blue Nile.
Astor is blue nile's exclusive diamond collection, curated and handpicked by their diamond experts. These diamonds have better cut, more brilliance and fire, and higher light performance.
But does it worth it?
Because it's a premium collection, you pay a premium price.
These diamonds are close to super ideal, but they are not hearts and arrows. It's important to understand the difference. Hearts and arrows diamonds are the top 1% of round diamonds. They show perfect symmetry, with a strong contrast between the black 8 hearts and arrows, and the diamond itself. It adds much more brilliance, fire, and scintillation, compared to a normal ideal cut.
Astor by blue nile: 1.07 carat g vvs1 ($11,680)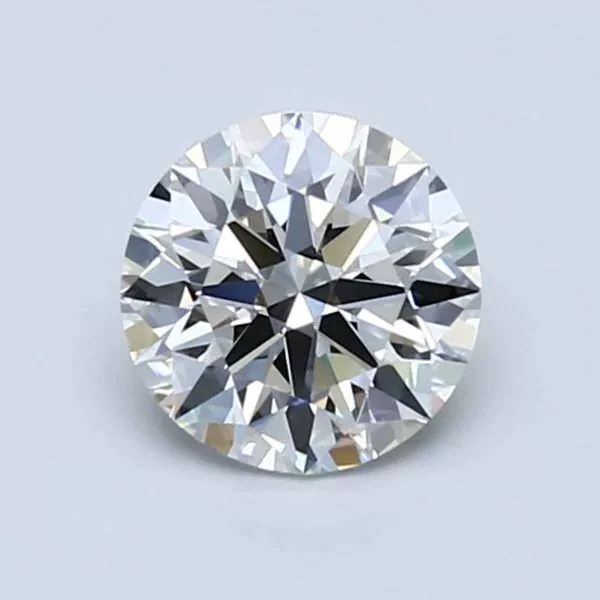 Hearts and arrows by james allen: 1.08 carat f vvs2 ($9.980)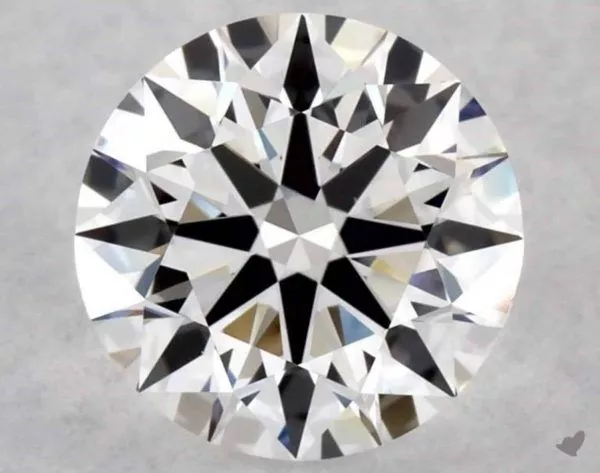 Does Blue Nile offer any discounts?
You can find a $50 coupon for your purchase on blue nile, but does it worth it? As we've just seen on the pricing review, james allen offers better prices, plus a $100 coupon code and a 25% off on your engagement ring for your first purchase. You can read my full tutorial on how to get all james allen discounts here.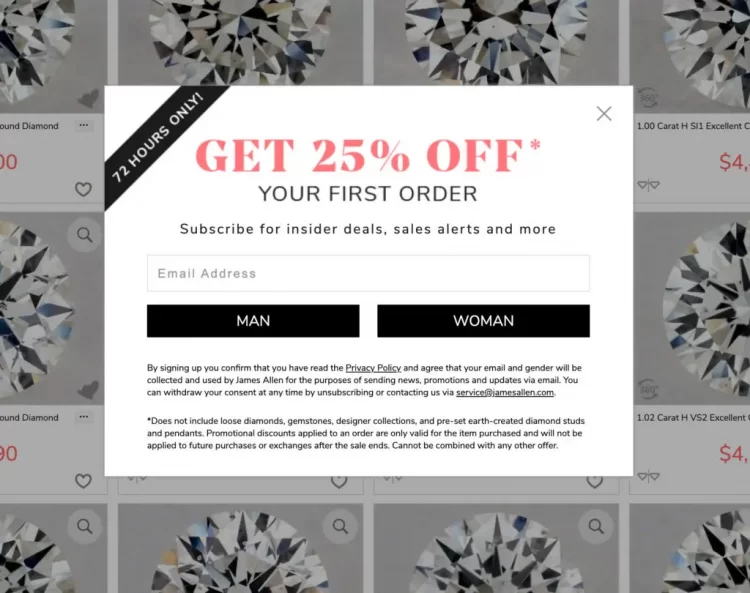 Conclusion
I can't recommend buying at places where you can't see a good image or a video of the diamond, that includes blue nile. I understand they are a large company, with a long reputation in the industry. That being said, it doesn't mean they give you, the customer, the best experience for buying the right diamond for your budget. Buying blindly is not a gamble worth taking.
Did i miss anything? Do you have any questions? Let me know in the comments below!