So reading a Grammarly review is now a priority after that embarrassment.
The one that made you realize "yeah, getting a grammar checker tool might be a good idea."
You reviewed your email carefully.
Then you hit send.
And only then did you see it. The spelling mistake your eyes skimmed right by. Buried in the middle of your text, you missed it, but now it flashes out at you, and it is all you can see.
Grammarly (affiliate link) could prevent the pain of those mistakes.
It's the secret weapon smart writers use every single day to make their writing error-free, polished, and clean as a whistle.
Let's jump in and learn more.
What is Grammarly (and How Does it Work)?
Grammarly is an "AI-powered writing assistant" that helps you improve your writing.
It goes well beyond a basic spell checker. It uses the latest in artificial intelligence to apply English language conventions and grammar rules to your work.
Grammarly proofreads your beautiful words and alerts you to errors that can detract from your message.
As you type, Grammarly provides real-time feedback, informing you of mistakes, and makes suggestions to fix them. You can quickly correct issues as you create your messages.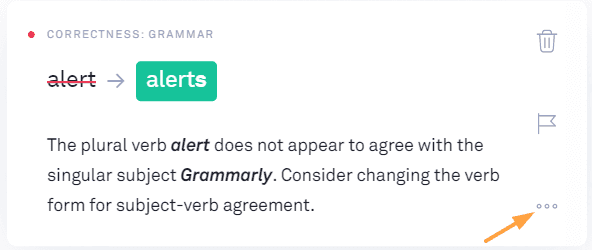 The best part of this?
Grammarly gives you an explanation of the reasons behind the correction. This allows you to learn from your grammar errors, so you stop making them.
Simply click on the three-dot ellipse to reveal the explanation: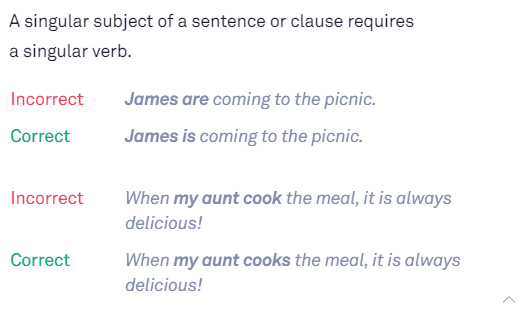 This explanation can be invaluable. And if you need to brush up on your grammar skills, Grammarly provides a handbook of grammar rules for easy reference.
In each case, you make the decision whether or not to accept the correction. You remain in control of your writing.
True, Grammarly can't replace a human proofreader, but it will catch a wide range of grammatical mistakes and punctuation errors. It isn't perfect, so you always want to use your own judgment and think through the suggestions. Don't blindly accept them.
Where Can I Use Grammarly?
Grammarly works almost everywhere you do — you can use it on your computer or your mobile devices. Whether you want to text, post on Facebook, tweet, comment on blogs, or write a blog post, it can be there for you.
To do this, Grammarly is available as both an app and as the Grammarly browser extension in Chrome, Safari, Firefox, and Internet Explorer.
Here are a few of the platforms it works on:
Email (Gmail, Outlook)
Documents & Projects (Google Docs, Microsoft Word, Slack, Salesforce)
Social media posts (Facebook, Medium, Twitter, LinkedIn)
Websites (including backend web pages in WordPress)
So How much Does it Cost to Use Grammarly?
The free version of Grammarly won't cost you a penny. It's completely free.
But if you need more features, here are the prices for Grammarly Premium (as of this writing):
A monthly subscription is $29.95 per month
A quarterly subscription is $19.98 per month (billed as one payment of $59.95)
An annual subscription is $11.66 per month (billed as one payment of $139.95)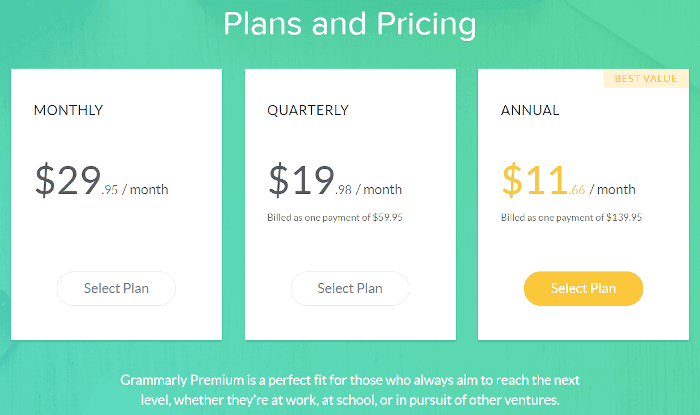 Is the premium version of Grammarly worth the upgrade?
Let's take a look…
What are the Differences Between Grammarly Premium and the Grammarly Free Version?
The free version of Grammarly offers corrections for spelling errors and basic grammar mistakes. It does a great job of preventing typos.
The premium version offers advanced writing feedback.
It watches for advanced grammar mistakes and contextual spelling errors. More than just a proofreading tool, it also suggests improvements in sentence structure, word choice, and style.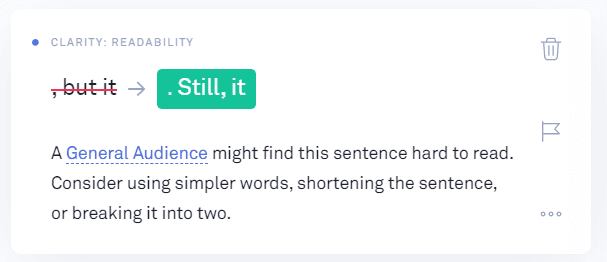 Overall, the free version is okay for casual writing. But for longer-form or professional content that you need to be its absolute best, you'll want to consider Grammarly Premium.
Here's Grammarly's side-by-side comparison: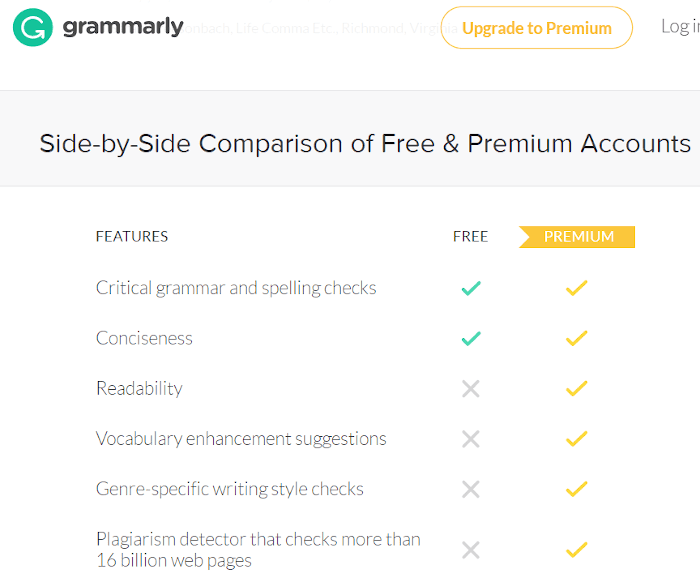 Let's go over the extra features you get with Grammarly Premium:
Advanced Grammar and Punctuation Checks
The premium version offers additional grammar and punctuation functionality. A few examples are:
Punctuation errors such as either missing or unnecessary commas, or comma splices.
Sentence structure issues like missing verbs, incorrect adverb placement, or faulty parallelism.
Style errors, for example, using the passive voice, or colloquial phrases in a formal document.
Grammarly Premium says it runs 400+ checks on your writing!
"Readability" (Or, What Are You Trying To Tell Me?)
Readability is the difference between a reader enjoying your writing or quitting in frustration.
A high readability score means a piece of writing is easier for a reader to understand — the higher the score, the easier it is to read. It's important because you don't want to exhaust your reader with lengthy sentences and lots of complex words.
Grammarly uses the Flesch reading-ease test to measure readability. For most writing, you want to aim for a score of 60 or higher. This means that people with at least an eighth-grade education would find it easy to read.
Grammarly provides a handy report to provide this readability score along with your average word and sentence length.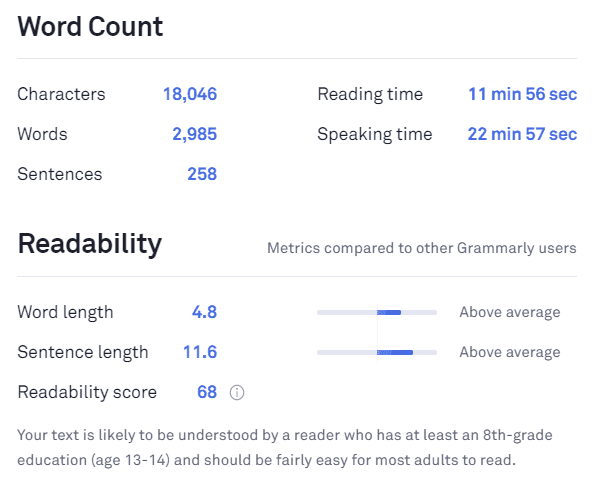 To help you improve the numbers on this report, the premium version of Grammarly will flag overly long sentences. It will also suggest simpler words where appropriate.
"Vocabulary Enhancement Suggestions" (Or, Improve Your Vocabulary)
Grammarly Premium will offer you alternatives for either overused words or weak adjectives.
It will alert you if you use a particular word over and over again, and it will offer substitutions to keep your writing engaging.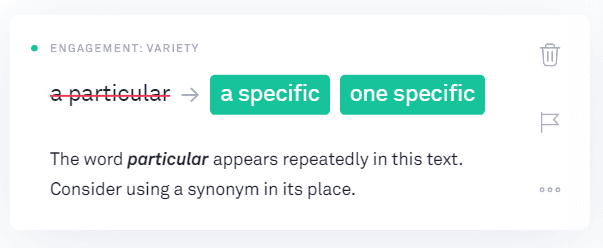 If you use a weak adjective like "fine," it will suggest you replace it with something more dynamic.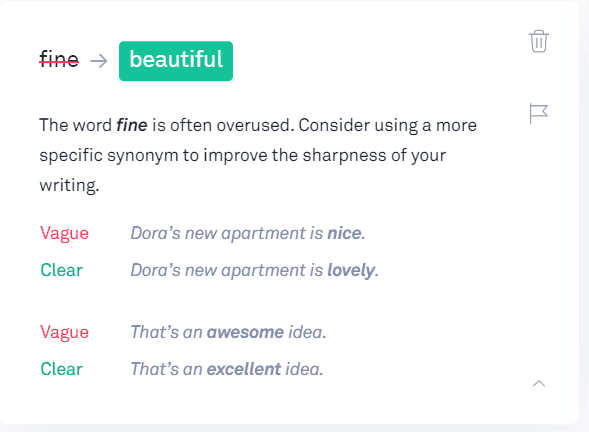 "Genre-specific Writing Style Checks"
Are you looking for an inexpensive writing coach? Then use Grammarly Premium to get "tailored writing suggestions based on your goals and audience."
Here are some of the goals you can set for each piece of writing:
Audience (General, Knowledgeable, or Expert)
You want to write for the level of your audience, and you can set this goal to reflect that.
For example, for a general audience, anyone should be able to read your work. At the expert level, you can use longer sentences and words (like medical or technical terms).
Formality (Informal, Neutral, or Formal)
As an example, in blog writing, you can begin sentences with a preposition. But if you are writing a paper for a more formal audience, you'll want to use by-the-book grammar rules. This allows you to toggle between sets of grammar rules.
Domain (Academic, Business, General, Technical, Casual, or Creative)
The domain you select will have to match the options in Formality. For example, if you choose Academic, the Informal option is unavailableThe domain you select will have to match the options in Formality. For example, if you choose Academic, the Informal option is unavailable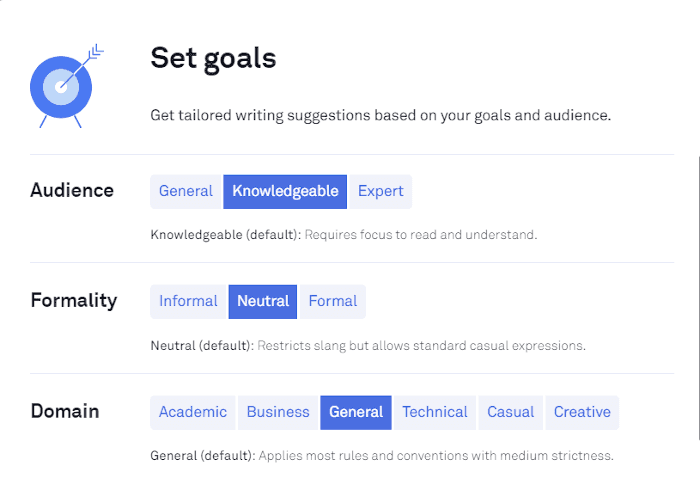 The next two goals for Tone and Intent are experimental but fun to use: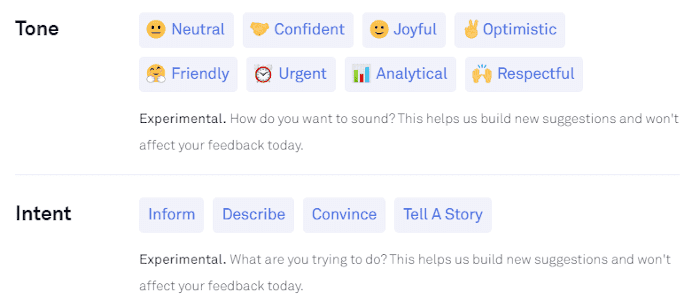 Plagiarism Checker
One of the main benefits of Grammarly Premium? There are unlimited plagiarism checks. You can check your text as obsessively as you'd like, no extra charge.
If you read a lot and have a decent memory, you are in danger of accidental plagiarism. You may write what you believe to be an original thought, but nope, it isn't. Using a plagiarism checker is vital!
You might inadvertently plagiarize by copying and pasting research text into your document, intending to label it properly later. Then the doorbell or phone rings. Life happens.
You come back to your writing and use the snippets of text, forgetting that it isn't yours and failing to give credit to its creators. A giant oops.
One precaution is to never copy and paste research text into your final document. Always keep it separate and clearly labeled.
If you want to create a citation for a chunk of text, Grammarly provides the options to cite it using either MLA, APA, or Chicago Manual of Style.
Select the convention you want to use, and it will generate the citation for you and add it to your document.
Grammarly also provides links to the appropriate citation generator website if it can't automatically generate a citation on its own.
In short:
Before you hit publish or submit a new document to your editor, you should run a plagiarism detector to verify your text is truly original.
And Grammarly Premium makes this possible.
Vital Feedback To Improve Your Writing
The best reason for paying for Grammarly Premium is it helps you to become a better writer by telling you why it is flagging an error. It gives you the reasons for your mistakes so you can learn and improve your writing skills.
You cannot become a better writer without feedback.

Click the three dots on Grammarly's suggestions card to learn more about why this is being flagged as an error, and you'll see this: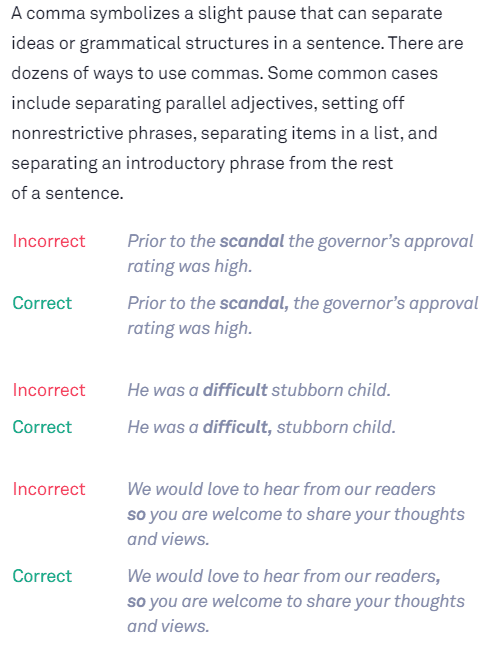 I was the queen of forgetting the Oxford comma, a grammar convention that can help prevent ambiguity. After months of fixing it, guess what, I finally have it drilled into my head to use it!
If you pay attention to the reasons for your errors, over time, both your grammar and your writing ability will improve.
Again, always use your judgment. Look things up if something doesn't look or sound correct. Use this as a learning tool, but remember there is no replacement for brushing up on your grammar.
Which Grammar Checker is the Best?
There are numerous grammar checking tool options out there for writers — Gingerly, Hemingway, After the Deadline, WhiteSmoke, LanguageTool, and ProWritingAid among them.
Here are a few reasons we believe Grammarly is the best:
Grammarly is Fast and Accurate
The Grammarly tool can process large amounts of text quickly and accurately. For example, it took only a few seconds to run through a 7,000-word post.
It is also known for catching the highest quantity of errors compared to its competitors.
Grammarly is Super Easy To Use
Grammarly reduces the friction in using grammar checking software by making it as easy and as accessible as possible.
Take a minute or so to install the browser extension, and you are off and running. Almost everywhere you communicate on the web, Grammarly will help you keep your writing mistake-free.
If you create longer text for review, no problem. Log in to use the Grammarly Editor online or download the app to your desktop. Then you have the option to either copy and paste your text or upload it.
The Grammarly dashboard and interface are clean and intuitive to use. No need for tutorials, or to waste time learning software. If you have any questions, there are helpful onscreen question marks to click for pop-up answers.
Grammarly is Available in Multiple Formats
Grammarly allows you to work on the web, on your desktop, or on your mobile devices. Here's a list of the formats:
Grammarly Editor is available as a web-based tool. Log into the grammarly.com website and you're ready to edit.
Grammarly's Web Browser extension (Chrome extension, Safari, Firefox, and Edge). Download the Grammarly extension and use Grammarly on your favorite websites.
Grammarly's app for desktops is available for either Windows or Mac. It's one click to access, and you can either upload or copy and paste a document to check it.
Grammarly add-in for Microsoft Office on Windows. This add-in allows you to use Grammarly while working with Microsoft Word & Outlook. This plug-in is for PCs only, it isn't currently available for Mac.
Grammarly Keyboard for iOS or Android. Download this app to check your writing on mobile devices.
With a variety of options, you can bring Grammarly's helpful algorithms with you wherever you write.
Grammarly is Customizable
Being able to customize your writing goals for the type of writing you are doing is a powerful feature.
Grammarly allows you to apply the right set of grammar rules according to the kind of work you are doing. Example: casual writing, which allows the bending of rules not acceptable in formal writing.
Grammarly also gives you a custom dictionary. If your writing contains brand names, jargon, or abbreviations, you can add them to your personal dictionary. This eliminates constant flags for incorrect spelling.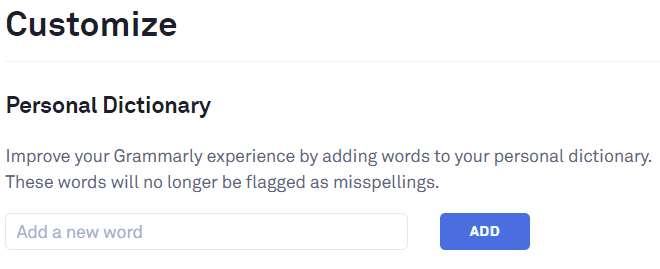 This is a useful feature, but before you add a word to the dictionary, double-check your reasoning. Adding slang or jargon that works with one piece of writing might not be a good idea to add to your dictionary.
Why?
Because then it's ignored when you work on something a bit more formal.
Grammarly also allows you to customize your English Language preference. It distinguishes between American English, British English, Canadian English, and Australian English.
You don't want to be told to change the spelling of colour to color if you are writing in British English, right?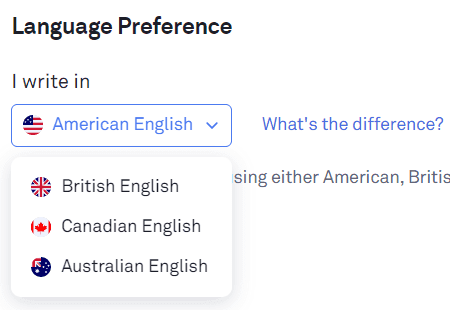 Grammarly: Frequently Asked Questions
Is Grammarly Premium Worth It?
If your grammar skills are solid and you keep spelling mistakes to a minimum, the free version of Grammarly could be all you need.
But if your skills are lacking, or if you're a professional or student whose livelihood depends on written communication, Grammarly Premium is well worth it because it'll catch mistakes that could damage your credibility (or torpedo your test scores).
Is it Safe to Use Grammarly?
Yes, but it depends on how comfortable you are with your information being transmitted online. According to its privacy policy, Grammarly transmits your writing to its online servers. Your text is stored on those servers while Grammarly runs its AI magic on it.
Similar to the precautions you'd take with email, you should be cautious of highly confidential or sensitive documents. Grammarly has many safeguards in place to protect your data, but no company (whether it's Grammarly or Google) can promise 100% security.
So if you are an employee, you may want to check with your IT department for your company's data management policies.
And if you are writing something deeply personal and private, you probably don't want that anywhere near the internet anyway.
In fact, go analog and write it on paper. Then shred it for the ultimate privacy.
Who Should Use Grammarly?
You don't need to be a professional writer who is paid to write to use Grammarly — anyone who uses the written word to communicate could benefit from it.
After all, if your message contains glaring errors, it's hard to focus on the message and not the errors, which detract from the message you are trying to get across.
Grammarly is especially beneficial for writers judged on the quality of their written work, such as:
Content Marketers
Copywriters
Authors
Students
Anyone who's started a blog
Business people who write emails or reports or create presentations.
Is There Anything Better Than Grammarly?
Possibly. It depends on your needs and your situation.
Here are a few Grammarly alternatives that provide better options for some users:
Does Grammarly Work With Word?
Yes, Grammarly works with Microsoft Word. There is an add-in you can download to your computer (Windows only). Once installed, you can click the Grammarly button on the Home tab, and a Grammarly sidebar will appear.
The sidebar allows you to choose which checks you want to run on your MS Word document.

Once enabled, Grammarly checks for errors and suggests fixes.

Does Grammarly Work In Google Docs?
Yes, Grammarly works in Google Docs, but as a beta version only.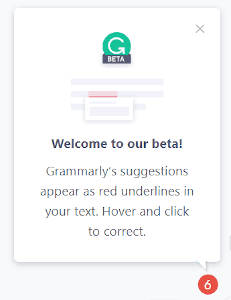 Even with the Grammarly Premium upgrade, the Google Docs version is limited. For example, it will flag mistakes and provide suggestions for corrections, but it doesn't give you the reasons for your errors. It's also missing the suggestions to improve Clarity, Engagement, and Delivery that's included with the premium version.
It also doesn't pick up the same amount of "Correctness" errors in Google Docs that it will when you copy and paste the same text to the Grammarly app.
As a workaround, you can make changes to the grammatical errors that are flagged to keep your document as clean as possible. But then you'll want to copy and paste your work into the web or desktop app to make your final sweep for errors and improvements.
Is Grammarly Really Worth It?
Now that you've read this in-depth review of Grammarly, you know the answer.
The free version of Grammarly cleans up typos and prevents embarrassing mistakes. If you are a casual writer who writes mainly for fun, the free version may be enough for you. And for anyone who takes their writing seriously, the premium version is a solid investment.
Grammarly doesn't replace professional proofreaders. Human proofreaders will catch more than Grammarly can and will pick up contextual errors that Grammarly may miss.
Is Grammarly worth it?
Yes.
Grammarly can clean up and improve your writing so that when you hand it over to a human editor to proofread, it will require a lot less work. And less work for them means it will cost you less.
If you do your own proofreading and editing, the Grammarly Premium plan offers a valuable writing assistant. It helps you keep your writing clear, engaging, and easy to read.
If you aren't sure about the premium version, try Grammarly for free (affiliate link) first to see how you like it.