Situated outside the val d'europe ring, b&b hotel is the newest partner hotel for disneyland paris. Located with the cluster of other partner hotels, vienna, explorer's, and kyriad, this hotel provides a new fresh and basic lodging option with free shuttle bus service to the parks.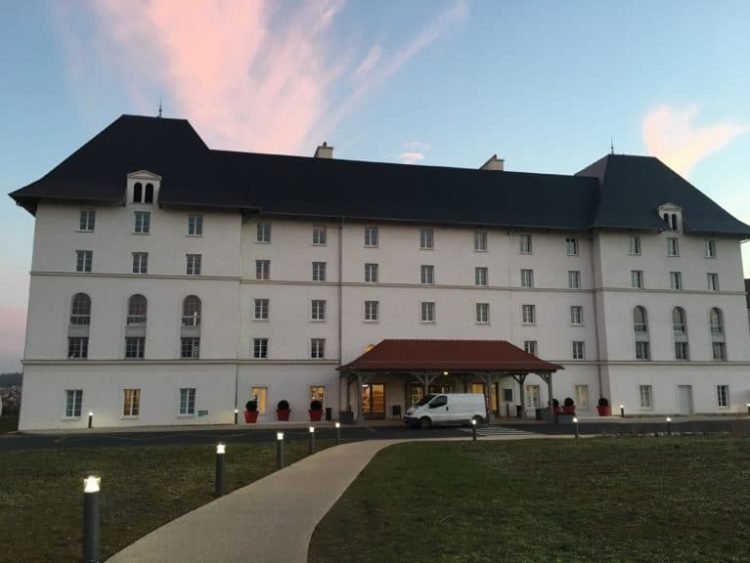 Room
Hotel b&b has no room key cards. Rather, a code is given to you that you either memorize or carry the paper with you. We reserved a room with one large bed but received the family room which includes 1 double bed, 1 single bed, and 1 bunk bed. It is a bit too much for two people staying a night. Nonetheless, the room is nicely laid out with plenty of area space. It did feel a bit like a hostel but was good in the part that each bed has an outlet to charge your phones and a lamp.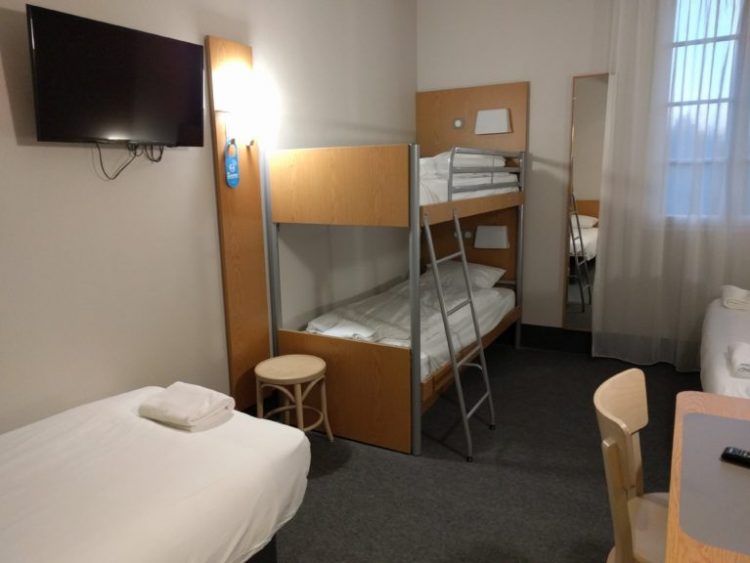 We were impressed with the storage unit to store luggage both below and atop the cabinet as well as plenty of space for hanging up coats. The mattresses were not too hard but are foam mattresses. Each bed is supplied with a very thin towel. A small desk is available to use which we found very convenient. The flat-screen TV was just fine for the room and offered a plethora of channels in many languages. The wifi was very fast at the hotel compared to the on-property hotels.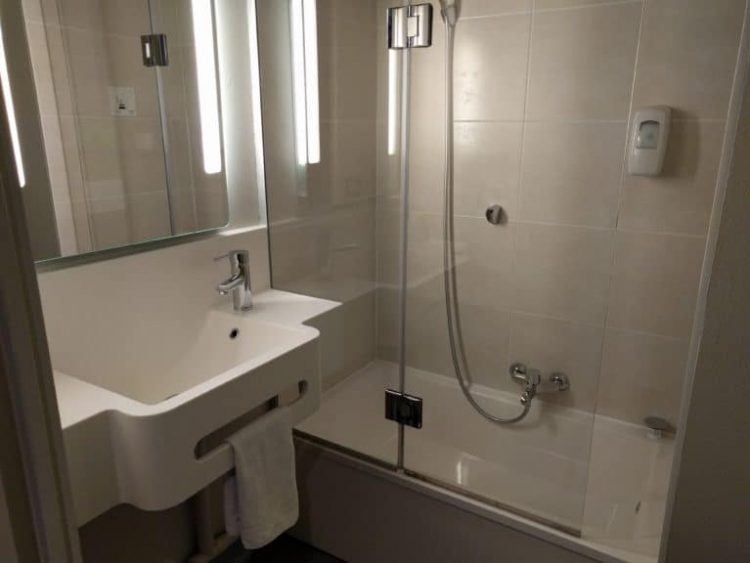 The bathroom had practical counter space for being quite small. I can imagine having more than two people could make this a challenge to get ready in the morning. I had been excited about having a bathtub at the hotel but was surprised that it's more of a demi-bath. When sitting down in the 'tub' i could barely stretch out my legs. Still, it was a very nice option to have to soak your feet, or if you have kids to give them a quick little bath. The shower includes an all-in-one dispenser and only one bathmat. If you need more towels, bring your own or you can rent one at the front desk.
Breakfast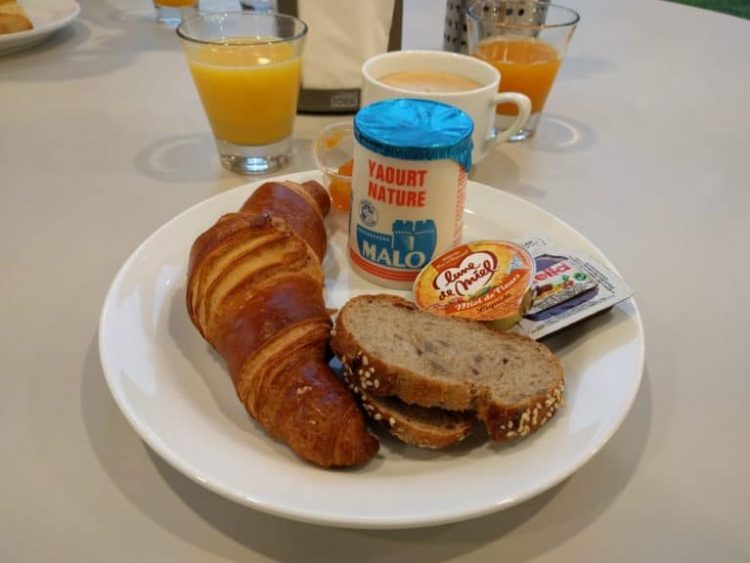 For the price of the room, don't expect a stellar breakfast. You can walk in anytime between 7-11 am for food. The dining room itself is large and offers a good setup but the offerings were thin and some of the food looked questionable. The spread includes croissants and bread with toppings like jam, nutella, honey, and applesauce. There is also yogurt, cold cuts, and some sketchy-looking cheese is the final option. Hot boiled eggs are the only warm item offered. For drinks, you have the options of coffee, tea, cocoa, and juice. We don't know what was wrong, but the orange juice was disgusting. We stuck with the multifruit juice. According to some reviews online, the offerings change each day, but my guess is also based on occupancy levels or what they have purchased for the week. If you only need a little fuel to start your day, the breakfast will do you fine.
Amenities
We were quite impressed with all the self-service options. There is a game room for kids where you can find a microwave, hot and cold beverage machine, and also snack machine available 24/7.
Dinner is available nightly at 17:00 in les halles. This is also where breakfast is served in the morning. It's the basic fare of pasta, pizza, and sandwiches. There is also a bar to order some light snacks and drinks such as sodas, juices, liquor, and the usual wine and beer. Prices and quality are not high so don't expect a lot. A menu is 14 euro for adults and 7,50 euro for children or you can purchase a la carte with food ranging from 4-7,50 euro.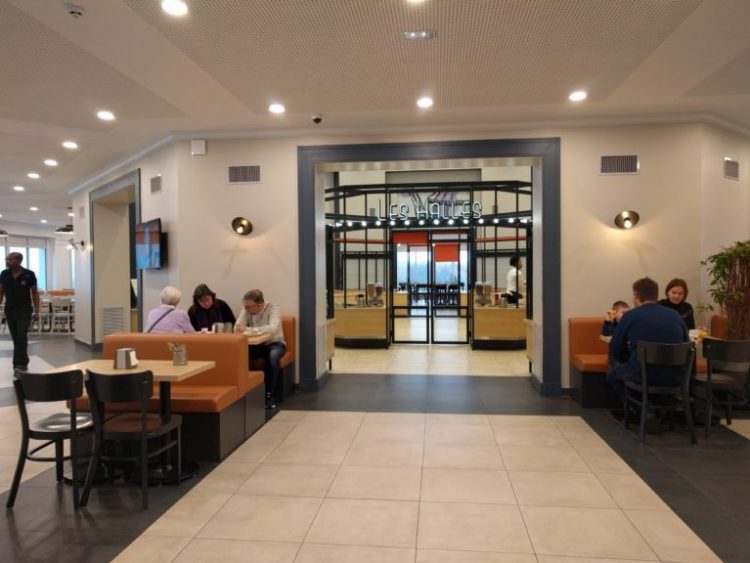 A disneyland boutique is available at select times (open 08:00-12:00; 18h00-22:00) during the day that offers the same basic souvenirs you can purchase at the park or disney village. So if you have some last-minute shopping to do you can always grab something at this store.
Shuttle busses run throughout the day usually between 6:30 am to midnight and arrive roughly every 15 minutes. We did not use the service but noticed that this shuttle is shared with the explorers hotel next door.
Final Thoughts
The only real disappointment for us was the substandard breakfast and the experience with the staff continuously knocking on our door the day of checkout. For the location and a room under 100 euro, we were pleased with the room. If no thrills but a clean comfortable space is what you seek, then hotel b&b is good.
For those traveling by train or bus, this spot is great because of the shuttle bus option to the parks. If you have a car, it actually is not the best spot because you do have a few loops and roundabouts to go through before reaching the parking lot. So that you enjoy your stay, do remember to bring a hairdryer or you can ask the front desk for one and any extra toiletries. Let us know what you thought of your stay at this hotel in the comment box below.
Photos B&B Hotel Disneyland Paris