I like to think of this blog as a positive space that's not whinge-y or moan-y and instead focusses on the positive (I know it's not all sunshine's and rainbows but it's not me ranting about things that annoy me every day either – I have to restrain myself from writing that blog). The majority of the reviews and collaborations I post on here are very positive and complimentary, and I'm lucky enough to have been able to write honest posts about some great brands that I can wholeheartedly recommend.
Every now and then however, I come across a brand or a product so poor that I feel I have responsibility to write about it, just so you can all save your well-earned pennies and avoid it. I'm afraid that today that brand is Avon.
Now I am not generally a sucker for advertising, but I've seen that advert a few times where they send beauty bloggers a mystery package (that they all absolutely gush over), and it later turns out to be Avon products – cut to the bloggers all looking amazed and surprised. Their make-up looked pretty nice in the advert, and as I'm always on the hunt for new reasonably priced beauty items, I was intrigued. Of course I didn't just order on the basis of a TV advertising campaign however – I also Googled around and found a couple of my favourite YouTubers had done collaborations with Avon, and seemed to genuinely like their products. I was sold, and I put in an order one Saturday afternoon a couple of weeks ago and eagerly waited for the package to arrive. I spent £40 in total, which isn't exactly pennies to me, but I wanted to try out some of their most raved about products, and I was happy to part with my cash if it meant finding some new favourites.
I ordered the SuperShock Mascara, Ideal Flawless Foundation, two Perfectly Matte Lipsticks and the Anew Clinical Advanced Resurfacing Peel (and a cheap shampoo!)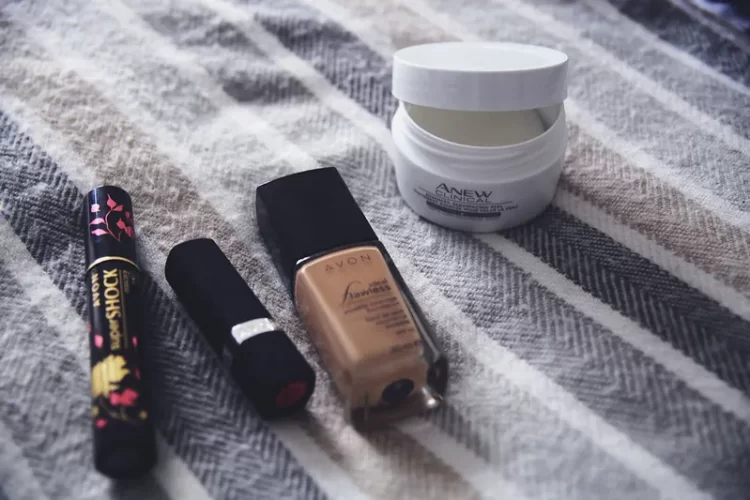 My first indication that things weren't going to go swimmingly was when I checked out my order and got a confirmation email. It gave a list of what I'd ordered, and then said I would get another e-mail when my order was accepted. Hmm, I thought – what does that mean? The Avon elves are going to go and check whether the things I'd ordered were actually in stock? They were going to check me out and see if I could be in their gang? I waited patiently. By Wednesday I had no further emails, and no despatch email. I was starting to wonder if the Avon elves hadn't accepted me (the money taken from my account said otherwise). I logged into my Avon account and there was no order in there. The plot thickened.
Luckily my order arrived that same Wednesday (though I had still had no further contact from Avon to suggest it might) though my pleasure immediately subsided when I saw that it had arrived in a battered old jiffy bag. I'm used to orders from Escentual or Cult Beauty arriving in boxes with all the products inside well protected, so I was nervous when I saw the minimal packaging that the insides would be damaged. Unsurprisingly, the boxes of the products were all battered and bent, but luckily the products inside didn't seem damaged or broken. Still – not an ideal start.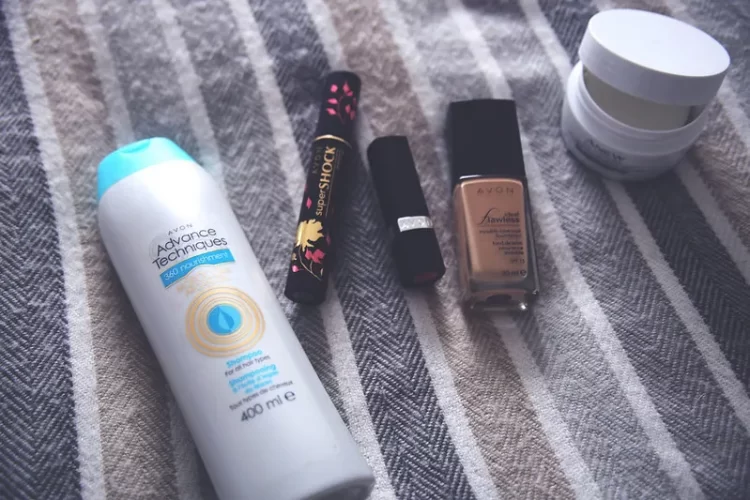 The first thing I opened was the Avon Flawless Invisible Coverage Foundation. It comes in a glass bottle, and as soon as I took it out of the box I could see that the bottle was only half-full. There was a section of the bottle about half-way up that you could see right into, and very clearly the foundation only filled about half of the bottle (you can even see the line where it was filled up to if you held it up to the light). My suspicion is that it was faulty, and so I tweeted Avon a photo and asked for their advice.
They asked me to email their Customer Services, which I did the next day. Despite the damaged boxes, no despatch email and half-empty foundation I thought I would give them the benefit of the doubt, and I dutifully tested out the other products. The next thing I tried was the Super Shock Mascara. This is without a doubt the worst mascara I have ever tried. I don't know whether this is faulty too but it honestly feels like when your mascaras are about to run out and you can't get any of the liquid on the wand? There are some rave reviews on the internet for this product which is what makes me wonder whether this is faulty too – I quite like the brush but it doesn't feel like it's actually getting any mascara on my eyelashes – in fact I'm not entirely convinced there's even any mascara in the bottle. I immediately swapped back to my usual mascara – surprise surprise I won't be re-buying this!
The Perfectly Matte lipsticks are really good to be fair. I bought two different colours and I'm pleased with both – they last well and do have a nice matte effect I haven't seen in other lipsticks. I would pick up more of these in future, though I'm not sure I will necessarily shop at Avon again.
The Resurfacing Peel comes in the form of treatment pads that exfoliate and resurface your skin. They have 10% glycolic acid – which is stronger than the 5% found in Alpha H Liquid Gold (another favourite of mine). These do give the same 'tingly' effect that makes it feel like it's doing some good to your skin; exfoliating away dead skin cells and 'retexturising' your skin. I wouldn't say the product is as good as Liquid Gold – it comes with 30 pads which should last a few months (using the recommended frequency of 2-3 times a week) but Liquid Gold also lasts a long time using only a few drops at a time, and seems more effective – though it is much more expensive so this could be a good alternative.
After lots of chasing (and being ignored) on Twitter, two weeks later, Avon replied to my email with a standard response stating that I could return the foundation and get a full refund. After a bit of negotiation and highlighting that in the photos it was clear that the product was faulty, I was allowed to receive a refund without having to return the product – so this was good at least. All in all, the lipsticks are good, the resurfacing peel is pretty okay, the mascara is awful, and the foundation (what I did get of it) is not really to my taste – it's very oily which is not right for my complexion, and it doesn't seem to last very long. I'm afraid I don't share the enthusiasm of the 'beauty bloggers' on the TV advert about being wowed by how amazing the Avon products are (ahem ahem), and their customer service leaves a lot to be desired. I can't say I would shop at Avon again.