When I was preparing my other article on Agoda and how best to maximise your dollar with them, I discovered Agoda's flight booking services. How does this service compare with others? Is it at all easy to use? This article goes through the booking process with my comments weaved into the article.
First Impressions
When I fired up Agoda's main page, it looks to be an easy to use page requiring you to just key in the most basic of details: Destination, departure date, and return date.

Filling in the required details and clicking on "Search" brings you to the results page with a whole list of flights arranged based on price:

I am surprised by Agoda's competitive "Compare Sites vs. Agoda" section that allows viewers to click and visit Agoda's competitors (including Expedia):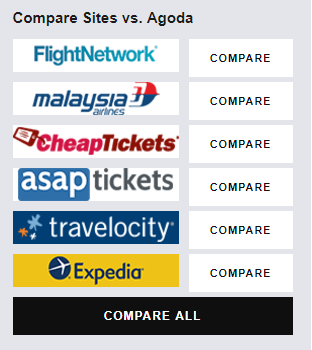 If Agoda is willing to put its neck out in terms of pricing, surely it must be confident of offering the best prices . However, the experience then goes south for me.
Selecting the first flight option resulted in Agoda forwarding me out of Agoda's booking page to the actual operator of the flight (i.e. to Malaysia Airlines' booking page):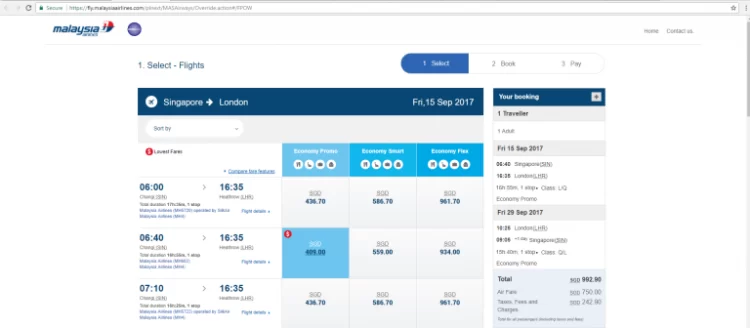 Why would you book through Agoda then? Instead of being a one stop travel agency integrating its hotel booking business with its new flight booking services, Agoda's flight booking system appears to be more than skyscanner sort of service connecting the traveller with the airlines. Giving Agoda some slack, I decided to search Malaysia Airlines' actual page to see if Agoda had some special arrangement with the airline for a lower price. Sadly, there is none.
This forwarding of bookings becomes a hassle when it comes to what Agoda calls as "Hacker Fares". A "Hacker Fare" is where a traveller books with two different airlines trying to leverage on a cheaper rate flying out of a particular airport. While conceptually sound (i.e. departing from certain airports sometimes do offer a cheaper price), the benefit for the average traveller such a travel hack is really not substantive when compared with the work involved.
Consider this option from Agoda: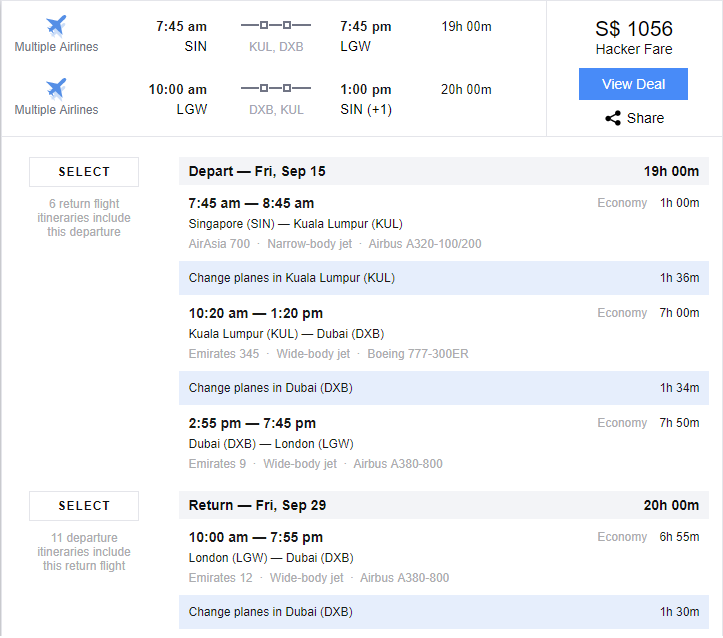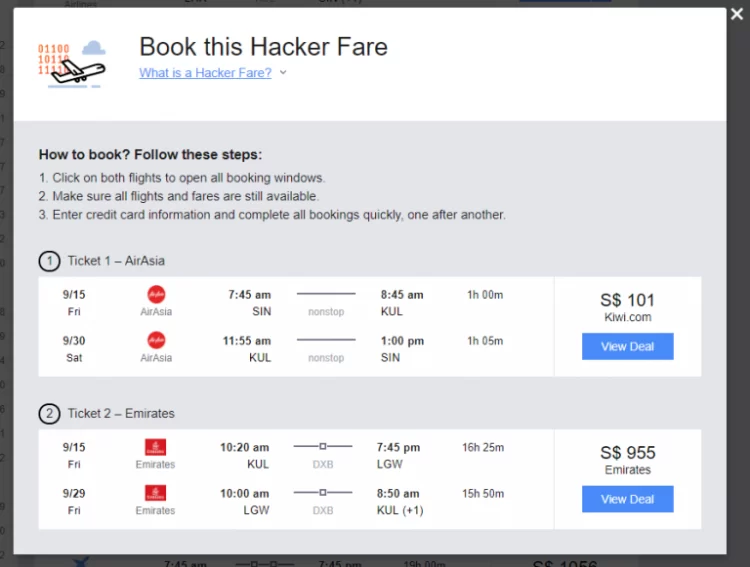 It would require me to go to two different websites operated by different airlines and ensure that each flight is available before making separate bookings for each leg. Compared with the other sites (which offers a convenient all-in booking experience when booking flights with different airlines), this is very tedious a process for cost savings. There are other (one airliner) flights that would get me to London at similar prices!
It is also unclear to whether there is some form of combined purchase discount if you book both flights and hotels with them. A preliminary review of Agoda's booking pages suggest that the two systems are separate: There is no package option and the login details for Agoda hotels appears to be different from Agoda flights.
As a traveller, I do not foresee myself using Agoda's flight booking system anytime soon other than maybe as an alternative skyscanner engine. There really appears to be no real benefit to using their flight booking services. Agoda, if you are reading this, please consider changing your booking systems to make it i) more integrated with your hotel booking services; and ii) value adding to a traveller's overall purchasing experience.
If you enjoyed reading this post, please remember to share this with your friends and also follow this blog for more articles.
Please let me know if you have any comments in the comments section below.
Be sure to check out my other posts covering different aspects of travelling.