When a teen idol becomes a rock star, he announces it with a Rolling Stone spread. Five years ago, in the run-up to his debut album, Harry Styles got that quintessential rock'n'roll treatment: A sprawling 6,000 words by the celebrated journalist and filmmaker Cameron Crowe. They had lunch in Laurel Canyon; Cameron likened Styles' voice to Rod Stewart's, his crew to the Beatles, and his recording studio to Big Pink.
When a rock star becomes a lifestyle influencer, he announces it with a Better Homes & Gardens cover. Styles' appearance in the June issue of that publication—which runs articles about organic fertilizer and Meyer lemons and rarely profiles musicians at all, much less those of Styles' stature—brushes off the music press and cleverly promotes Harry's House, his third album. Harry is pictured in Gucci pajamas carrying a breakfast tray; the story's very existence signals his hard turn into comfort and leisure. Meanwhile, he's got Mick Fleetwood peddling his nail polish. On TikTok, Harry's House single "As It Was" is a go-to soundtrack for supercuts of curated domesticity. The state of the boy brand is strong.
On Harry's House, pleasure is the aesthetic proposition. The album oozes the easy charisma that lifted Styles head and shoulders above his former One Direction colleagues and makes him one of pop's more compelling live acts. Its sounds—which move through funk, folk, and 2010s Tumblr-pop—are friendly and familiar enough to satisfy passive listening, but deftly executed, with a surplus of style and whimsy that rewards a more active ear. Styles' previous albums seemed preoccupied with a desire to demonstrate taste and legitimacy via retro-rock pastiche, but here he wears his influences more lightly. The mood is light, too: Opener "Music for a Sushi Restaurant" kicks things off with scatting, scene-stealing horns, and a litany of food references (fried rice, ice cream, coffee on the stove) that conjure a state of goofy, sated bliss. "I could cook an egg on you": Harry Styles lyric or Denny's tweet?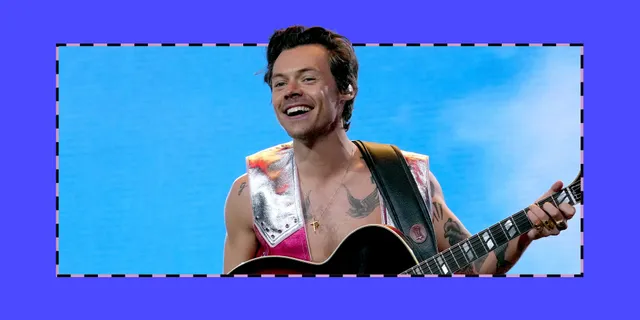 Styles kept this record in the family, working primarily with returning collaborators Kid Harpoon and Tyler Johnson. For some artists, an intimate writers' room can draw out vulnerabilities or create a foundation for risk-taking, but little here suggests that Styles is looking to tap into anything overly profound. The emotional stakes are low: Harry is either wistful for past love, but not too pressed about it, or else drawn to someone new, but not effusively so. He's "not worried" about who his ex is going home to, despite the nostalgic halo she wears on "Little Freak"; he's not wine-drunk and despondent, he just has the "grape juice blues." "Daydreaming," a skin-deep but richly textured sex fantasy that borrows from the Brothers Johnson, articulates what's felt on much of the album: Styles is writing inside a reverie, blissfully insulated from life's extremity.
Substance sometimes lacks, but style always abounds. Harmonies open like refracted light around the bright, decadent passages of "Daylight" ("If I was a bluebird/I would fly to you/You'd be the spoon/Dip you in honey so I could be sticking to you"). "Satellite" enters into conversation with Ariana Grande's "NASA" and features a wonderful bit of text painting: Styles sings about "spinning out" while the back half of the song builds momentum and nearly careens out of control. And on an album whose themes are largely generic, a few dots of self-reflexivity sparkle. The third-person talking-to Harry gives himself on "As It Was" invites a burst of empathy. On the slick, salacious "Cinema," he works in a coded boast about his union with a certain film actor and director—"I bring the pop to the cinema"—over an extended breakdown propelled by plucky rhythm guitar. It's a moment of ego indulgence, and a rare Easter egg from an artist whose personal life is closely guarded.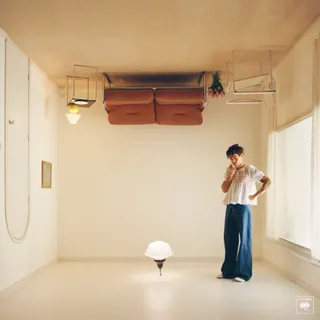 Striking a balance between aloofness and earnestness is something of a Harry Styles specialty. Though direct touchpoints with fans are limited—he is minimally active on social media—his keen sensitivity towards them is evident. In that 2017 Rolling Stone profile, Styles defended his young, predominantly female audience: "Young girls like the Beatles. You gonna tell me they're not serious?" he said then. Lately, he's commiserated with them. When he introduced Shania Twain, who made a guest appearance during his Coachella set last month, Styles deployed familiar pop feminist logic: "This lady… told me that men are trash," he quipped. In the same set, he debuted the Harry's House track "Boyfriends," opening by saying, "To boyfriends everywhere, fuck you."
Is this pandering? Maybe. Call it penance for the misogynistic rock tropes that Styles occasionally reproduced in earlier work. "They think you're so easy/They take you for granted," he sighs over finger-picked guitar on the song about boyfriends, voice multiplied into a chorus of soothing affirmations—an old folk lullaby for the spurned and exhausted. (Some—identity politics purists, Larry truthers—will wonder whether Styles' ode to the hardships of dating men is an output of imaginative empathy or of personal experience, but they're unlikely to get answers.)
Styles' "Treat People With Kindness" ethos radiates across Harry's House. "If you're feeling down, I just wanna make you happier, baby!" he insists on Passion Pit-approximate "Late Night Talking." One song later, he's "on [his] way to buy some flowers for you." In this way, Styles invites participants into his project of pleasure-seeking: He is a nice guy, so adoring him is uncomplicated and guilt-free. That the persona doesn't get grating—with the exception of "Matilda," a wan ballad whose namesake gets lost in Styles' abundant sympathy for her—is a feat. So what if Harry's House isn't especially bold; innovation is not a requirement of a solid pop album, and working too hard is out of fashion, anyway. Better to slip on your Gucci pajamas and just enjoy.